Upon arrival at Royton Sapporo, we quickly unpacked and got out to find decent gloves for my daughter. We also wished to experience our first evening in Sapporo under the snow.
After going to Odori, we ended searching for an eating place in the central arcade gallery of Tanukikoji.
Ramen as first meal in Hokkaido
Food has (quite rightfully) a great reputation in Hokkaido. Mitchy thus took us on a wild goose chase for the perfect ramen. The first place we tried to find based on Google was closed. In the end, Mitchy found a place, namely, a ramen place where you have to make your order and pay… via a vending machine! They also have a website.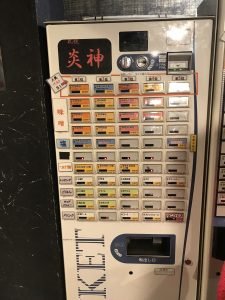 Despite the quirkiness of the ordering system, the ramen were absolutely delicious! The presentation too, true to Japanese tradition, was without fail.
The deliciousness of the ramen made me understand why Hokkaido is so reputed for them. I particularly recommend the pork bone soup version!
As to Mitchy, she was literally in ecstasy before the ramens: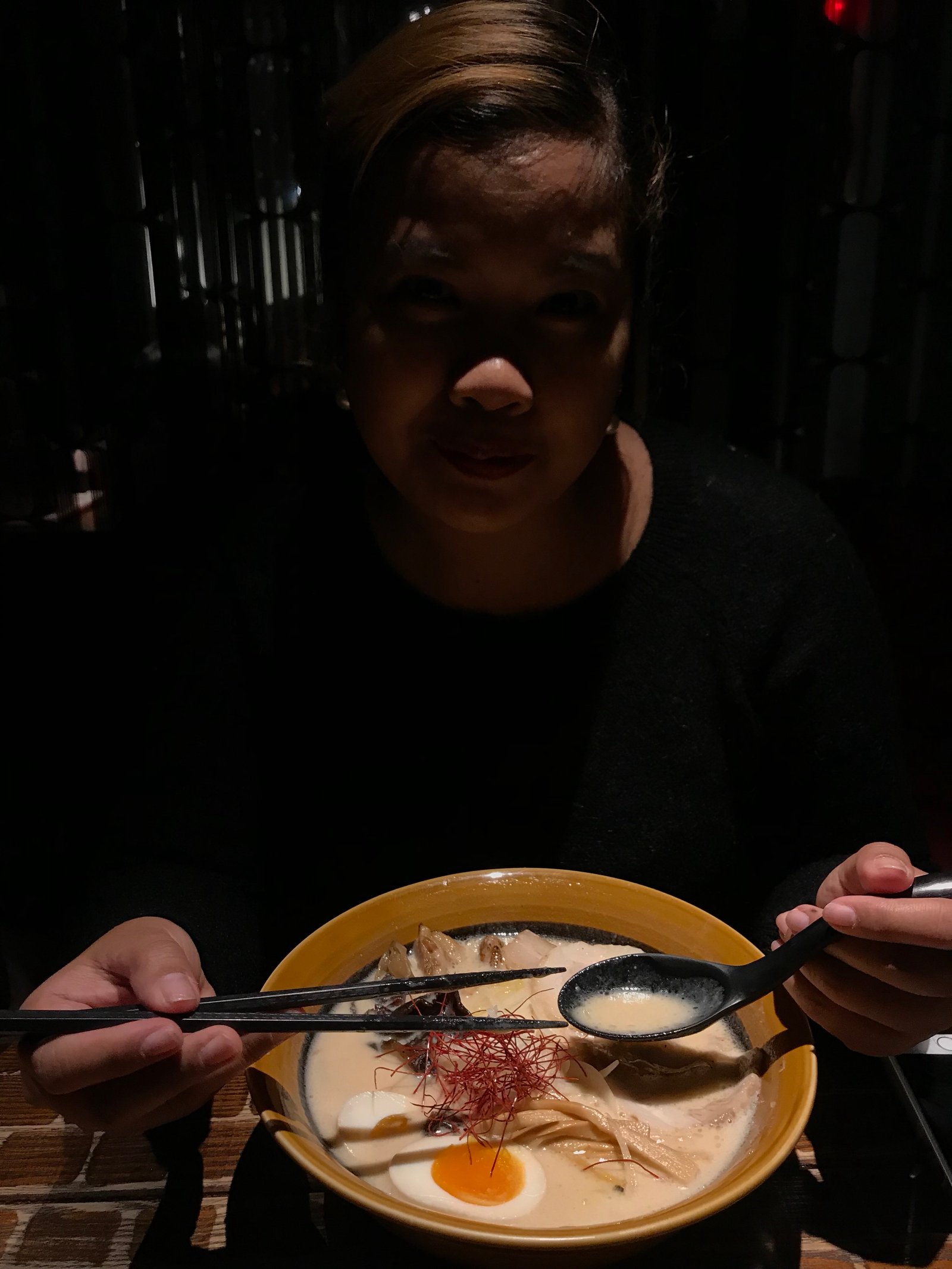 After our meal, we took a walk in the gallery where the restaurant was located, noting the stuffed bear on display (bears are quite common in Hokkaido, being a pretty wild island).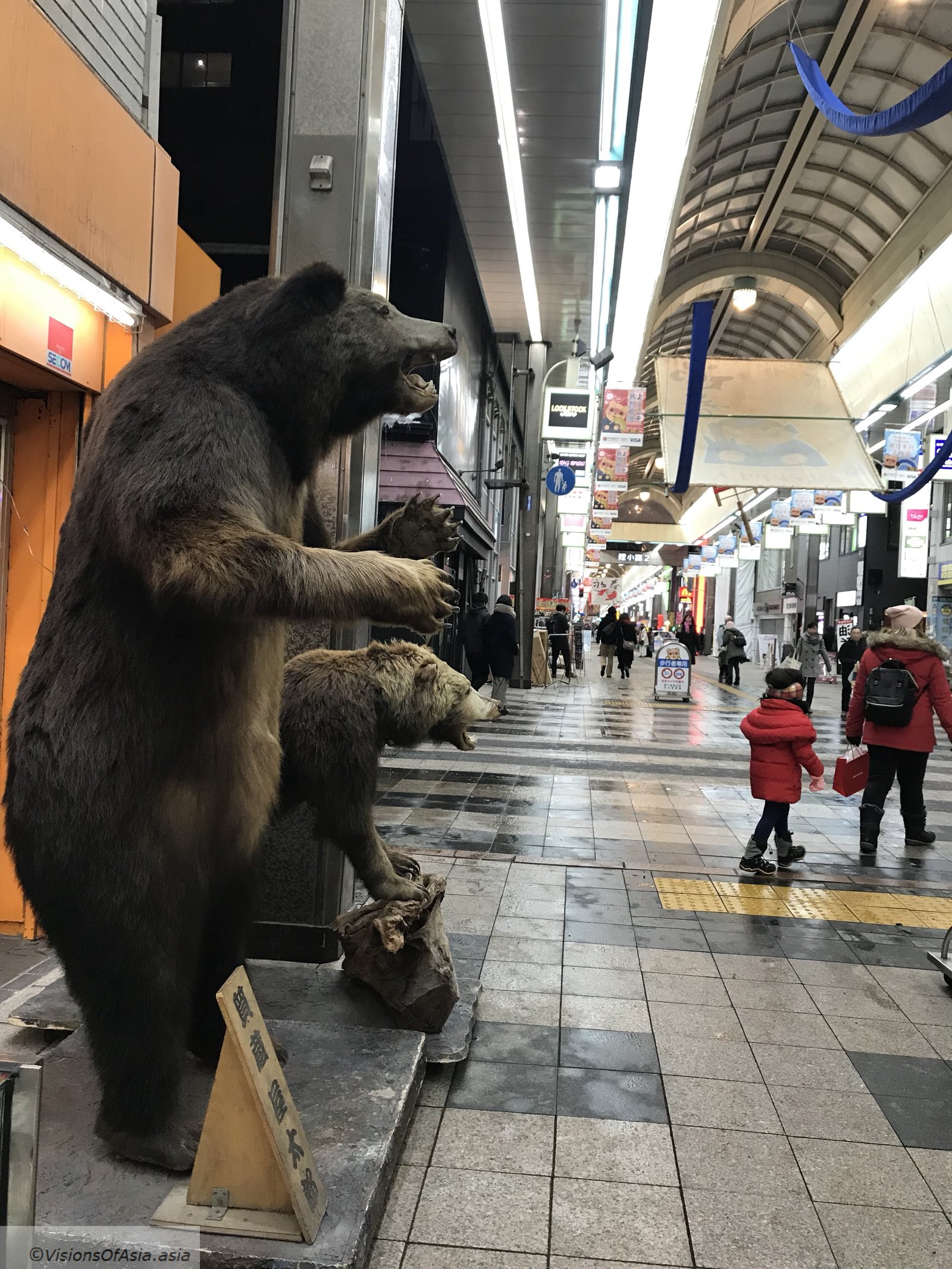 Winter lighting in Sapporo
The culmination of the visit was probably the winter lights of Sapporo. In the thick snow, the winter lights took a magical turn.
This slideshow requires JavaScript.
Our daughter got so overexcited, that she kept playing and digging in the snow until she was totally exhausted. We then had to move back to Royton, trudging across the heavy snow on the sidewalks. Being cold, the whole family was on the lookout for toilets. Fortunately, with regards to the availability of toilets, about every 7/11 has one available for customers, so we were not caught out in the open. While cold (around -1°C), the weather was pleasant and quite enjoyable as it was everyone's first encounter with snow after several years.
As a side note, Sapporo city organized a photo shoot gallery, where you could have your picture taken then framed for a small amount, or made available in digital  manner for  free. But this was only the first day of our trip…  The following day was the Japanese emperor's birthday, and it was the day where we were going to the mountain resort of Tomamu to enjoy some snow fun.
How to get there?
For the ramen restaurant, it is a bit difficult to find, as the website is in Japanese. Nevertheless, I marked the address for you on this map:
The Sapporo winter lights (also called "Sapporo White Illumination") are all along Odori park, culminating with the TV tower. Obviously, the illuminations start only on the 25th of November. Nevertheless, I marked the Odori park on this map, so you can refer to if you are visiting Sapporo for the first time.