Last week-end, a friend of mine, Matthew, took me around on a bike ride, from Shatin to Plover Cove. The interesting part of this bike ride is that the whole ride takes place on biking lanes and in a very lovely seaside atmosphere. It is also an occasion to shoot some marvelous landscapes on the way, as the whole area has some gorgeous views.
Renting a bike
Renting a bike is very easily done near the river, in Shatin. The total price is about 60 HKD for a whole day. You can also rent "family bikes" (sort of 4-wheeled bikes for several persons to ride). All you need to do is to leave your id card information.
As I run and hike now more or less regularly barefoot, I decided to go for biking barefoot. Obviously, the pedals of a mountain bike do leave a dent, but my feet have become sufficiently conditioned now, not to suffer an exaggerated inconvenience.
After that, as long as you follow the coastline, it is an easy scenic ride along Tolo Harbour. Along the way, you can come across some interesting sights. Like for example, the wonderful Tsz Shan monastery.
Tsz Shan Monastery
This monastery is quite recent, as it was completed only in 2015. Its main feature is the statue of the goddess of mercy, Guan Yin. At 76 meters tall, this white bronze statue towers now over the Tolo harbour, being a recognizable landmark. The monastery is quite popular, to the point that it enforces a strict online booking policy to visit it. If you want to enter, bookings must take place at least one month in advance.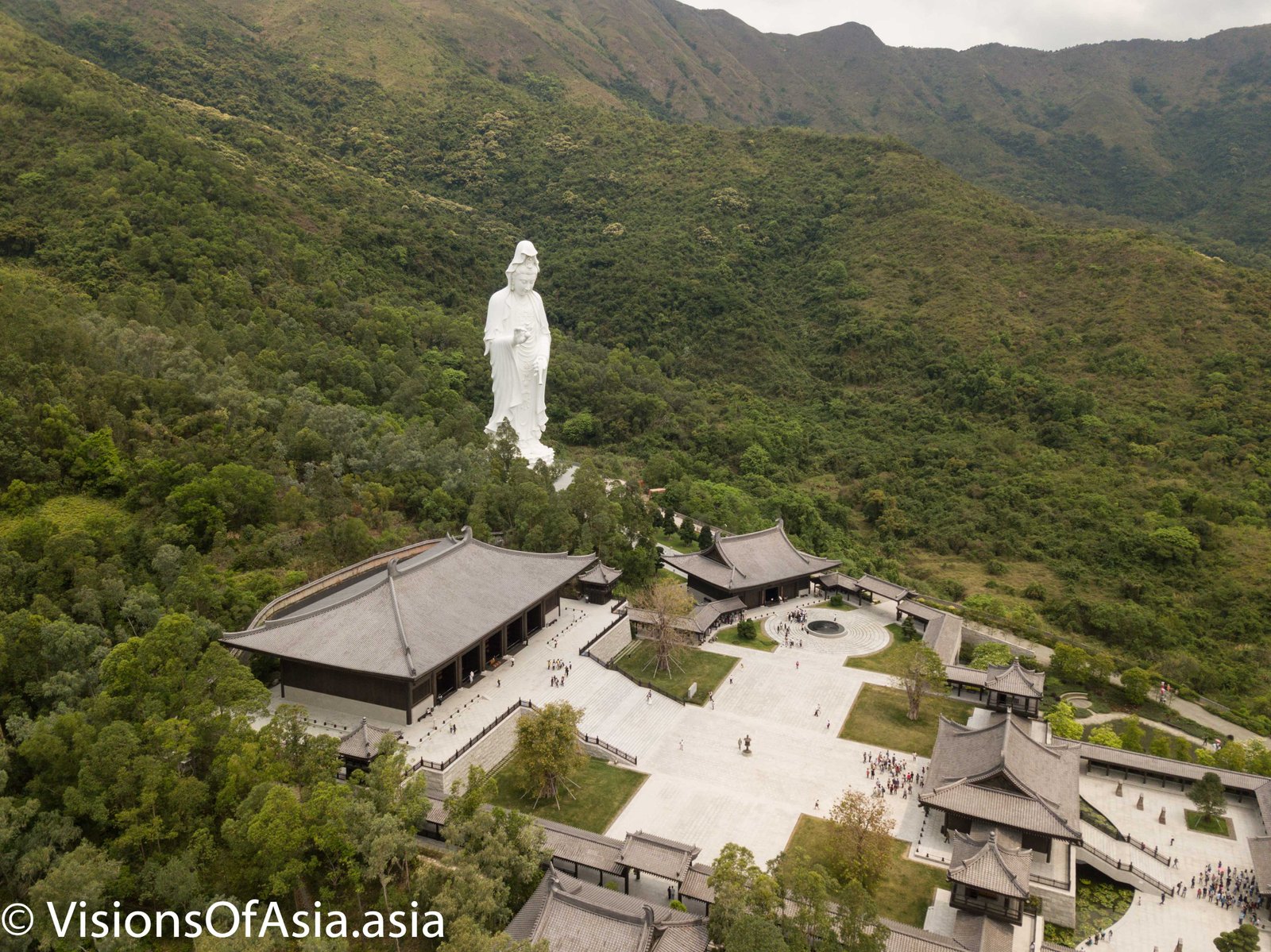 The other way of taking a peak inside this monastery, is to fly a drone above or around, which is what I did with my Mavic Pro. The monastery was built thanks to financing from Li Ka-Shing, one of the richest men in Hong Kong. It was even rumored that the Guan Yin statue would be his tomb in the future, but he denied the story.
I also filmed the various places we visited, from Tsz Shan Monastery to Plover Cove:
Plover Cove
Plover Cove is another interesting spot, pretty much at the end of the 30-kms ride from Shatin. Originally, a piece of Tolo Harbour, this portion of the sea was drained in order to make it a reservoir of freshwater for Hong Kong. Its dam is reputed for having been the greatest such work at the time of its construction (in the 1960s). Today, the place is an ideal vacation spot for many hongkongers who enjoy riding bicycles on the dam, or flying kites.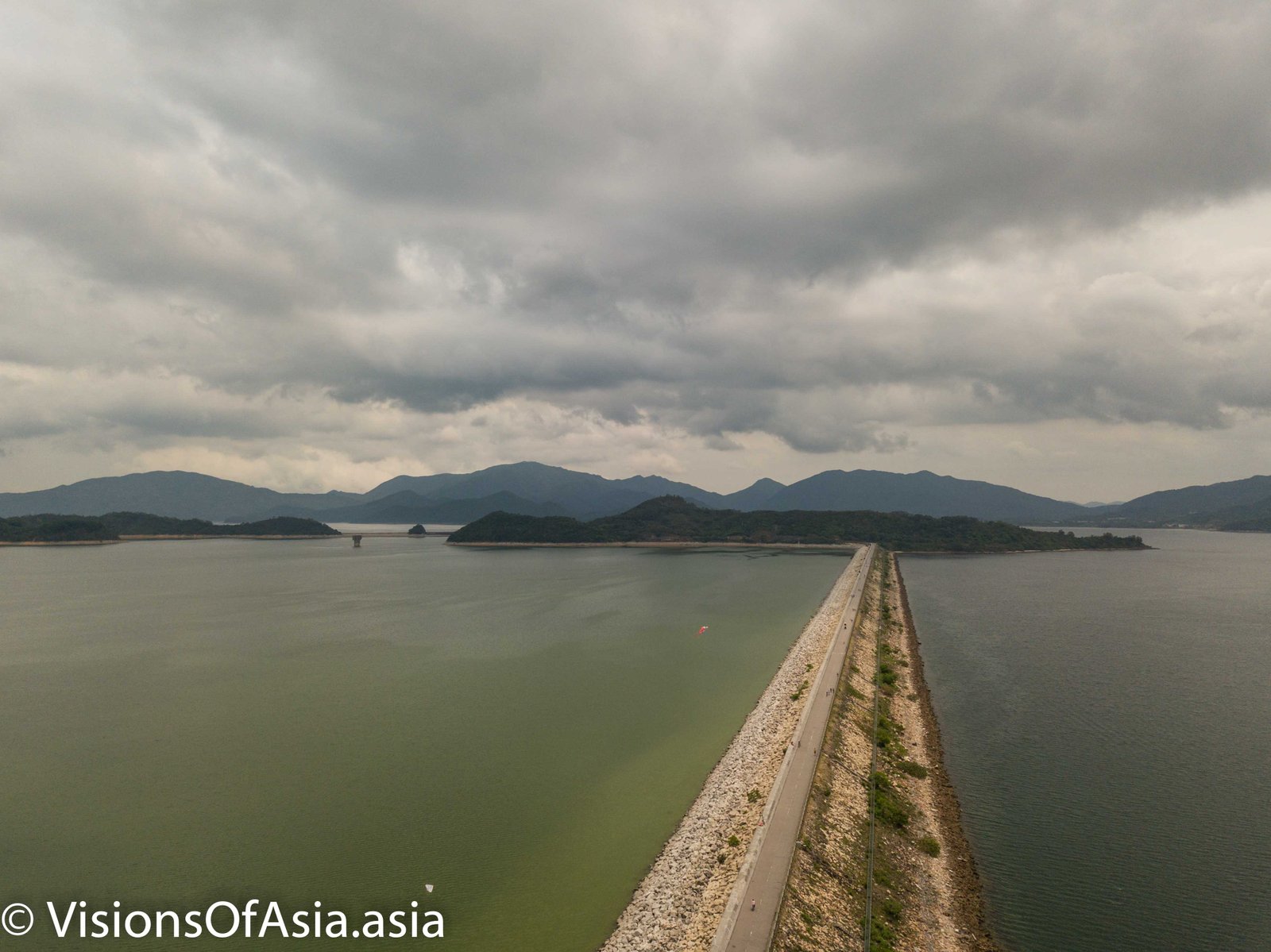 Of course, I had to take a "dronie" with Matthew on that occasion.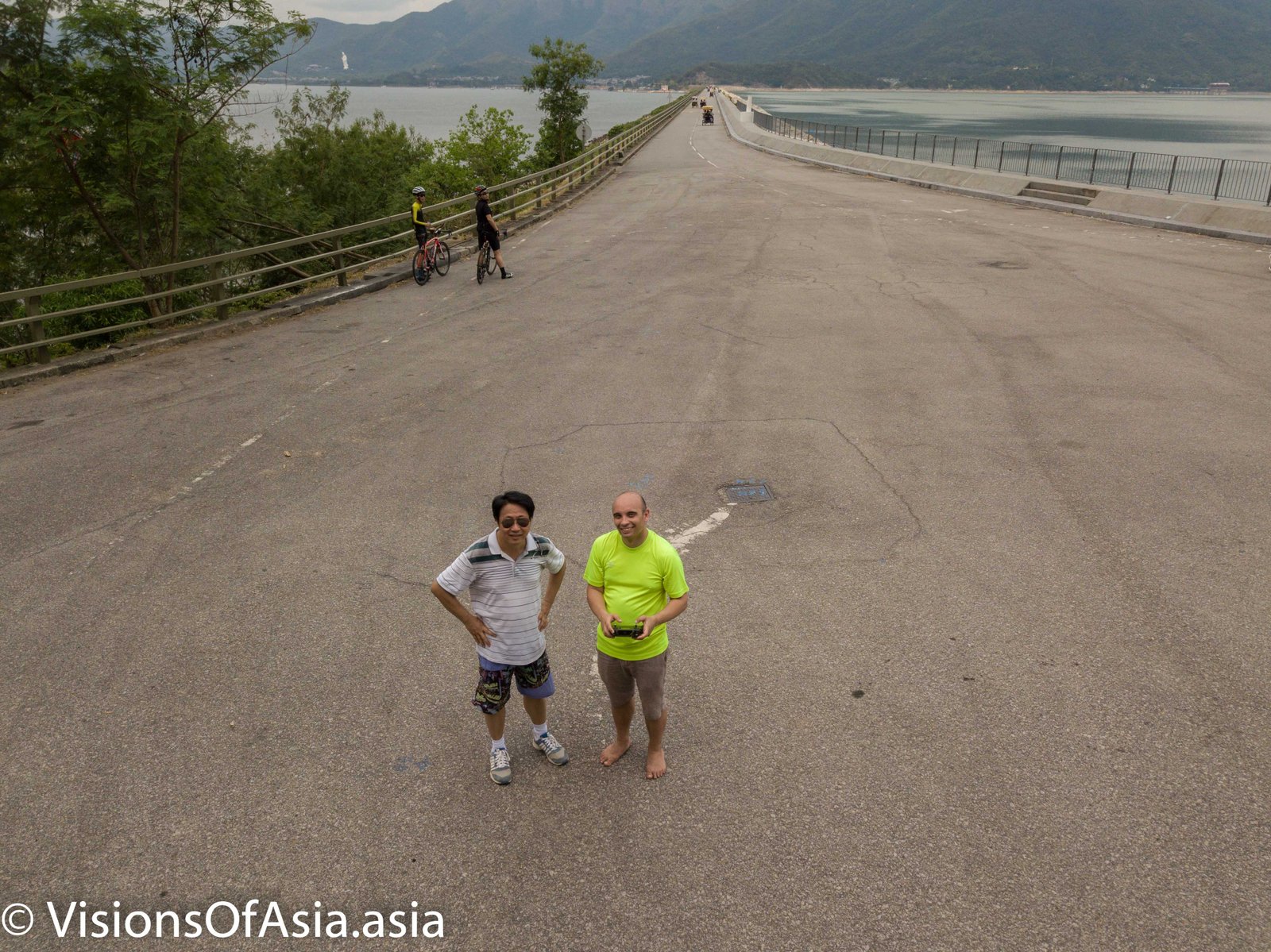 Tolo Harbour is also used for quite a number of nautical sports. Some people use a sailing board, others prefer waterskiing. Here, you can see a group practicing sailing board with the Tsz Shan monastery appearing in the background.
Getting back
After the exhilarating 30 kms ride to Plover Cove, now came the time to ride back! Although the path was as flat going as coming back, of course, muscles started feeling the effort.
Also, if you can do it at all, do leave in the morning. In the afternoon, plenty of people who do not know to ride start appearing and are a real hazard on biking paths. In that, the return was rather more stressful than the first leg of the trip.
Once we got back to Shatin and returned the bikes, my feet were slightly tender from biking for several hours barefoot. I thus decided to go home barefoot. And obviously, this involved the challenge of taking the MTR… barefoot!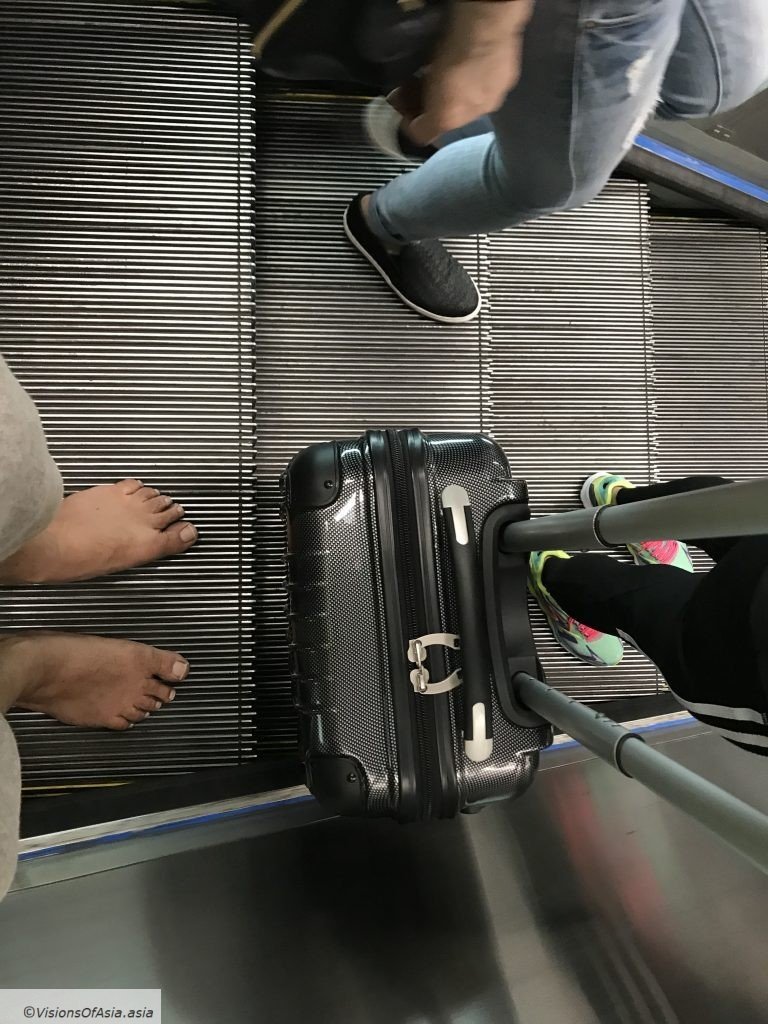 I went barefoot all the way, until home. Most people didn't look at my feet, those who did, didn't care. I was in a sportive attire, so I guess this attracted less attention too.
The reason for doing this was partly to challenge my own comfort zone, partly also to test my limits too. I did use a public toilet in Shatin, but I wore my sandals (could not conceive walking in the urine of others).
Nevertheless, the whole experience was interesting and liberating. I might swear I had more looks from other bikers on my biking barefoot than while in the MTR!
After the exercise, my glutes were quite tired as it had been quite a few years since I had done a long bike ride (I used to ride for long distances in Belgium). But this shows the different facets of Hong Kong. A city where biking or hiking is just a few MTR stations away from the urban sprawls of the center.