Everybody knows Cheung Chau and its crowded streets. Now go a bit outside of the beaten path and you may come across Peng Chau island, a small island which feels pretty much more like an oasis.
Originally, a lime production center

Until the 1970's, Peng Chau was a bustling area of industrial production for two main products, namely lime and matchsticks.
Lime was obtained by burning oyster and clam shells, corals, to produce the final material which was then used in various other industries. After the 1950's lime was used less and less in construction, and eventually the lime kilns went out of business.
The matchstick production faced a similar fate when disposable lighters appeared in the 1970's. Today, all that remains are old buildings (which I did not visit on this occasion).
An excellent light hike path
Cheung Chau might be appreciated and invaded by tourists, but Peng Chau has nothing to envy to its big neighbor. Actually, it might be worth saying that Peng Chau beats Cheung Chau by the peace on the island. Being a small island, the area to cover is pretty limited, but with less tourists around it is much more pleasant.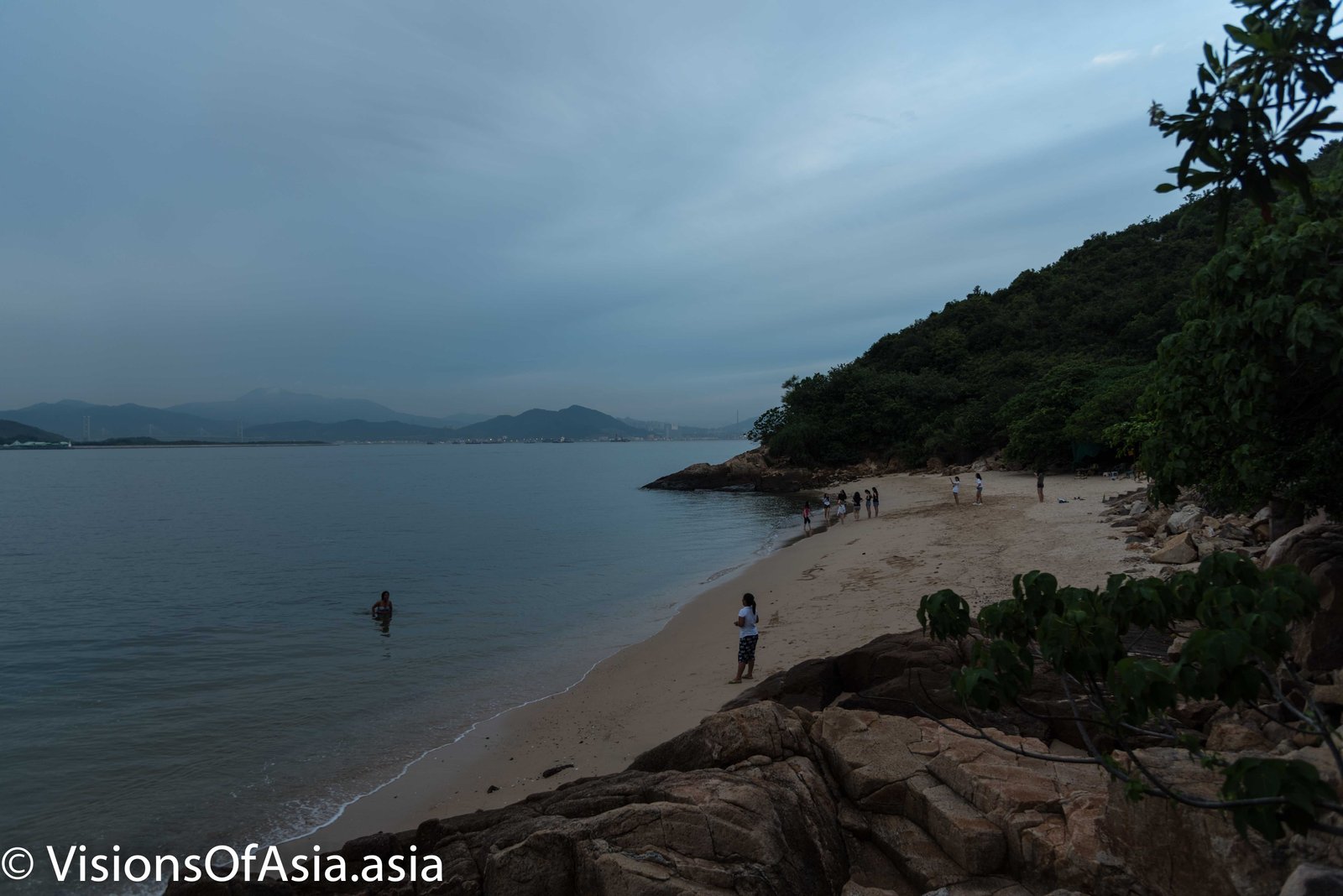 Nothing beats thus the deserted beaches of Peng Chau. Nothing to do with the crowds of Cheung Chau and the numerous glass pieces that can be found along the beach.
The island built a very convenient hiking path which was a pleasure to trod barefoot. You can also climb up to the Finger Hill view point on stairs which are quite easy to hike upon.
The Old Fisherman's rock
One of the landmarks of the island, at its northern end is the "old fisherman's rock", a balanced rock formation, a bit similar to the one found in Tap Mun island.
old fisherman's rock by drone

The old fisherman's rock in Peng Chau.
This place is easily reached after 20 min-1/2 hour walk from the ferry pier. The interesting part of this rock is the view it affords on both, discovery bay (Disneyland) on the other side and the Tsing ma bridge in the distance.
Nearby, there is an even more secluded beach, where I managed to stumble upon a scene directly taken out from the 1950's… A young lady smoking a cigarette in the middle of the sea.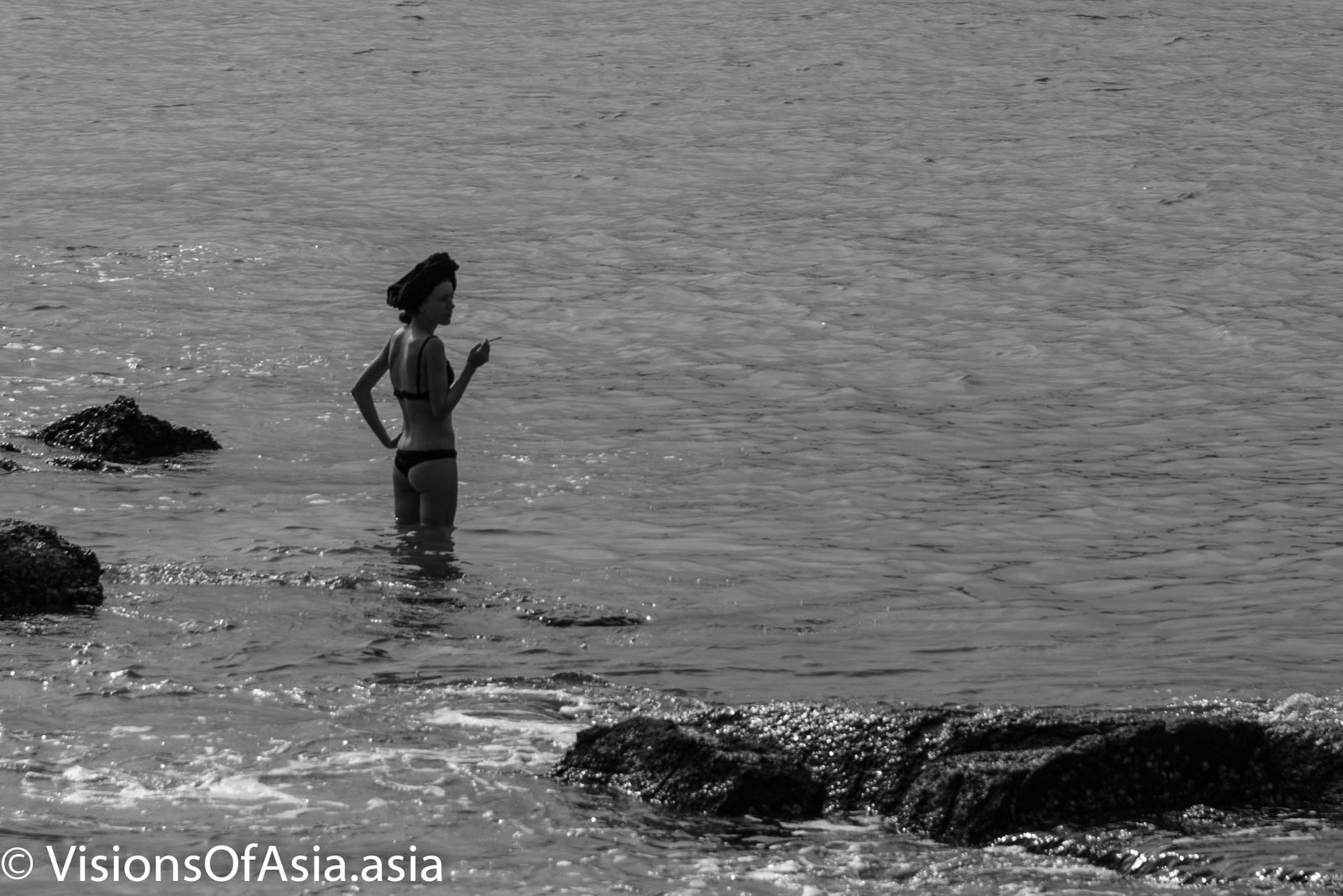 A small island
Cheung Chau is said to be small, but it seems that Peng Chau is quite smaller. This is best understood when looking at it from a drone.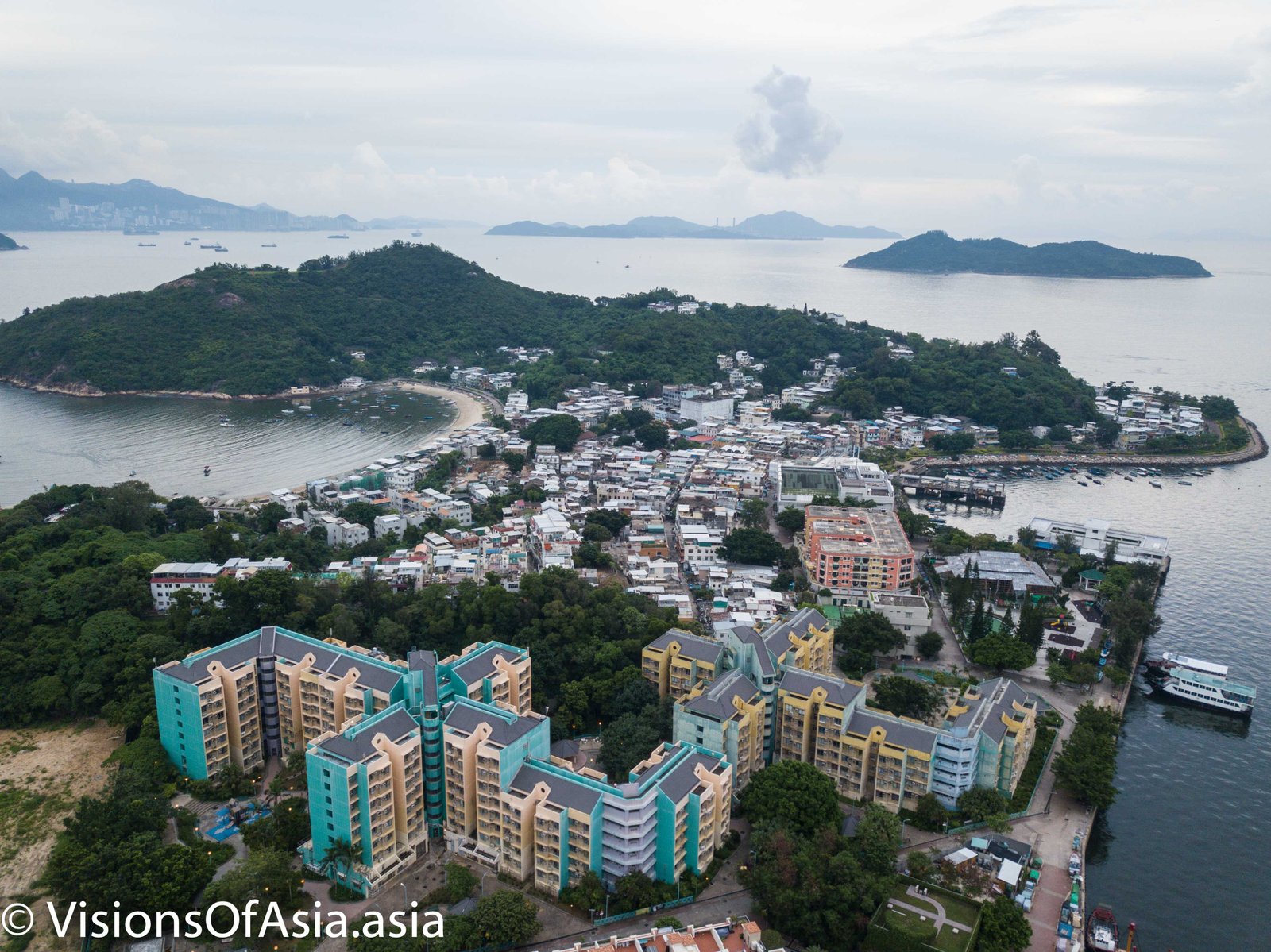 The main island is connected by a land bridge to a tiny island called "Tai Lei", on which are hosted most of the utilities for the island. BTW, there are no cars at all on Peng Chau, which makes it absolutely lovely.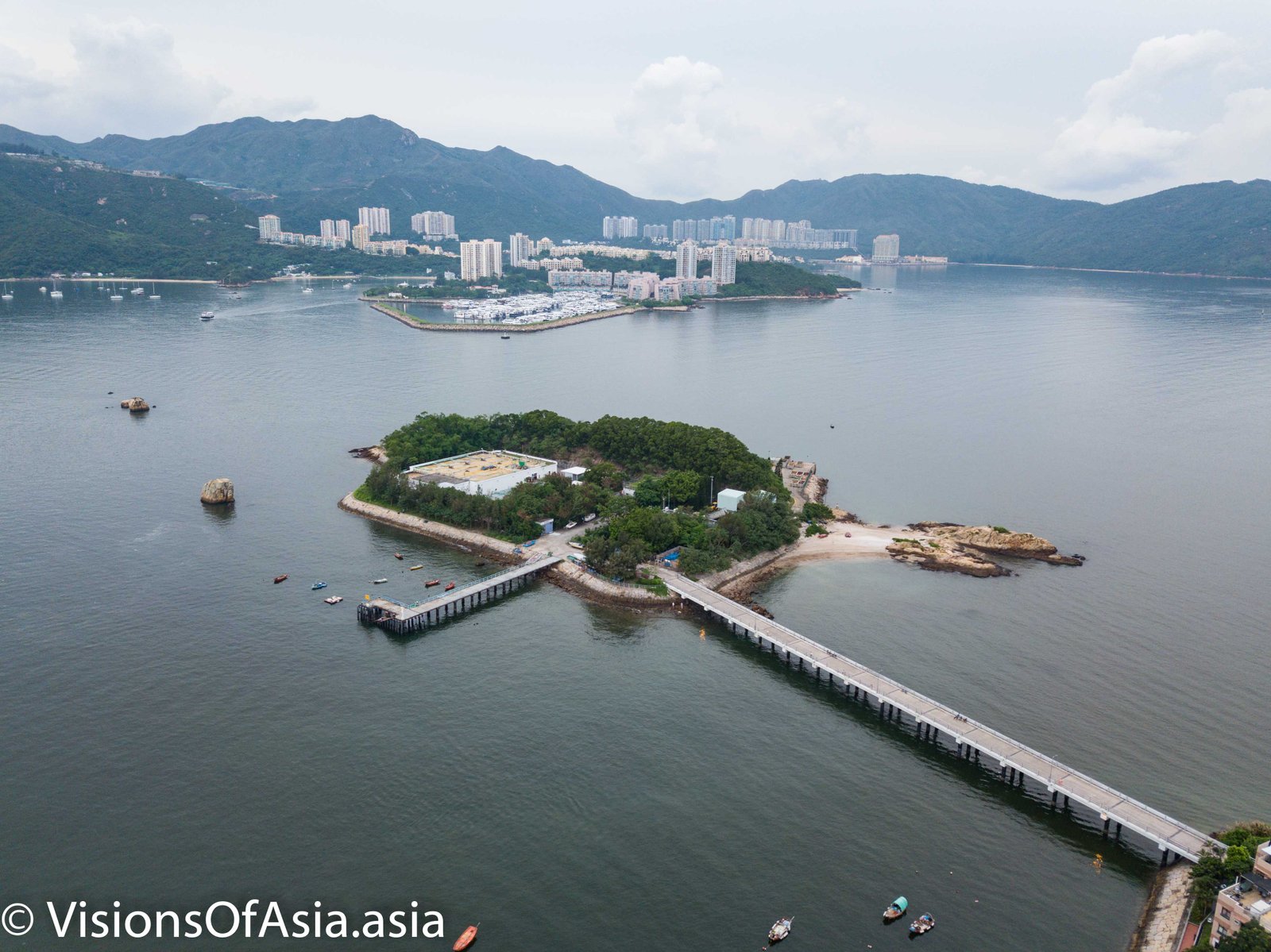 On the opposite side of the Ferry pier, there is a, inviting beach inside a cove.
One warning however: there is a large infestation of big cockroaches all over the beach's wall. Seem they have a huge pest problem on the island, and by the behavior of the insects they are not very scared of humans.
At night, that beach provides the ideal setting for some night photography with a magnificent view on the Tsing Ma bridge.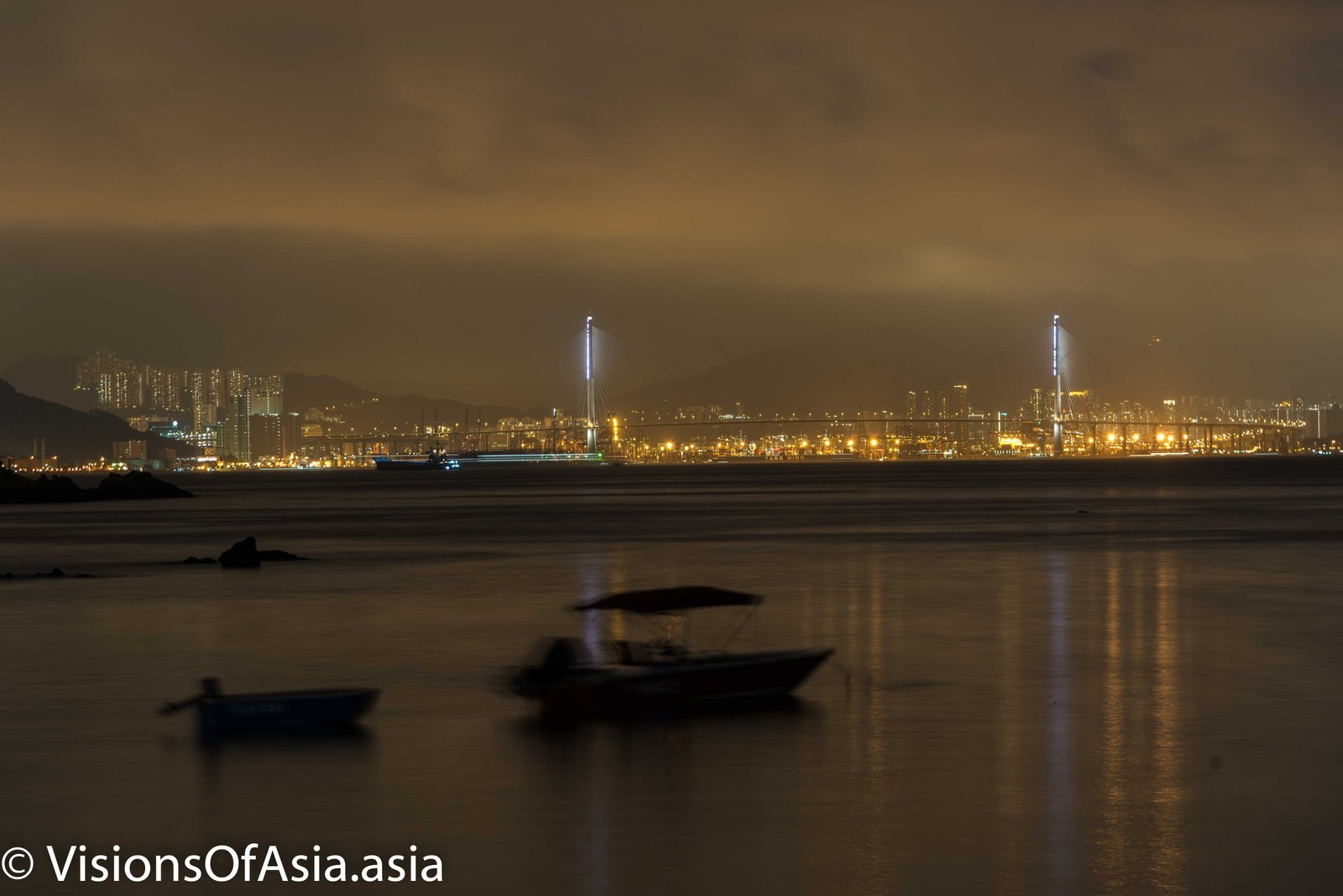 How to get there?
Getting to the island is pretty easy. You must go to pier number 6 in Central, and from there catch one of the two hourly ferries. It takes roughly 40 mins to navigate until Peng Chau, but the island itself is covered in half a day, depending on your walking speed.