Helsinki is a marvelous city, especially in spring or at the beginning of summer. The daily life scenes are also interesting and surprising when walking through the Finnish capital. That's why, doing street photography in Helsinki is a perfect experience. On the negative part, people are much more aware of cameras and photographers (as around Europe). Nevertheless, I never had any bad experience in Finland.
Panning shots in Helsinki
Helsinki, despite being the capital of a European country also loves to take things on the slow side. As such, many scenes are perfect for panning shots. Many Finns love bicycle riding, and these make perfect subjects for panning shots. In this case, the lady was carrying shopping bags of Marimekko, which made it the perfect symbol of Finland.
You can also try your hand at people walking, but in this case, people should be walking parallel to the plane of your camera.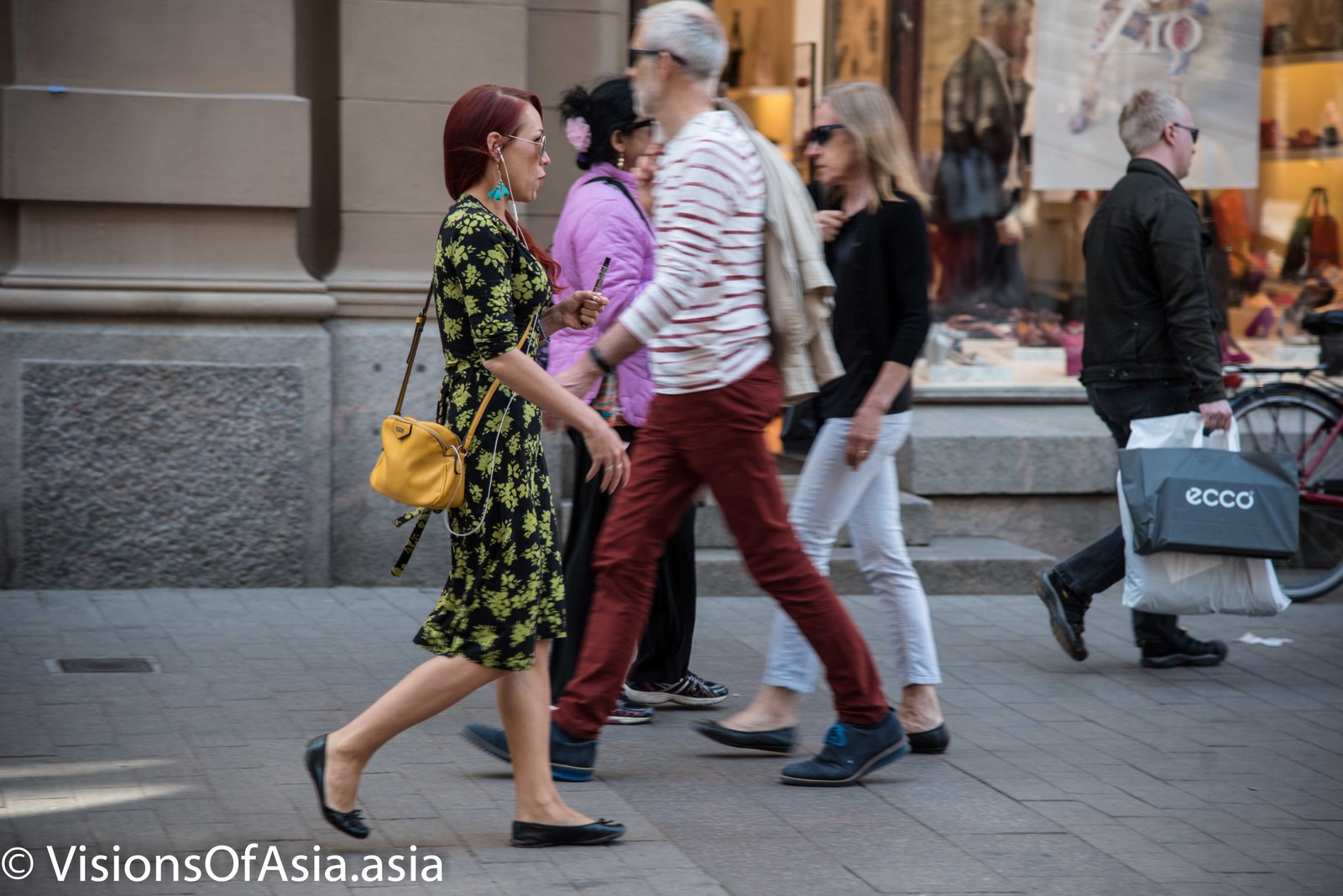 This allows to make street photography a bit more interesting by introducing a dynamic element in your pictures.
On very rare occasions, you can come across the perfect scene, if you take the time to change your settings quickly. Like this old car which was roaring near to Tuomiokirkko square. I just had the time to switch to Tv (time priority mode) which was set up on 1/30s and catch the shot. As luck would have it, a piece of Tuomiokirkko showed up in the picture, hence providing the context.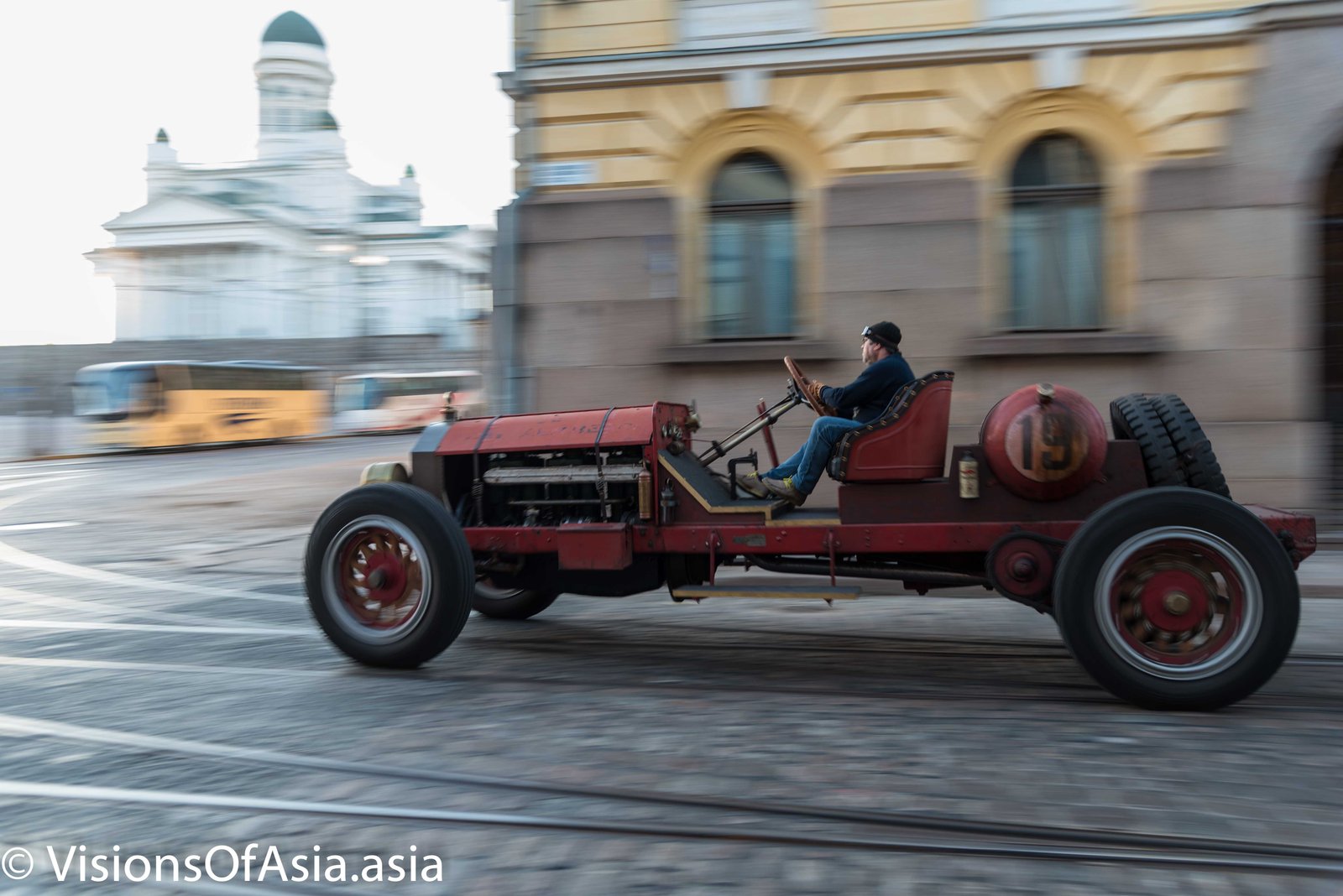 Street scenes
Another way of shooting street photography is of capturing street scenes. Sometimes, you can happen across some unexpected scenes, such as these two Thai girls near the Helsinki harbour.
Looking around you, and having an eye for structure and leading lines can also give some interesting results. Like in this result, where two girls were taking their pic on the stairs of Tuomiokirkko.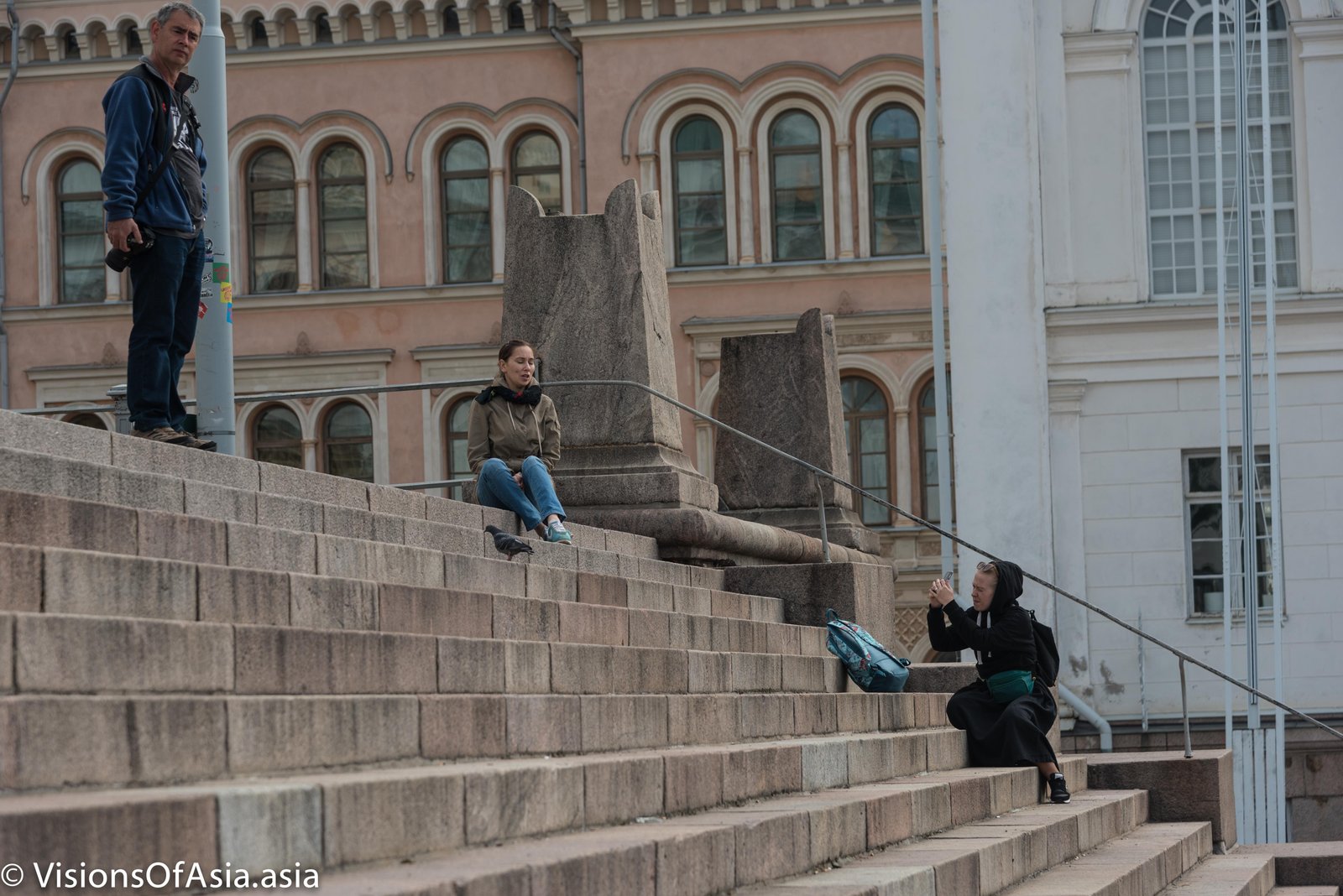 These shots are pretty easy to get, they just involve your paying attention to your surroundings. Then, if you have models around, you could also try some interesting shots. Like this pic, where Mitchy and Maria-Sophia were posing while a seagull took flight above their heads.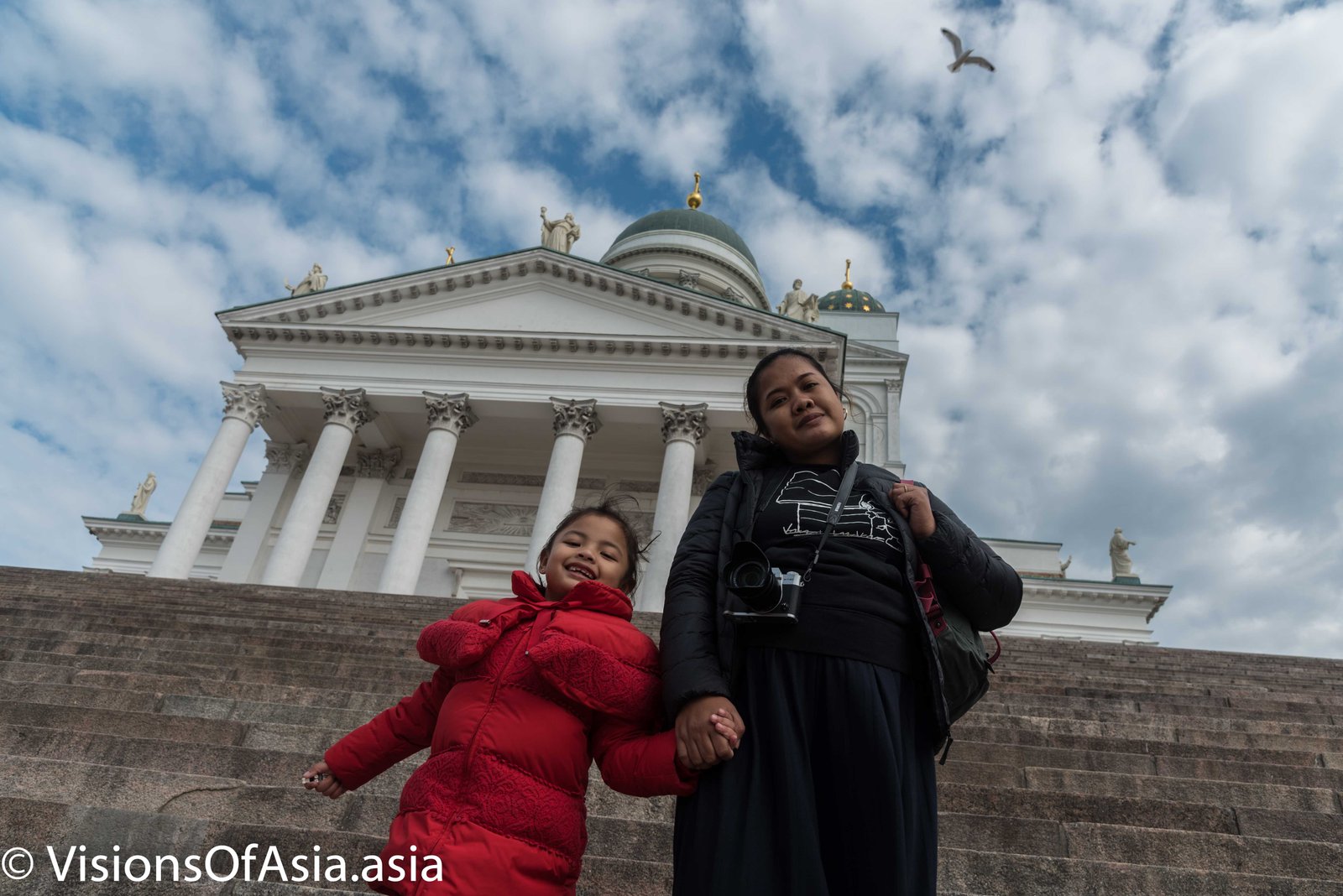 On the street, you can also try to contrast fixed subjects and moving objects such as trams. Here a shot also near Tuomiokirkko.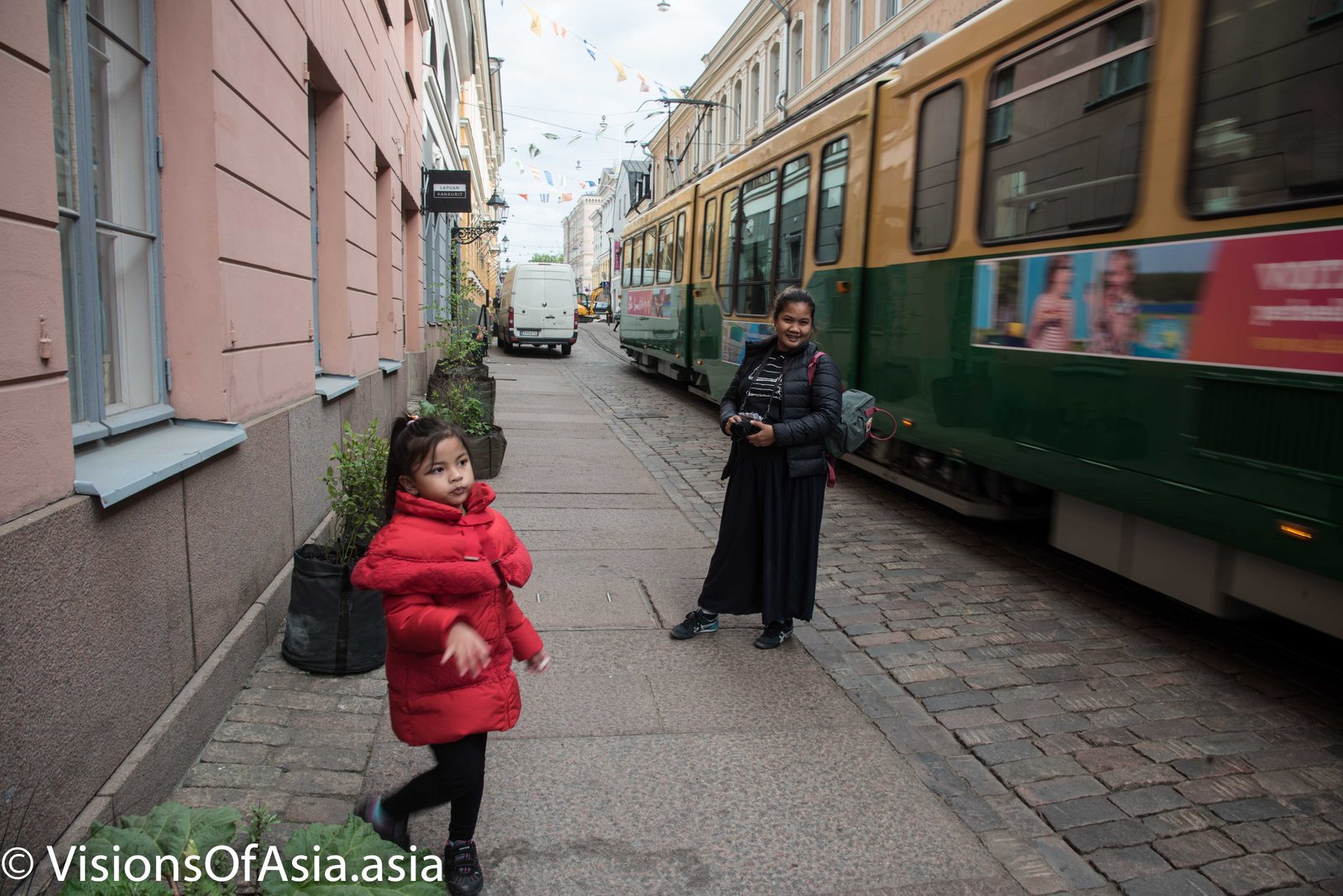 This technique allows to distinguish your subjects from the background, suggesting movement and also, at the same time, isolating the fixed subjects. If you want to try this technique in a crowd, which would work also nicely, you must try using a tripod to guarantee the lack of movement. Ideally, I would also deactivate the vibration reduction system on the lenses if any when using a tripod, otherwise, you will have micro-movement on your lens.
In short, Helsinki is rife with street photography opportunities. Just go out and shoot!