On my visit to Busan, one of my targets was the Gamcheon Culture village. While being the first place I visited after the Gwangandaegyo bridge, I have waited a while to write about it. In fact, the place is very famous in Busan and the beauty of the setting is so lovely, that it requires some effort to give it justice.
The history of Gamcheon
Originally, Gamcheon did not really have an artistic legacy at all, but was placed in a very interesting spot, against a mountain, with the associated curves and complex turns. Interestingly, most of the inhabitants are refugees from the Korean war and followers of the Tageukdo religion. The Tageukdo is the symbol which is part of Korea's flag (also known as the yin and the yang).
 Nowadays, the followers of this religion are few in Gamcheon. Since 2009, the city of Busan attempted to redevelop this area by focusing on making about 300 empty houses the center of street art. This gave a new  impulse and made of Gamcheon one of the symbols of Busan.
Art in the street
The beauty of Gamcheon is that the redeveloped art project is closely mixed to the city life of the inhabitants. You can walk along the main street which circles all around the little village. Or you can delve into the city and try some shopping, like for these cute little bears (3,000 KRW each).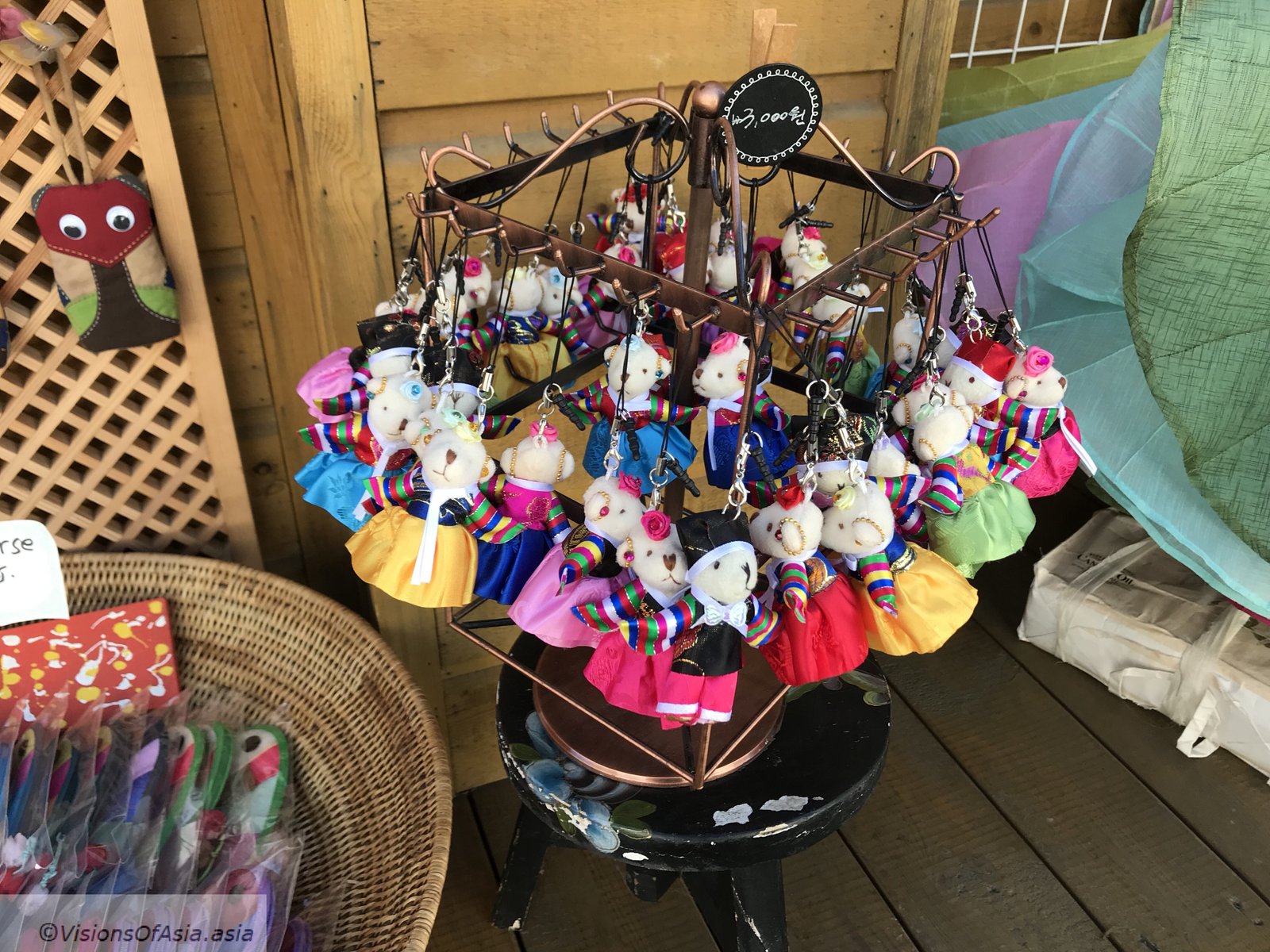 You can find some murals such as the "wall of love".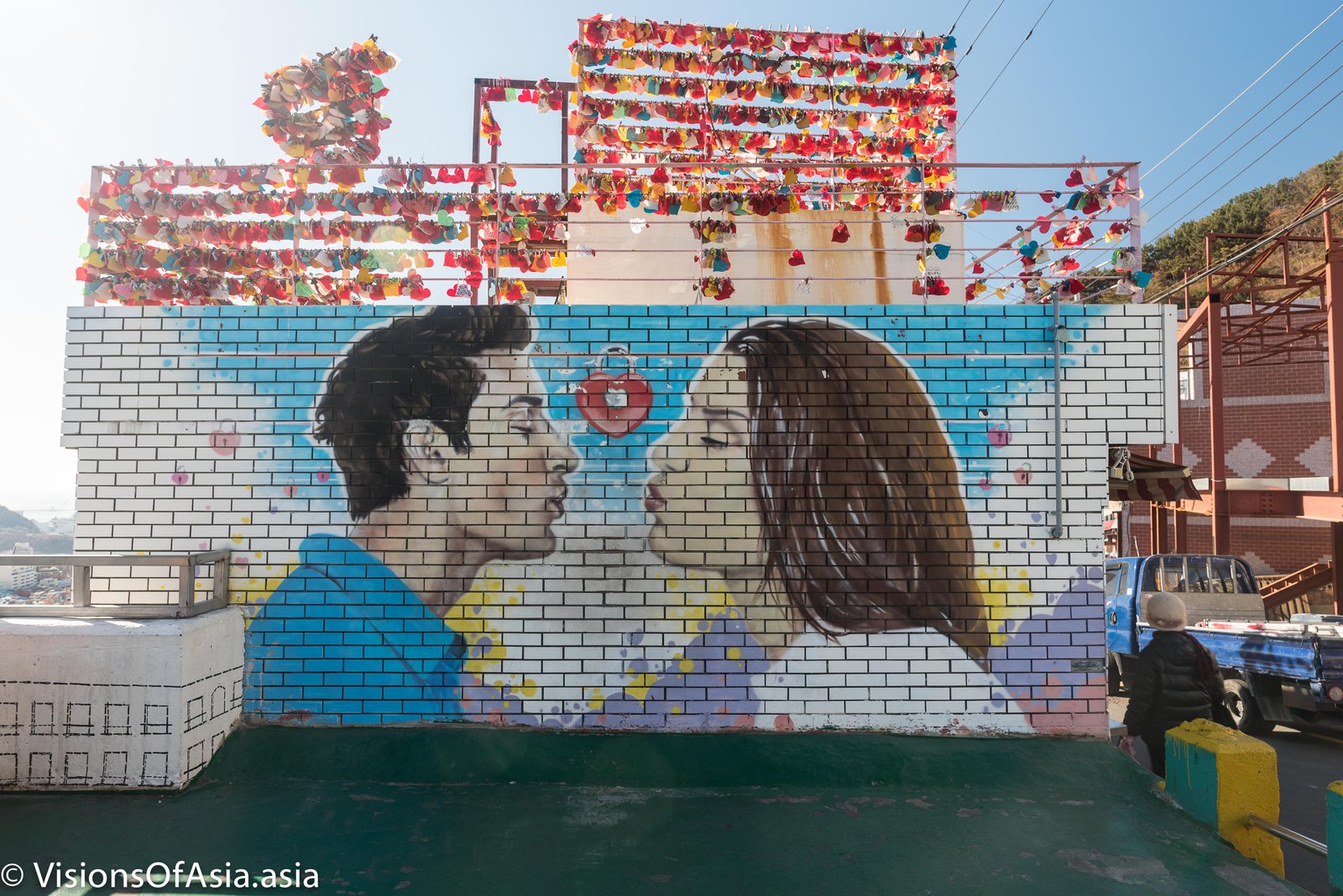 There is also a lot of subjects for detail shots in the village. Such as an old and worn out roof.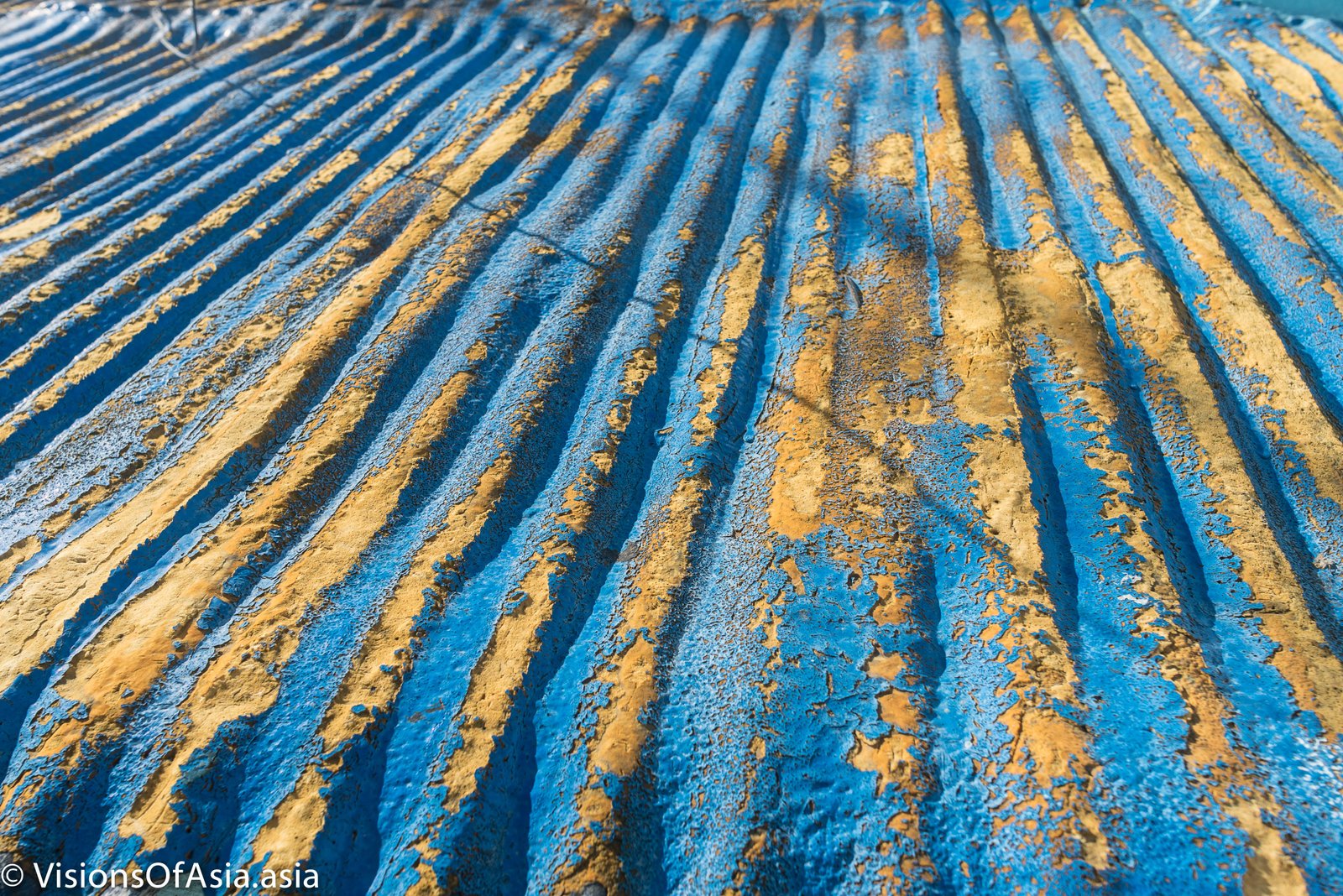 When looking at details, the tightly packed houses make also for interesting photographic subjects.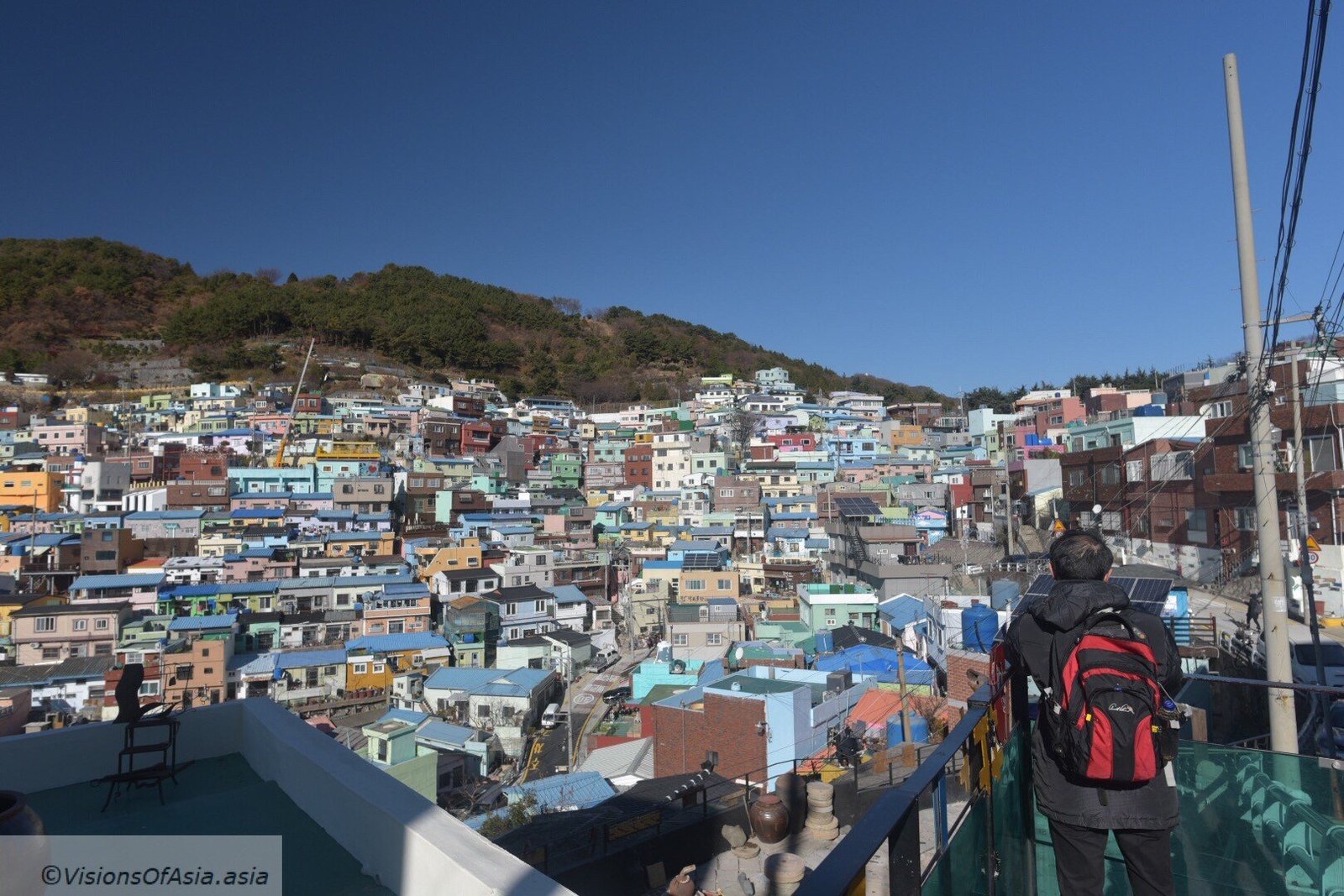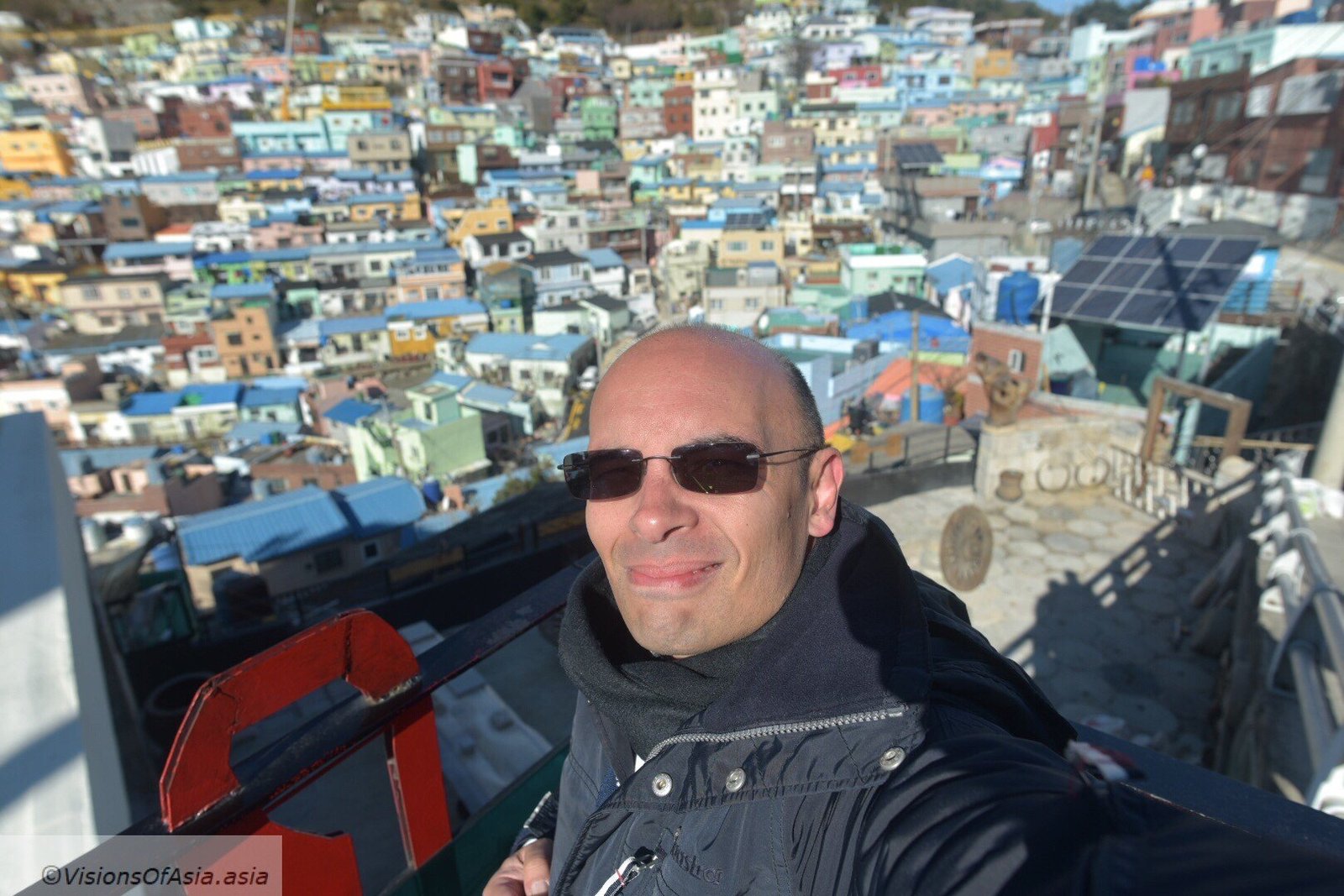 You can also check my periscope account to find a live video I made walking through the village.
How to get there?
Gamcheon is not a lost place, but I elected to walk up there instead of taking transportation, and it was a quite strenuous climb.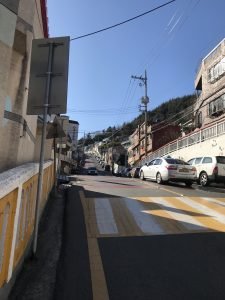 You must first take the metro to Toseong station and take exit 6. From there, either you catch a minibus, or you can climb all the way to the top. It was frisky on that day, so a good day for a walk! Taking the minibus down sets you back about 1,000 KRW, but the driving is quite vertiginous in those steep streets!