"Train to Busan" always evokes a famous Korean zombie movie, which also is a sort of satire, criticism of social inequalities in Korean society. But such was not my purpose in this post, which is mainly to recount my train travel from Seoul to Busan, and my first impressions of this Southern city.
There is high speed train and there is slow train
Of course, "train to Busan" was a movie featuring the high-speed "KTX" train, which uses Alstom machines. But there are also other, cheaper and more lengthy manners to get to Busan. I mean here the Mugungwha (super-slow omnibus) and the ITX-Saemaul (express train). Sometimes, the pleasure is in the journey and not just zipping from one place to another.
KTX is reputed for being tight and a bit a sort of "Concorde" of trains in second class. I prefered taking the ITX-Saemaul, partly because I was on vacation, partly because I wanted also to experience the pleasure of traveling by train. Sometimes, the pleasure is in the journey!
But taking the time does not necessarily mean renouncing to modernity, so I availed of the possibilty to reserve my tickets online via the Korail website. Prices as of January 2018 were, for a one-way ticket to Busan, of 42,600 KRW for the ITX Saemaul. As a comparison, the same ticket in second class on the KTX would cost 59,800 KRW. Savings is not really the main focus for taking this train thus, comfort and being relaxed was.
The train itself is pretty comfortable and well-arranged, with larger space for your legs than on a KTX. Stations are announced in Korean and in English, so you cannot miss your station, unless you are sleeping.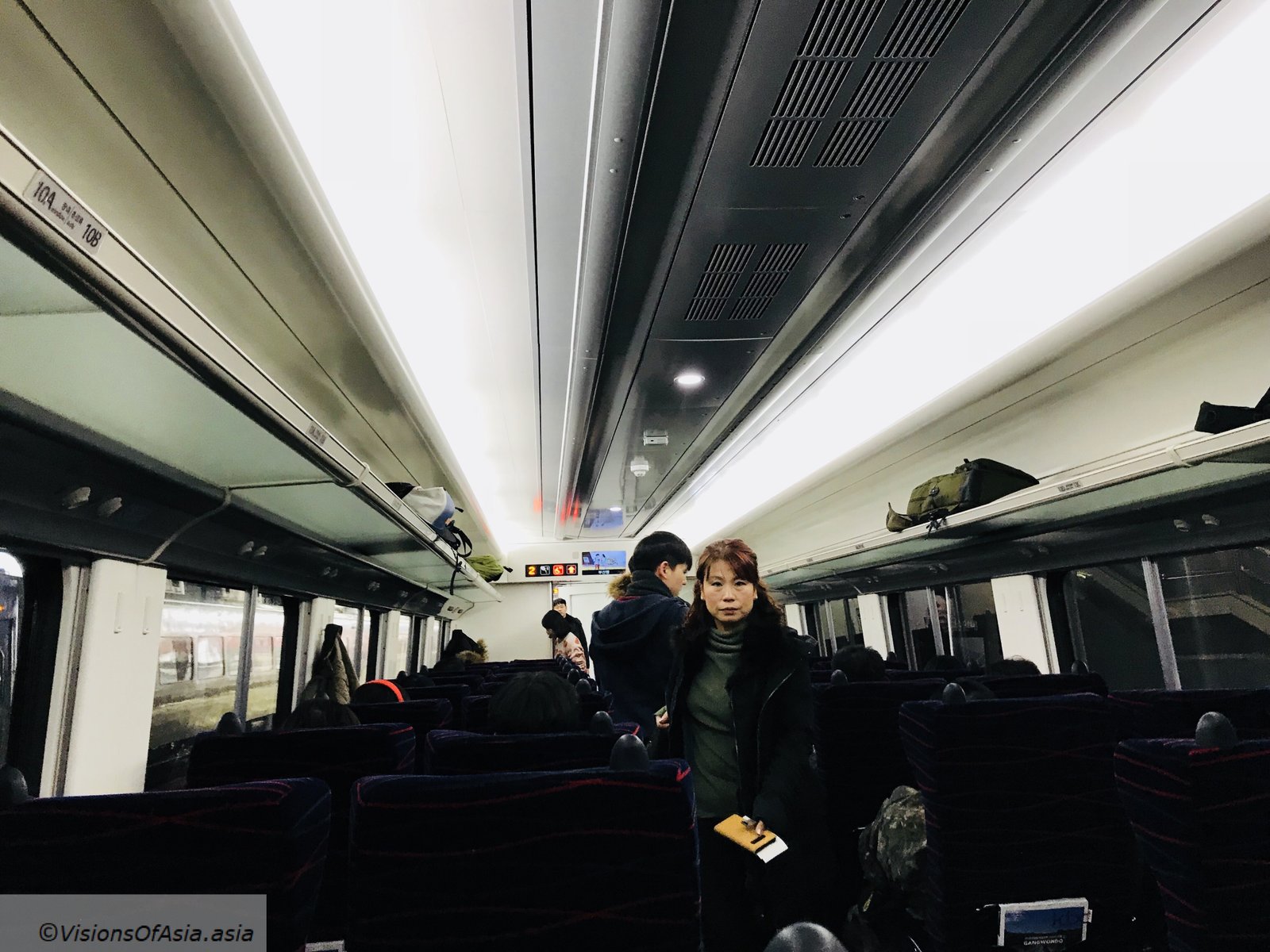 The trip itself was uneventful if lengthy. But with a good book, time passes quickly!
The train did arrive in Busan
In "Train for Busan", the KTX train never makes it to Busan, overcome as it is as much by dissensions between passengers as by the zombies. My ITX did arrive in Busan, where I had some slight issues finding the metro. Thankfully, a gentleman went out of his way to help me find the entrance of the metro, even trying to help me to buy a ticket (but I had my cash card from Seoul).
I checked in at my hotel, in a pretty animated area of Busan, near the metro Seomyeon. The hotel I chose was the "Home Hotel". Pretty newly built, the hotel offers the comfort of modern hotels and the welcome of a family pension. Staff are always very kind, and breakfast, although not very varied, is pretty good. The room does not have much of a view, but when you are in Busan, the last thing you want to do is stay locked in your hotel.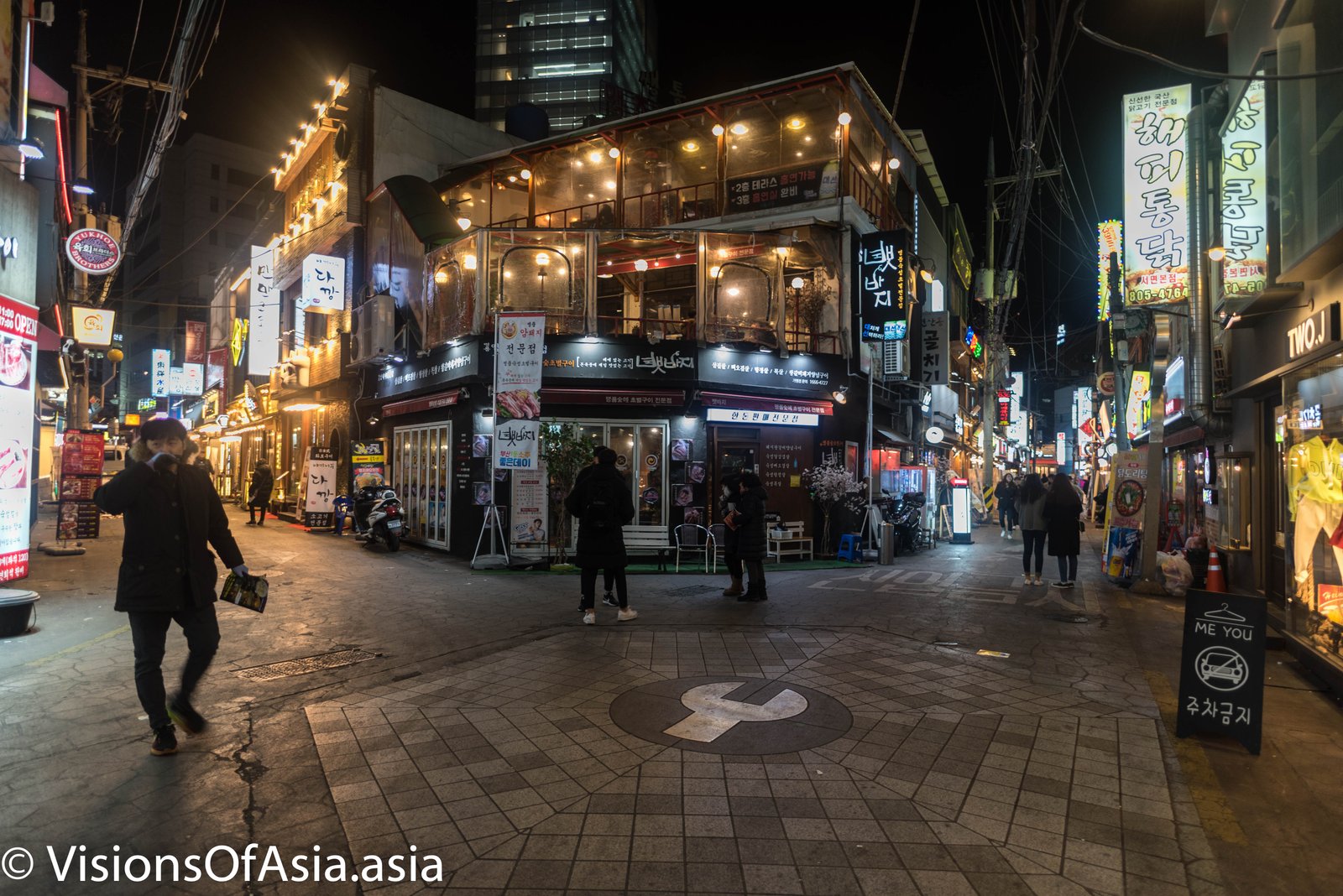 Busan's bridge
I arrived too late in Busan to enjoy the sunset, so I set out to go and see the famous Busan bridge which extends across the Busan beach. That night, it was in the low negatives (0° to -3° C), which is not a big deal per se. However, where it became though was that on the Busan beach, there was a strong wind blowing in from the sea that got me all but frozen while shooting pics.
That night however, luck was with me, as I managed to capture the Busan bridge with the full moon in background.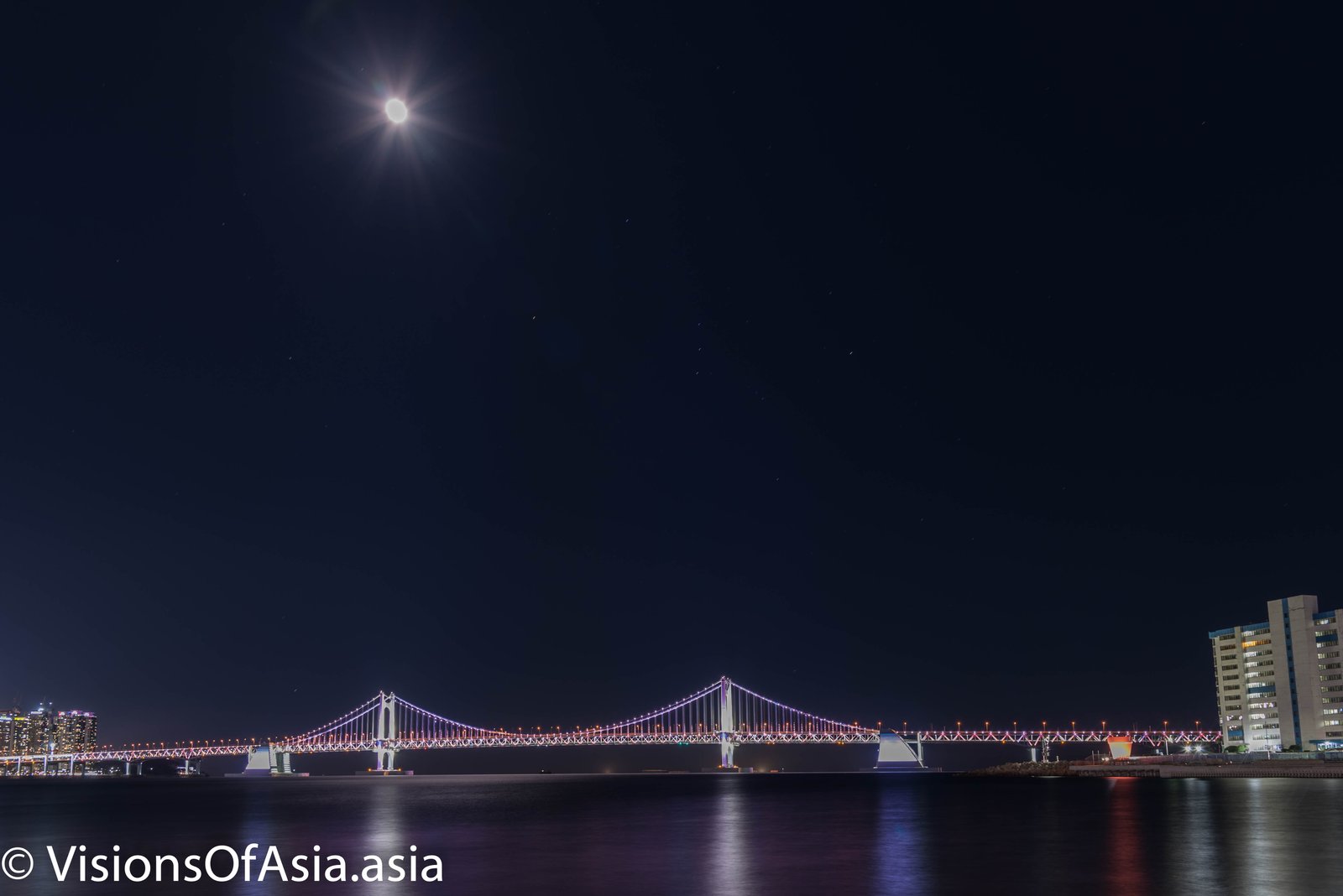 Of course, at night and in that cold, people were basically deserting the beach for cafes and bars. Nevertheless, in the distance (and I didn't make it until there, I am afraid), I managed to see some of the lights and animation of the festive beachfront.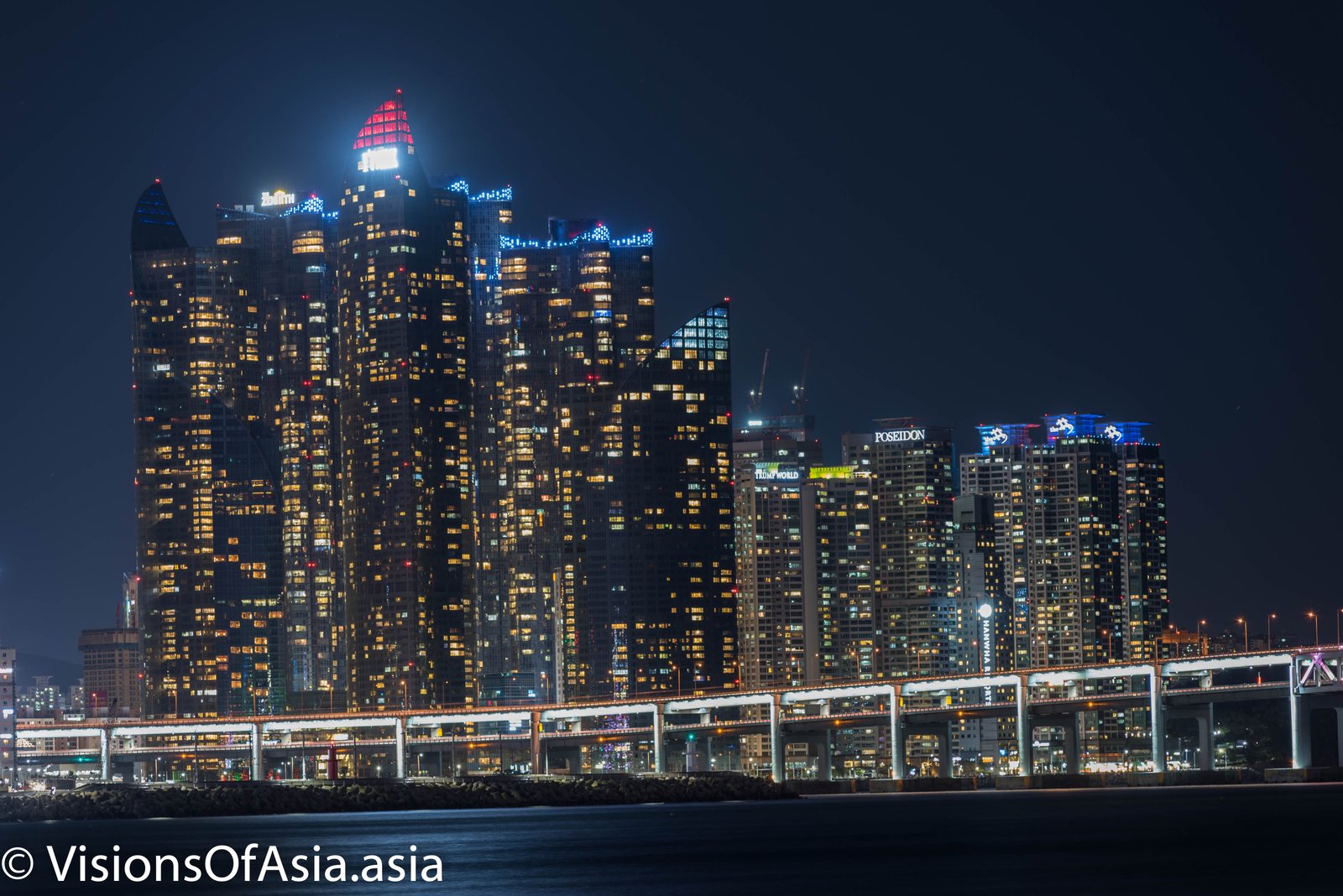 Once I froze myself completely shooting these pictures, I rushed to the nearest Starbucks to grab a hot choco and try to warm myself. And, being ready to explore Busan the next day, I headed back to the hotel while the night was still young.