I was in Busan for a couple of days already, and it was my goal to try and see the fish auctions of the Jagalchi fish market. Descriptions and indications are pretty sketchy on how to get to see these auctions given the early hour at which they take place.
Nevertheless, as there was no public transportation at that time, I grabbed a taxi to get to Jagalchi fish market, and arrived there around 4.45 AM.
A profusion of fish
The first thing you notice when you arrive at Jagalchi, is the profusion of fish available everywhere.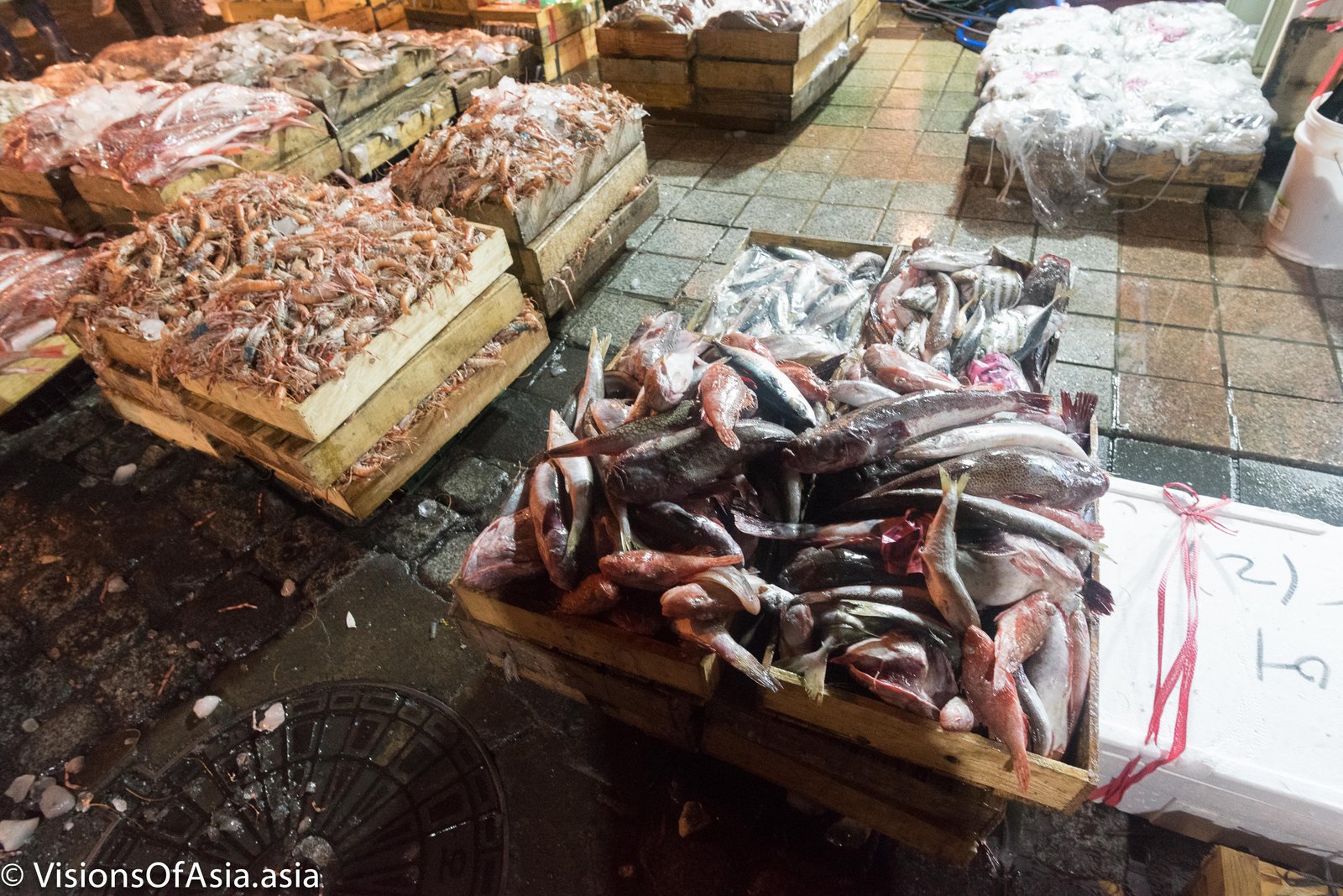 The Jagalchi fish market is one of the most well-furnished markets in terms of fresh seafood, and this general reputation was confirmed seeing the market at 5 AM.
I found out one of the main halls where wholesalers present their produce. While it looks astonishingly clean, the floor was drenched in water and there was quite a "fishy" smell in the air.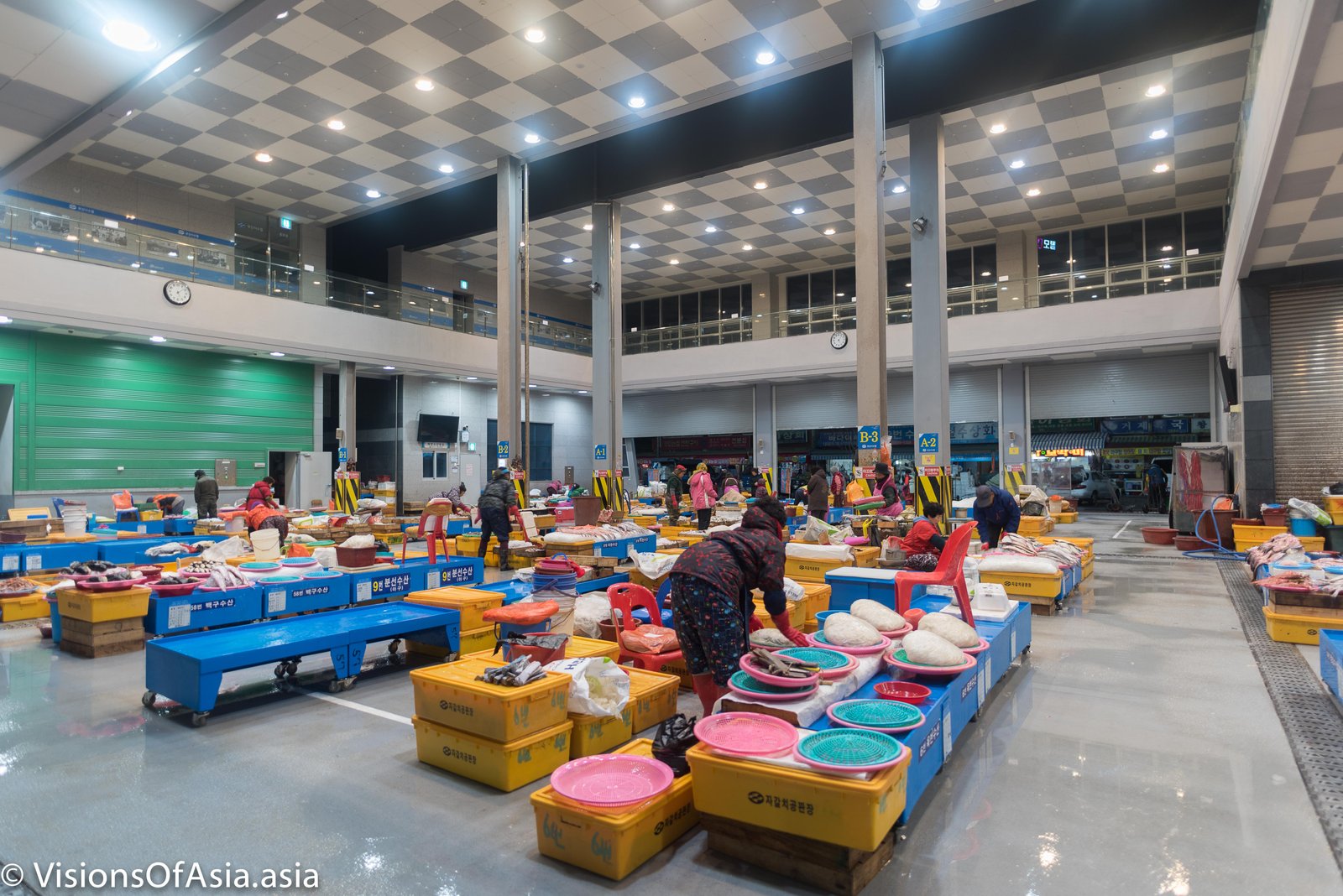 It seems unfortunately that I was quite a bit late there, since I did not manage to find the actual auctions of fish. All I did manage to find was an auction for clams. On the whole, Jagalchi fish market has the reputation of having vendors who are quite hostile to pictures being taken, but my experience was quite the contrary. It is maybe because I look European, or maybe also because I did smile and engage my subjects when taking photos.
Life around the market
The interesting thing about a market is the life that gravitates around that market. In fact, vendors need also to feed themselves and need also to rest or have their needs tended to. So, you have plenty of small businesses thriving around, like a sweet potato vendor using an old coal furnace.
The feeling was extraordinarily atmospheric, being out at 5 AM in the cold and seeing first the market, then the scenes such as this small merchant. The world belongs to the early risers, and this is especially true for photographers.
On the technical side, of course, shooting at night is a challenge, but I equipped my Nikon 20mm F.1.8, and this helped me to handle the difficult lighting condition. You could obtain the same results with a (cheaper) 50 mm F 1.8, but then, the inconvenience is that you must stay further from your subject. And nothing engages as much as close range photography for your viewer.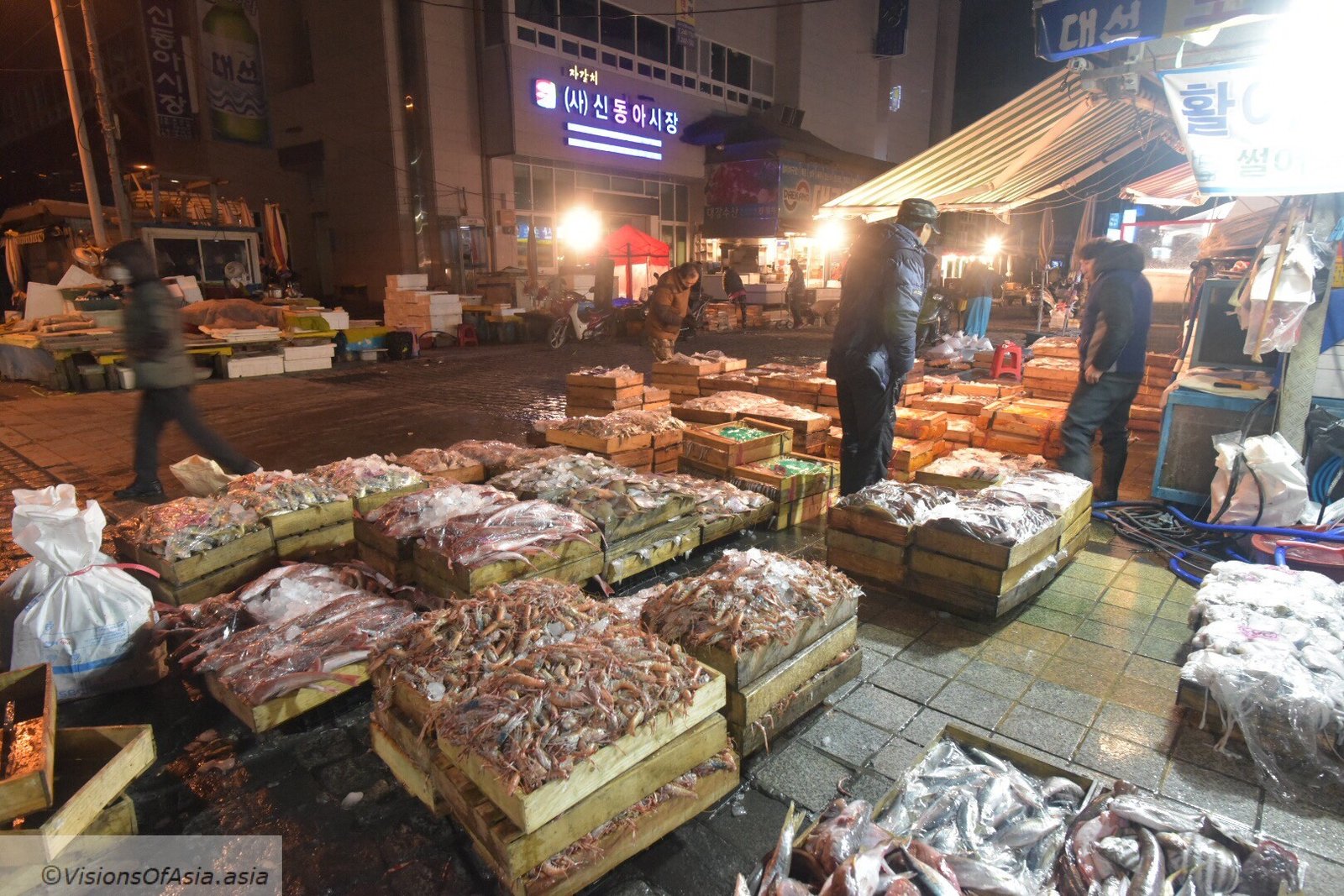 A local breakfast
My original plan was to enjoy a local breakfast at the hotel. However, on the way, my attention got caught by a local shop grilling fresh fish in front of the shop and serving local breakfasts. I think the owner of the shop got scared seeing a foreigner, as she attempted to tell me her shop is closed, before eventually relenting when a local patron invited me to sit down in front of him.
The breakfast was every bit hearty and delicious as expected, with several pickles, a fish soup, and of course, the grilled fish. It was a perfect restoring meal before heading to Haeundae beach, my following stop.