After I finished my barefoot hike in Shoushan national park, I went back to the hotel, refreshed myself and then, went right back out! In fact, the goal was to visit a place I had seen while returning on bike back to Aozhidi MTR station: the Love River. And that's where I encountered two young Taiwanese photographers. But let's not get ahead of ourselves.
Biking along "Love River"
A real iconic feature of Kaohsiung, the "Love River" is a place where couples come for a lovely evening stroll, and despite the river being very polluted, it is a beautiful setting.
While the motionless river (actually, a canal) may seem romantic, it is however also the sign of a lack of life. There is no fish hopping in the water or the habitual signs of aquatic life. This can be explained by the fact that, for a long time, industrial waste from Kaohsiung was thrown back into this canal.
Today, efforts are being made to cleanse the canal, but it will still take some time…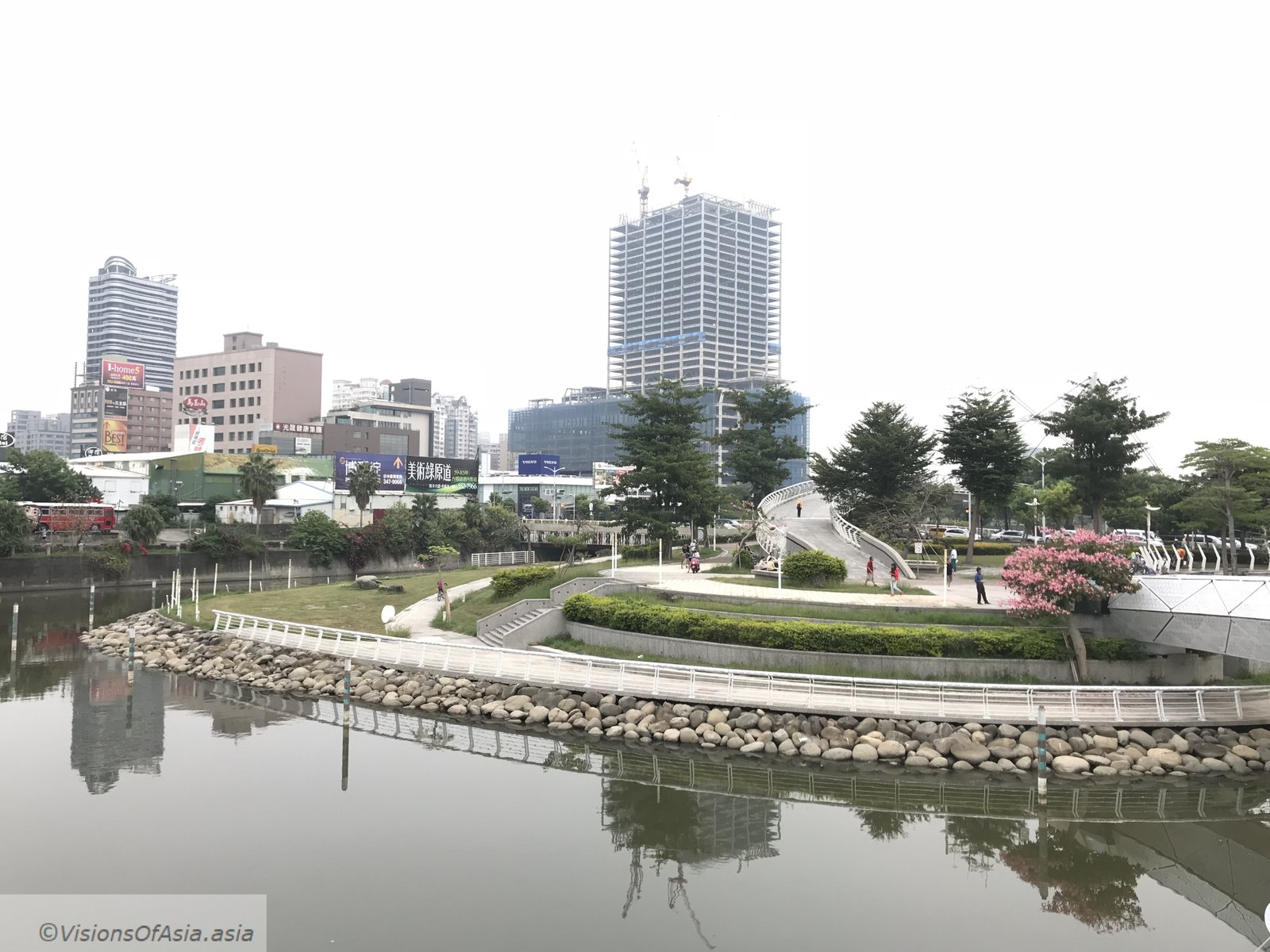 During the day, "Love River" is charming enough, especially as flowers still adorned the river despite the closeness of winter.
Coming back at night
Obviously, for a romantic place, the best moment is at night, but I came a bit late, towards 9 PM. There was none of the animation supposed to be (like boat rides, etc).
The sign of love river reflecting in the still water are a must shoot!
However, couples were still out strolling on this bridge and with some reason: this place is a very romantic place to come and walk together with your beloved.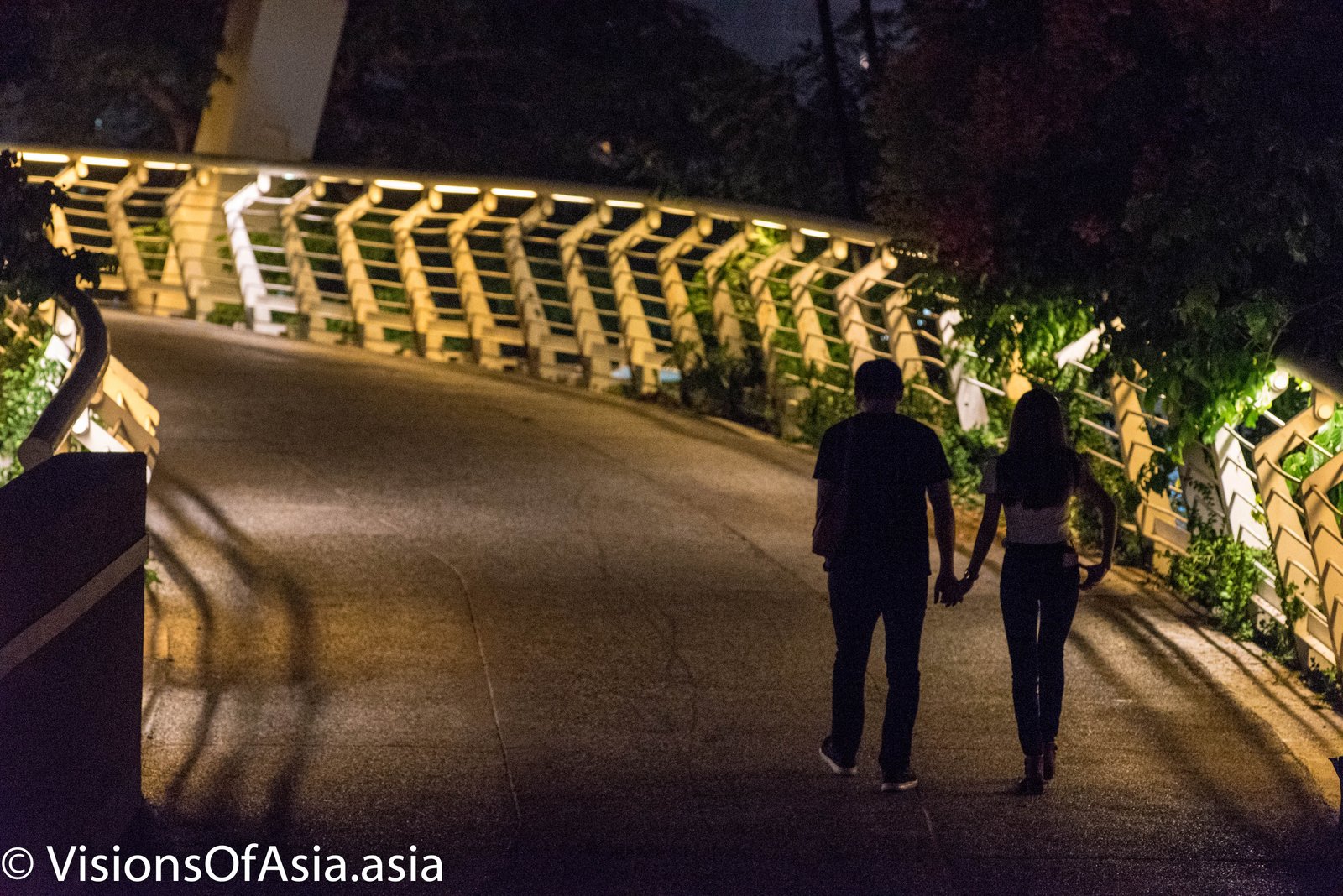 Later, I moved on the overpass over the road and that is where I met two other Taiwanese photographers, Paul and Jimmy, who were shooting the passing cars in the city. We took some pics, talked (gear, of course!). We then exchanged our respective instagrams and finally, took a common selfie with my camera and the remote.
Night Photography
Obviously, the story would not be complete, if I did not share the picture I took on that bridge…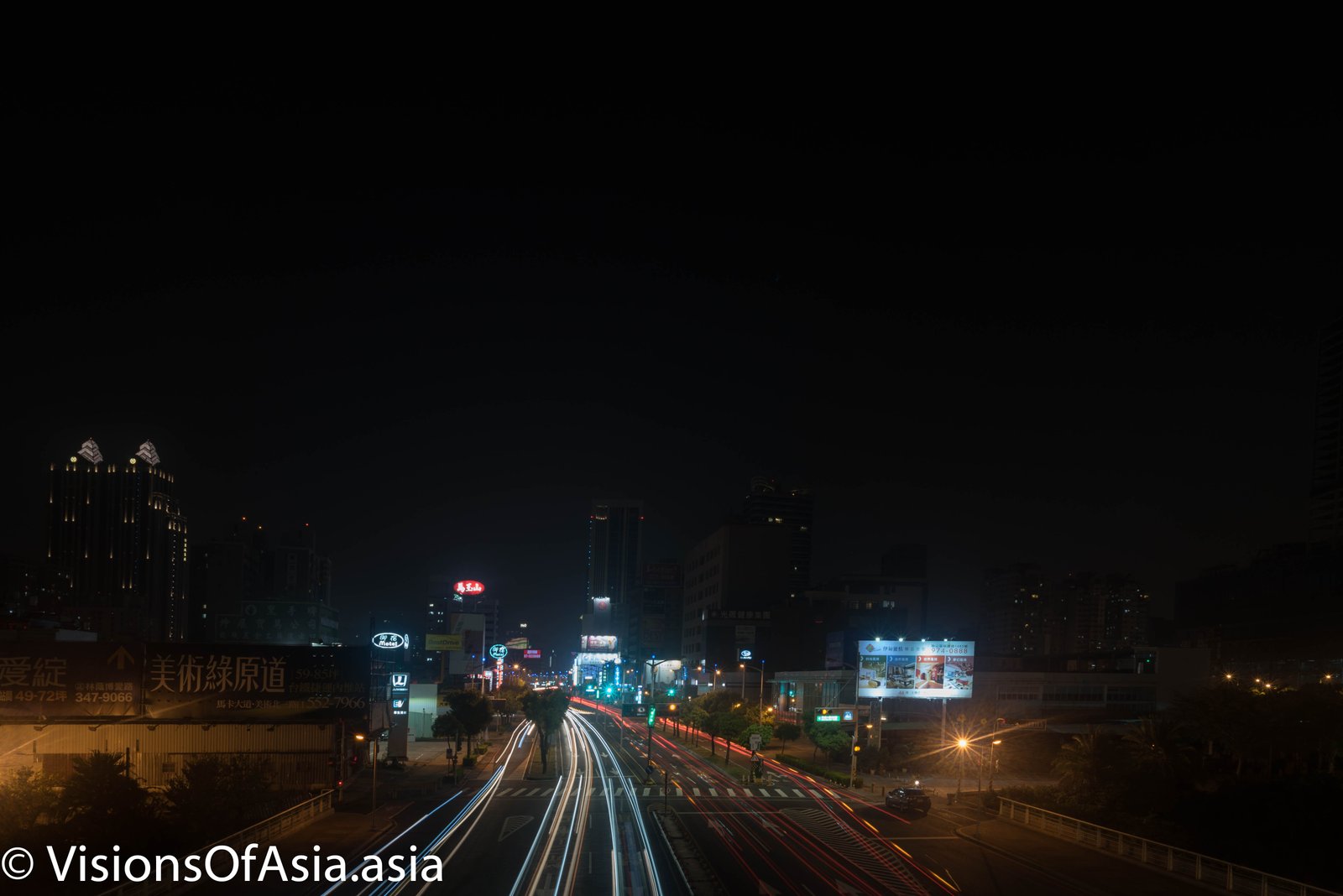 While "Love River" is an interesting place for photography, there are not many shops or restaurants around past a certain hour, and by the time we were done with photography, it was already nearing midnight. I had a meal quite late that day, I carried out my barefoot hike, without eating.
I hence took leave from my new friends and while walking towards the MRT station, I found out "The Plus", a homely little restaurant mainly frequented by bikers at that late hour.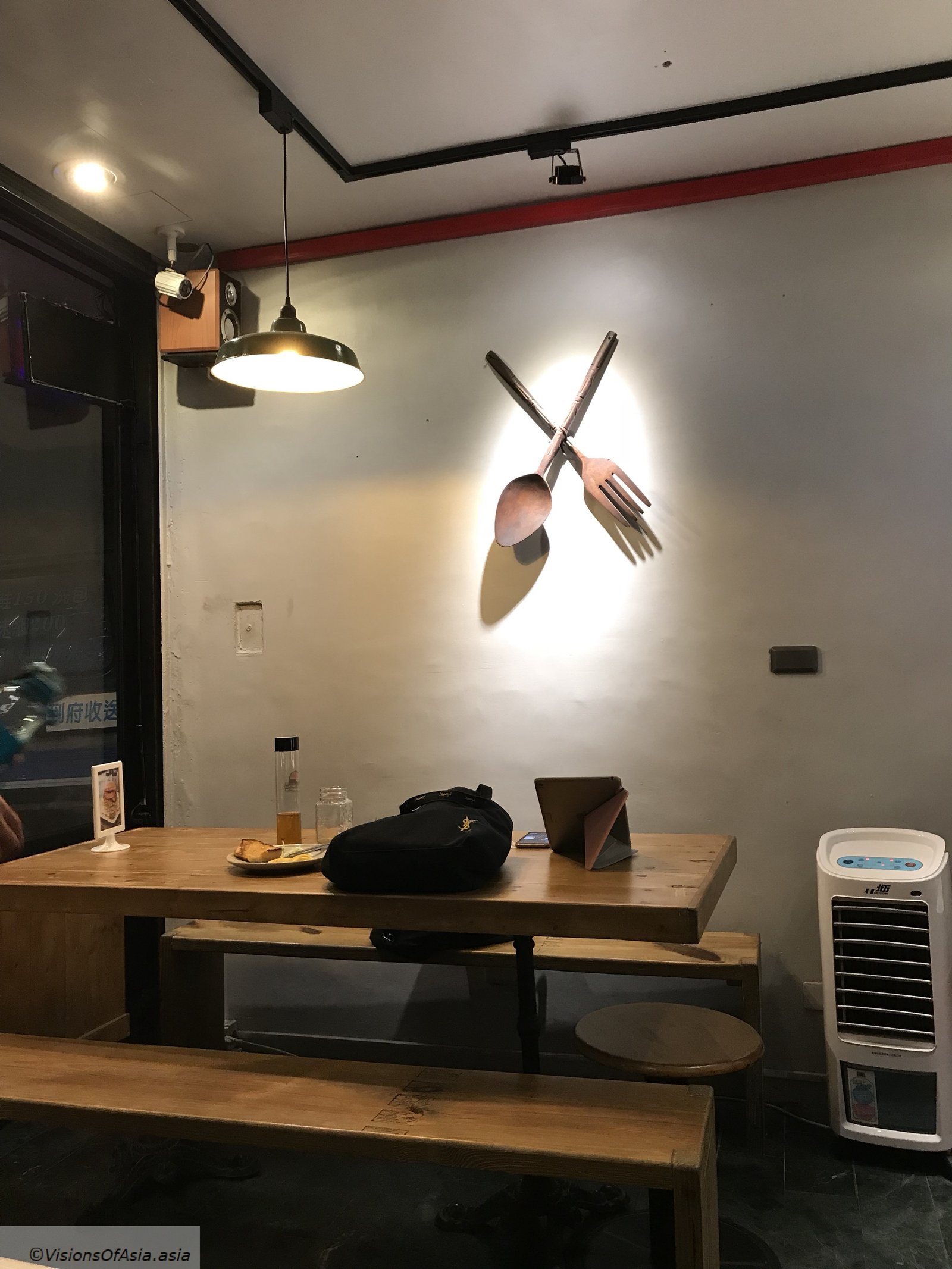 I must say that while simple, their menu has some tasty bits, like this cheeseburger (beats Mc Donald's by a hundred leagues).
Going back: a bicycle adventure
Obviously, by the time I had finished my dinner, it was too late, as the last MRT had already passed. I then walked from Houyi MRT station to Central Railway station… It was however impossible to use a bicycle to ride through the construction site cutting the direct road to the hotel (Sunduo).
I hired a city bike and started a long ride to the hotel, which took all of one hour. In fact, I had to take several turns to finally join the main road. Despite being tired from the day's hike, this was quite a pleasant ride. In fact, Kaohsiung has a lot of biking lanes and drivers are considerate, and the temperature was just temperate. Furthermore, the main avenues reserve the right lane for scooters and bicycles, so all in all, even at 1 AM, it is still safe.
I saw quite a number of "spas" and night entertainment places on my way, but mostly at provincial level, so nothing sleazy outside, thankfully. Before a gaming place, I spotted this little LINE car. This proves that LINE has penetrated much more in Taiwan (one of its biggest markets – the app is blocked in mainland China).
I finally got to the hotel at 1 AM and went immediately to sleep in preparation for another day of exploring in Kaohsiung.
Despite being tired, that first day in Kaohsiung had been more than promising! The next day, I was going to visit the "art pier"