Breakfast : finding a place
After arriving the day before, I decided to do some hiking for my first day in Kaohsiung. The goal was to visit the Shoushan national park. Despite my desire of getting out early and filling my day with activities, I only got out of the hotel towards 9 AM. Of course, I helped myself to some coffee with the gorgeous view and the lovely temperature on the balcony of the hotel.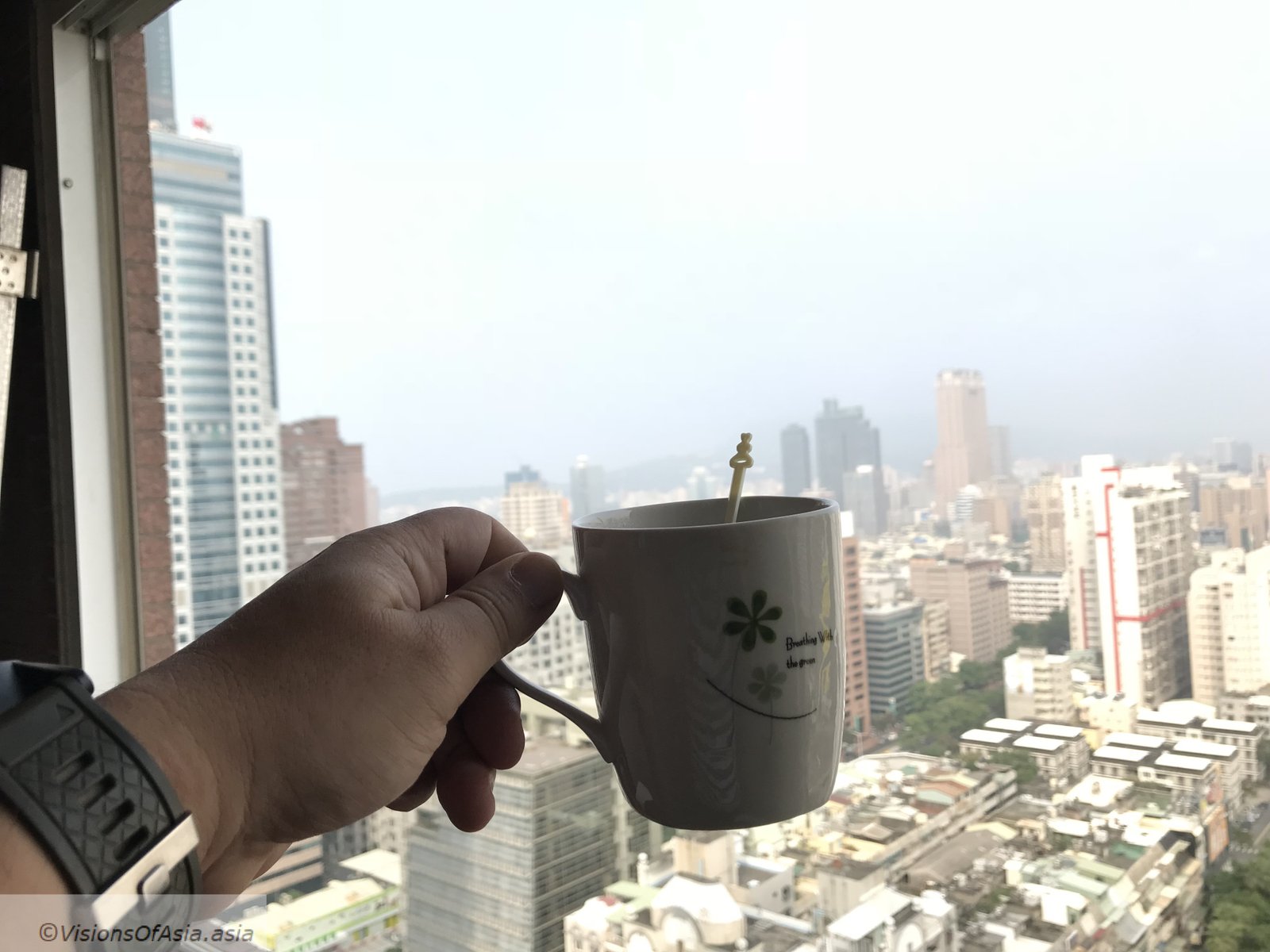 I loaded my heavy gear, my tripod (why or why, did I take it?) and headed out to search for a breakfast place.
In the end, I fell back on the local Starbucks where a croissant and latte were the occasion of a first picture. Somehow, this Starbucks became my go-to solution for breakfasts every day of my stay.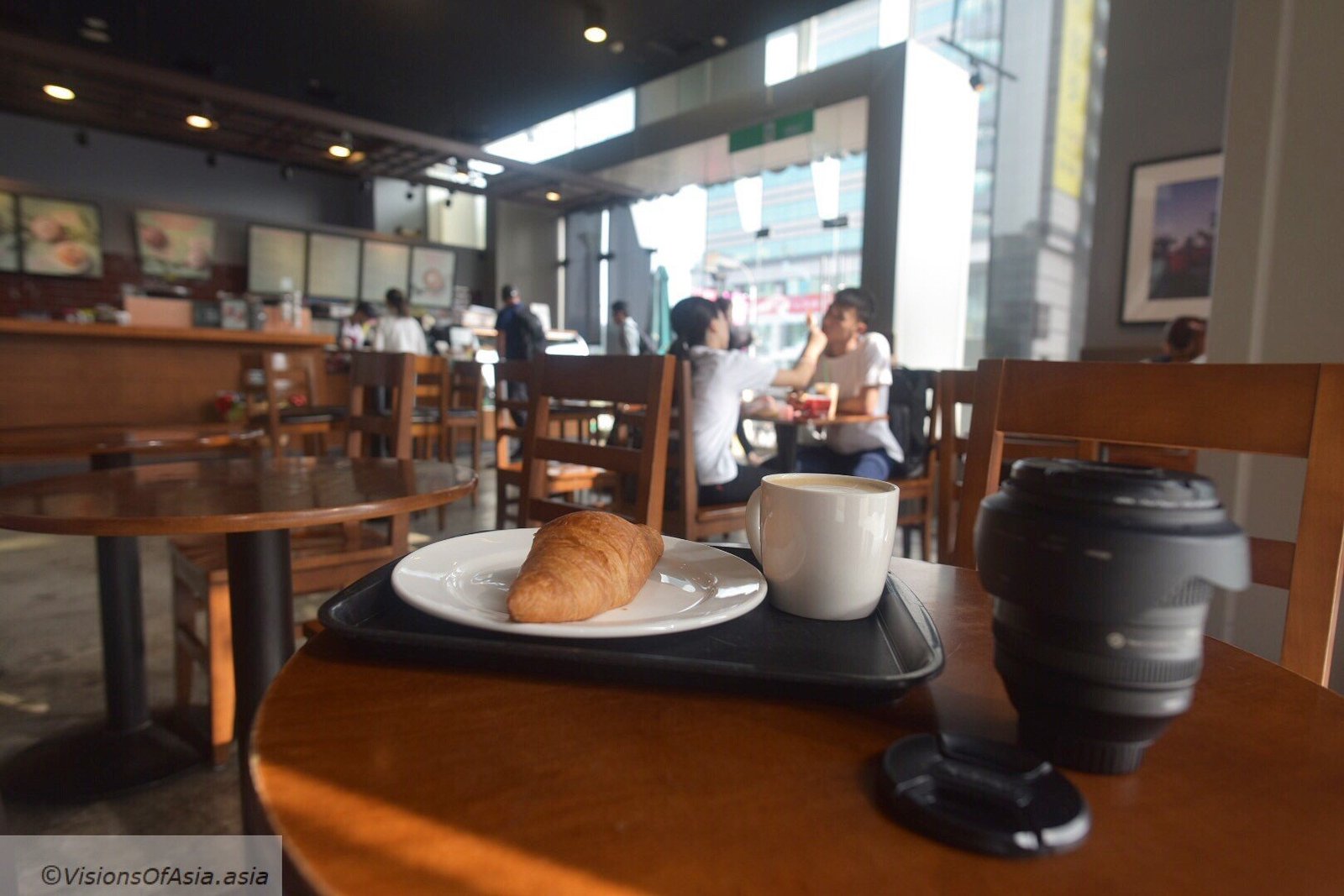 Kaohsiung MRT
Surprisingly for a provincial city, the MRT system is quite perfected. They even have such marketing gimmicks such as selling "Justice League" MRT cards (also called Ipass). You buy it for 100 NT$ and for another 120 NT$, you can charge it with a full day pass (250 NT$ for two days). Otherwise, you pay per each trip (generally, the maximum being 30 NT$ for one trip).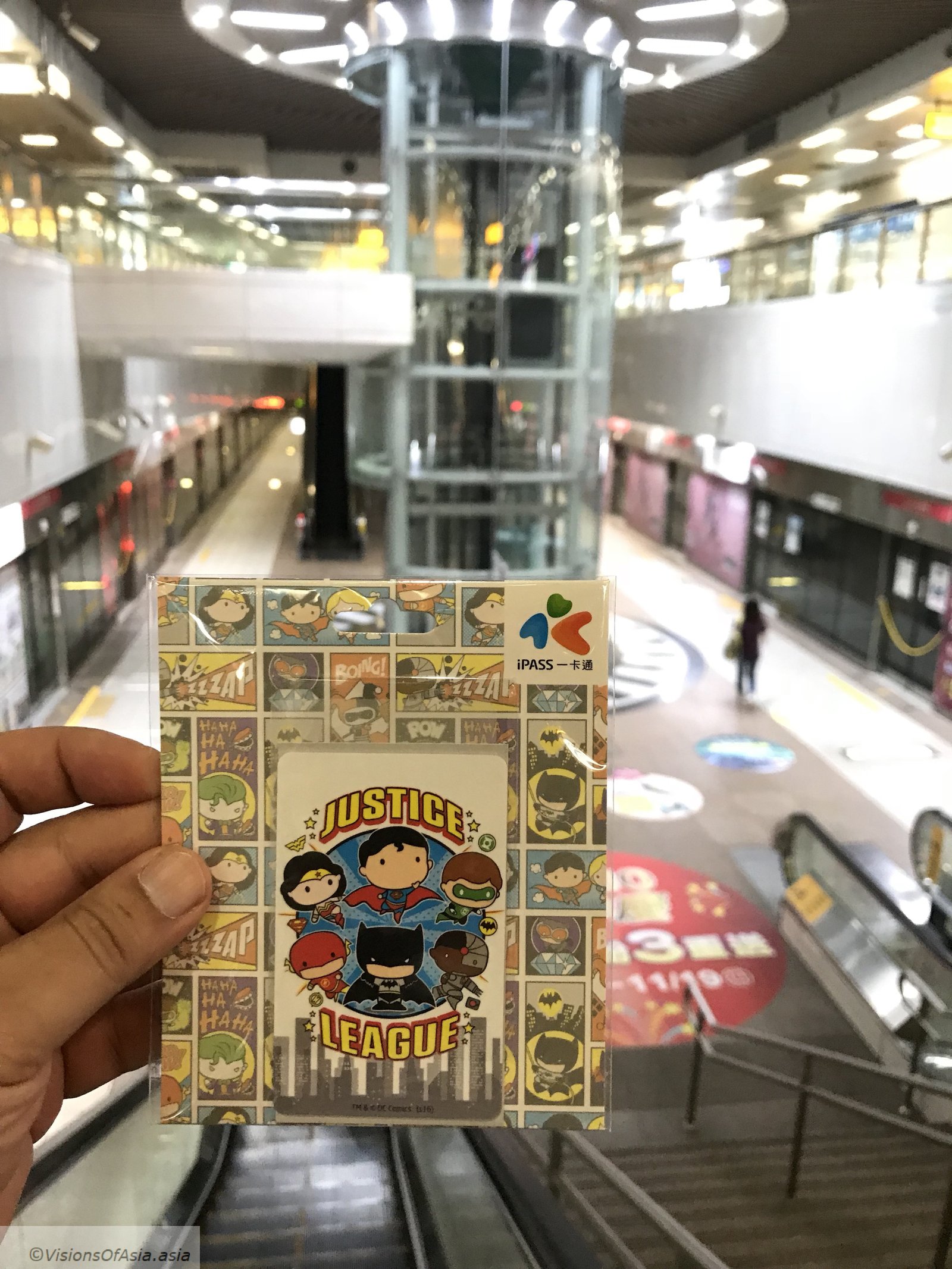 The MRT itself is very fast and convenient. I have one qualm however: the last train passes at midnight, so if you are out late (not a lot of people at that), not many options: bicycle or taxi.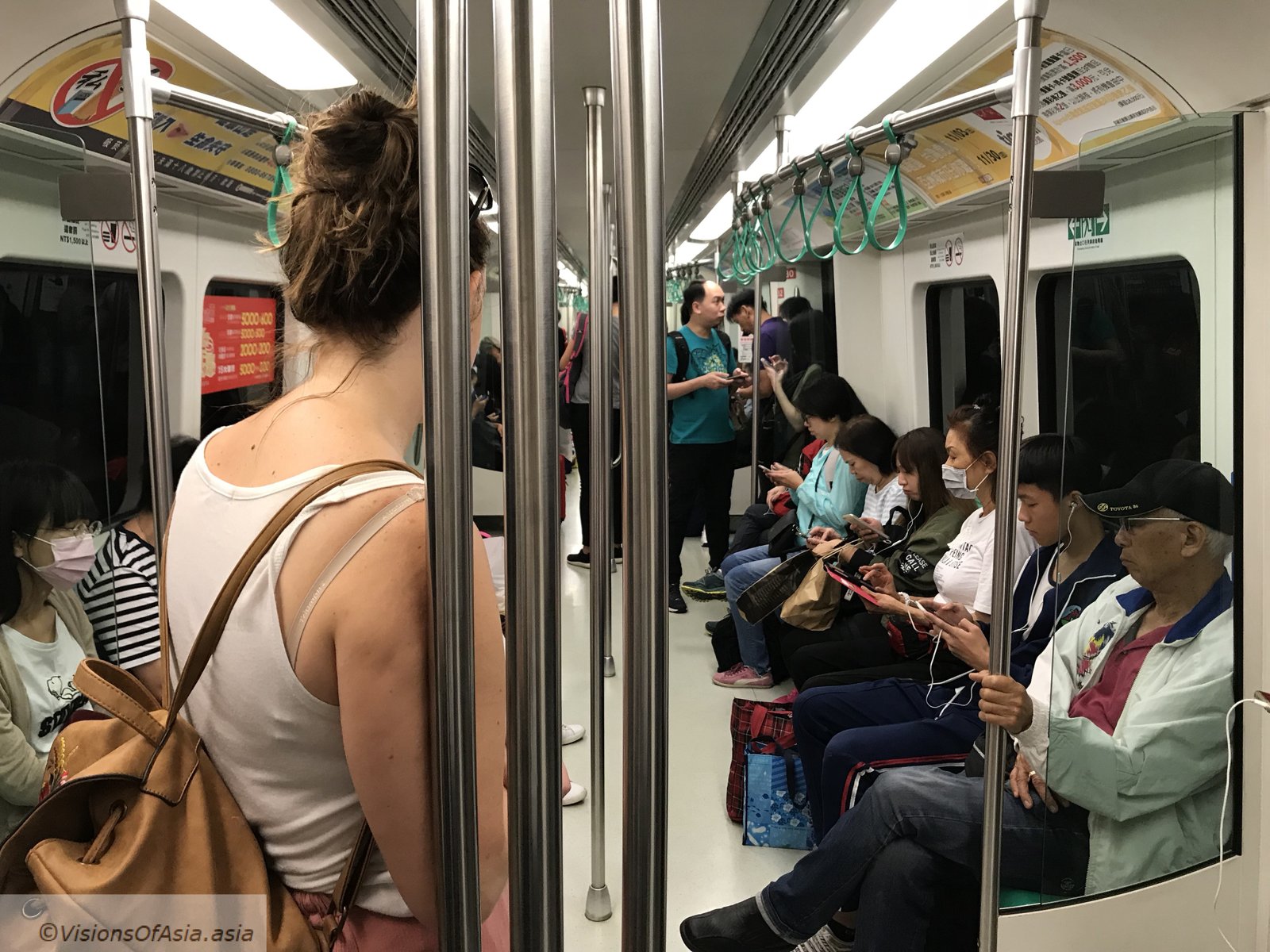 The dome of light
Kaohsiung is probably most famous for its "dome of light" in the MRT station Formosa Boulevard. This decoration, made of painted glass and conceived by Narcissus Quagliata has been the main attraction of the tourists and visitors to Kaohsiung. Made of several pieces of painted glass, this is an impressive reflection of the personality of Kaohsiung and its openness.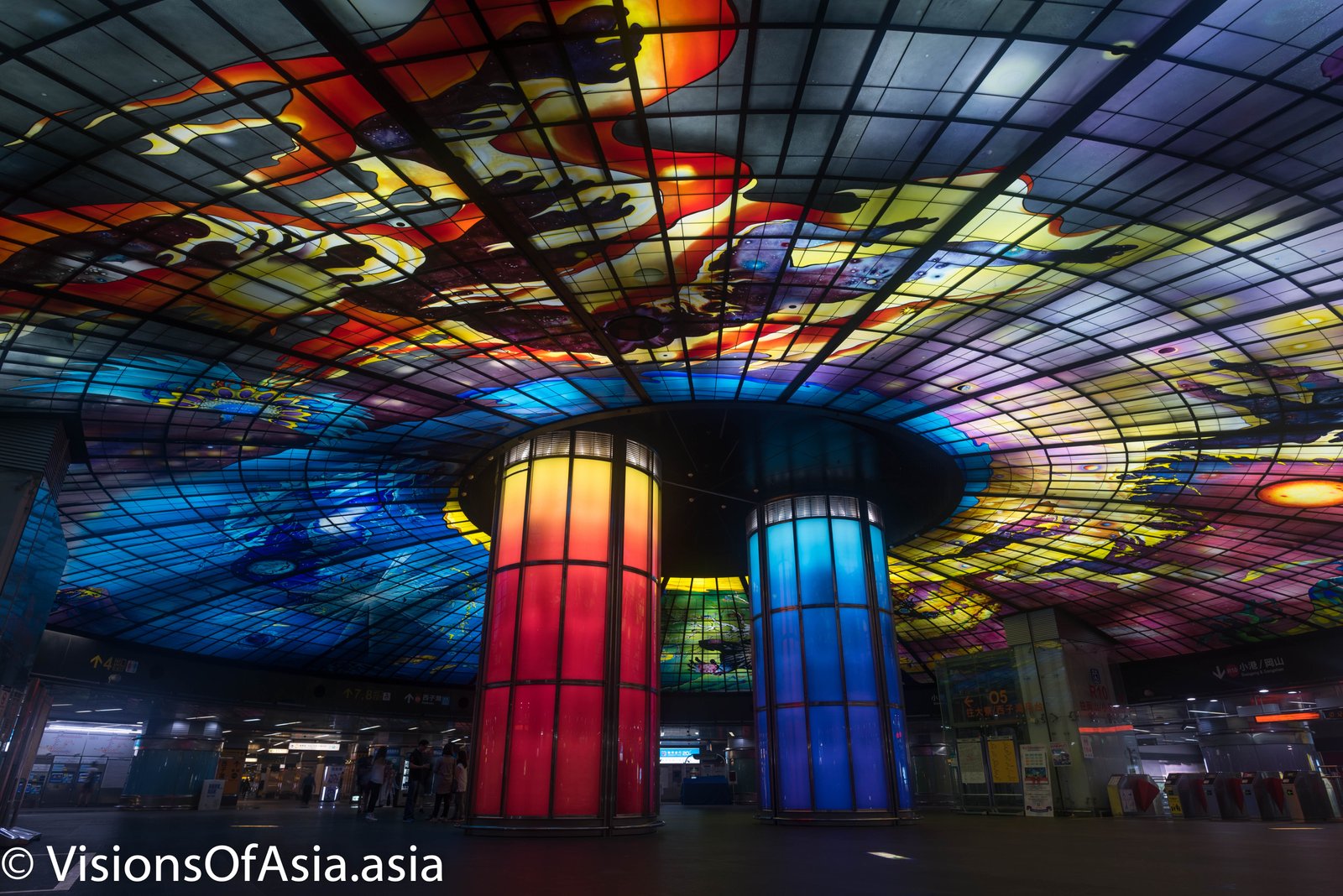 In Formosa Boulevard station, they have a white grand piano. A sign advises people that they are welcome to entertain travelers by using the grand piano, should they feel like it. Of course, they must request permission in advance, but it is a cute idea, showing how open this city is.
After taking some pics with long exposure (to enjoy the smaller aperture and also lower ISO, I took back the MRT towards Aozhidi, my next stop on the path to Shoushan national park. The real challenge of my first day in Kaohsiung was just beginning…. But you can read that in my next post!