In my previous post, I talked about my visit to Fushimi-Inari shrine at dawn, and how I thereafter headed to the historical center of Kyoto. Visiting ancient Kyoto is a bit akin to traveling back in time, as the whole area is pedestrianized. The number of persons in kimono in that area thrusts you back in time several centuries. It is also a center which embodies all the charm of Ancient Japan (even if before the pandemic, it used to be filled with tourists).
Meeting a "Maiko"
As I started my tour of Gion, I happened to come across a Maiko, a Geisha in training, with her father. She asked me to take her picture with her smartphone. I then offered her to take a picture with my camera and shared the picture with her via airdrop.
In a scene from another time, this magnificent lady stood proudly in one of those small streets where since centuries ladies of her profession had stood before. This kind of seredipitous meeting is one of the treasures of walking in the streets and doing street photography.
As I moved ahead in the old city, other Japanese couples or tourists could be seen visiting the old city with kimonos, giving the whole area an intemporal feeling.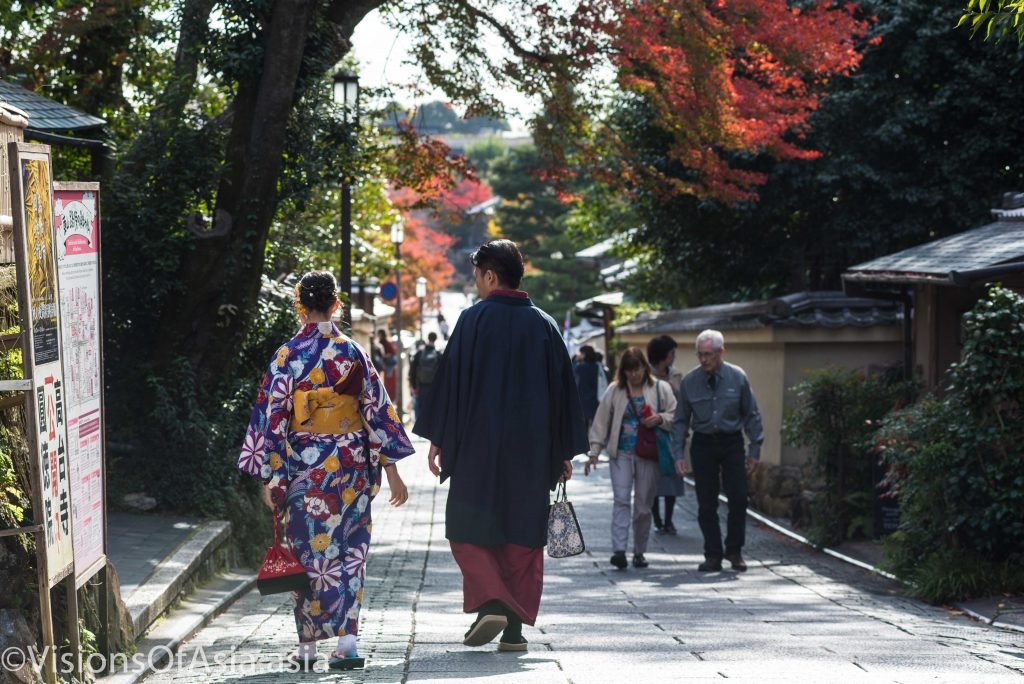 The fall colors and the delicate afternoon light also gave a very delicate feeling to the scene, explaining why Kyoto is a highlight for fall visits. Gion offers a fully pedestrian area, but alas, in the more commercial areas, the profusion of tourists and shops catering to those spoiled a bit of intemporal feeling.
The Fall Atmosphere
Despite the heavy touristic foot traffic in Gion, in some side streets, you could still capture signs of a more traditional Japan. A view of ladies in kimono walking under the fall colors is a delicate moment making you appreciate all the more the atmosphere of ancient Kyoto.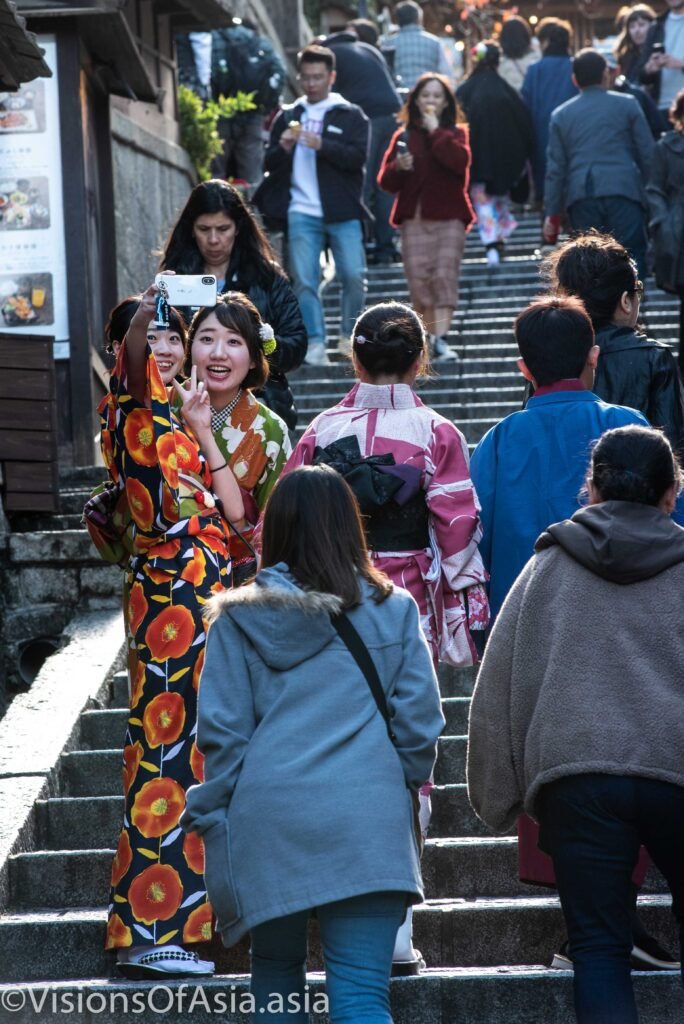 Any side you turn, you have a beautiful sight sending you back a couple of centuries. Here, near to a temple a tree overlooks a cemetery, while you can glimpse the Kyoto tower further down in the city.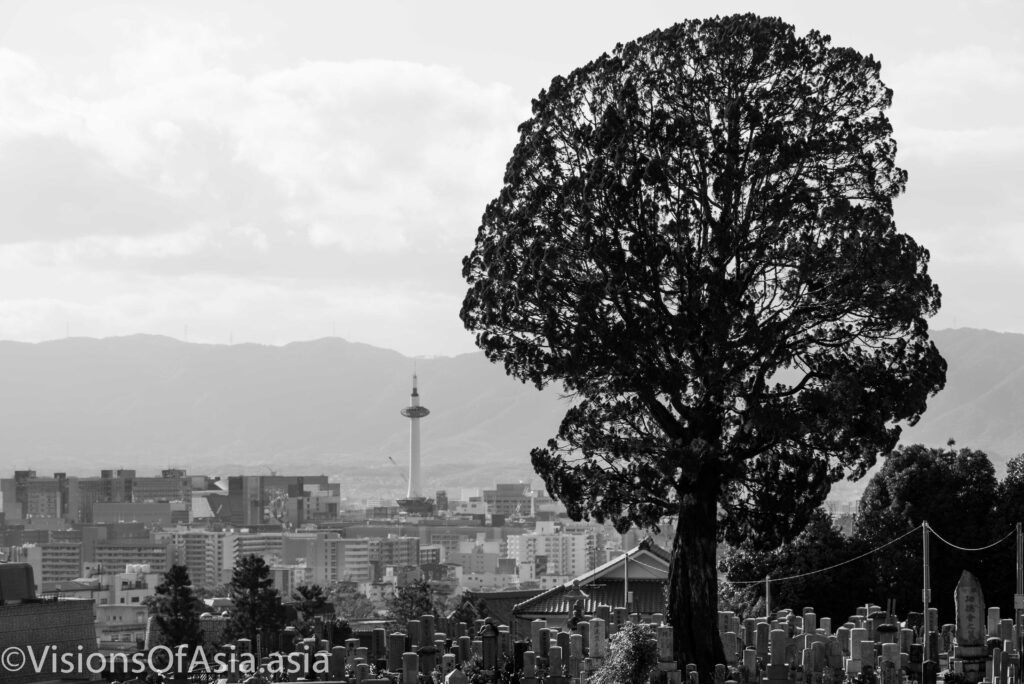 In the pre-pandemic times, crowds would really cover this patch of Kyoto, tourists and locals coming there to have their own share of the special atmosphere of Gion. Turning around after climbing the uphill street, you can also shoot the city of Kyoto, along with the crowd walking up.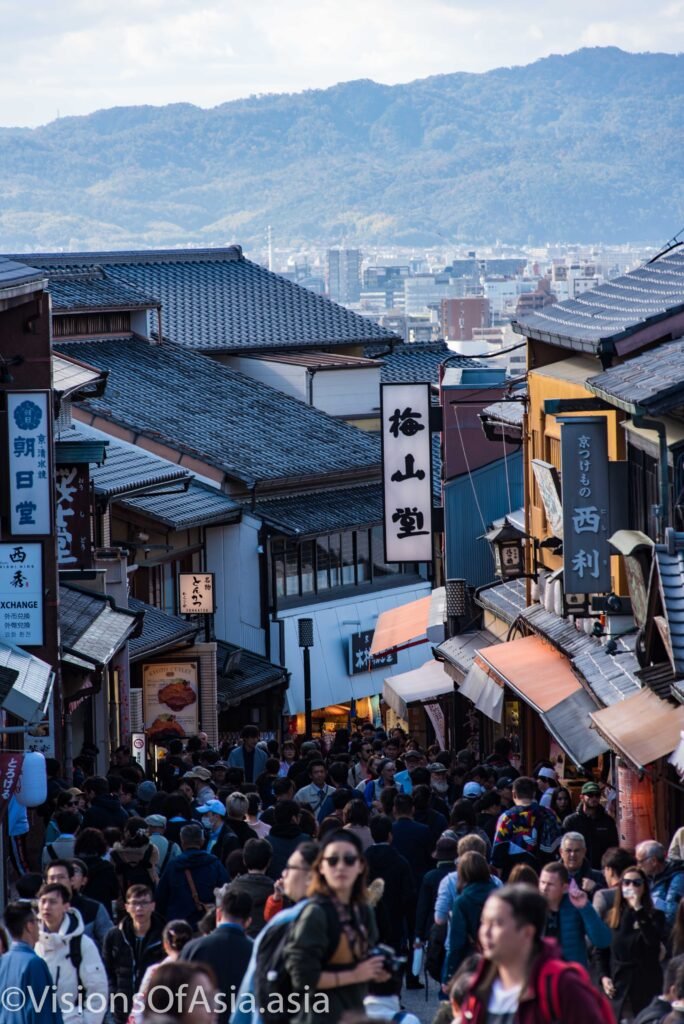 Fall colors
One of the most beautiful parts of visiting Japan in Autumn is the fiery autumn colors that come to light in parks and gardens. Kyoto, in particular, offers such a lovely combination of ancient buildings and fall colors that it has become world reknown as a destination for the fall season.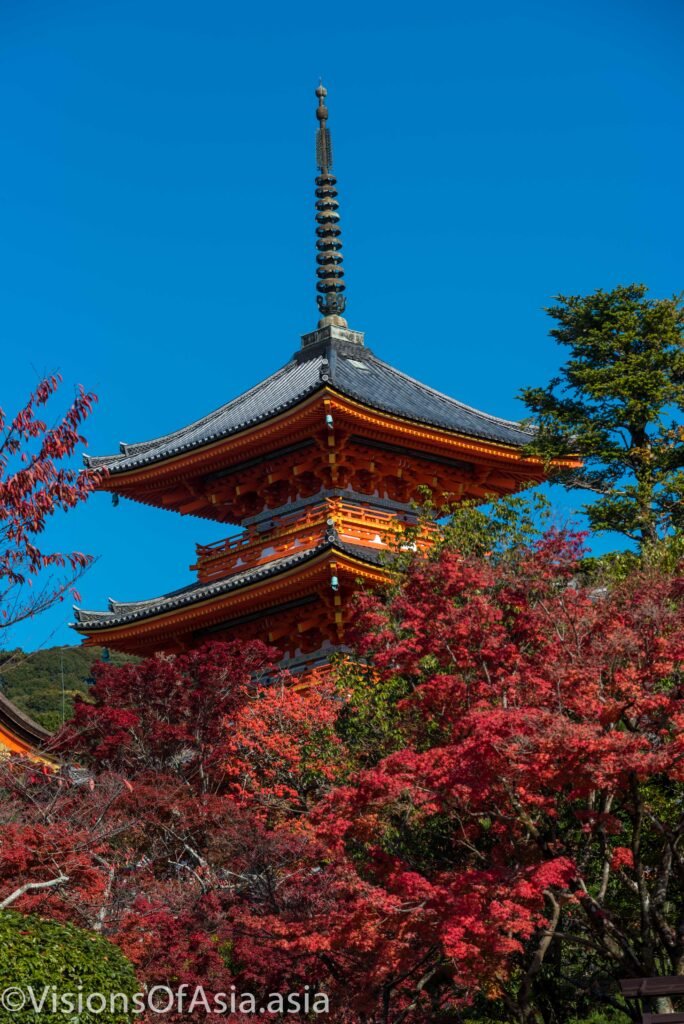 The time I visited, Kyoto was filled with Chinese ladies posing in kimonos, and it took knowledge of Japanese to tell them apart (that and also Japanese ladies have a very particular refinement unmistakable to their whole demeanor).
Nevertheless, ladies in kimono always add an element of localization to your pictures, so it is always interesting to include them, whether Chinese or Japanese.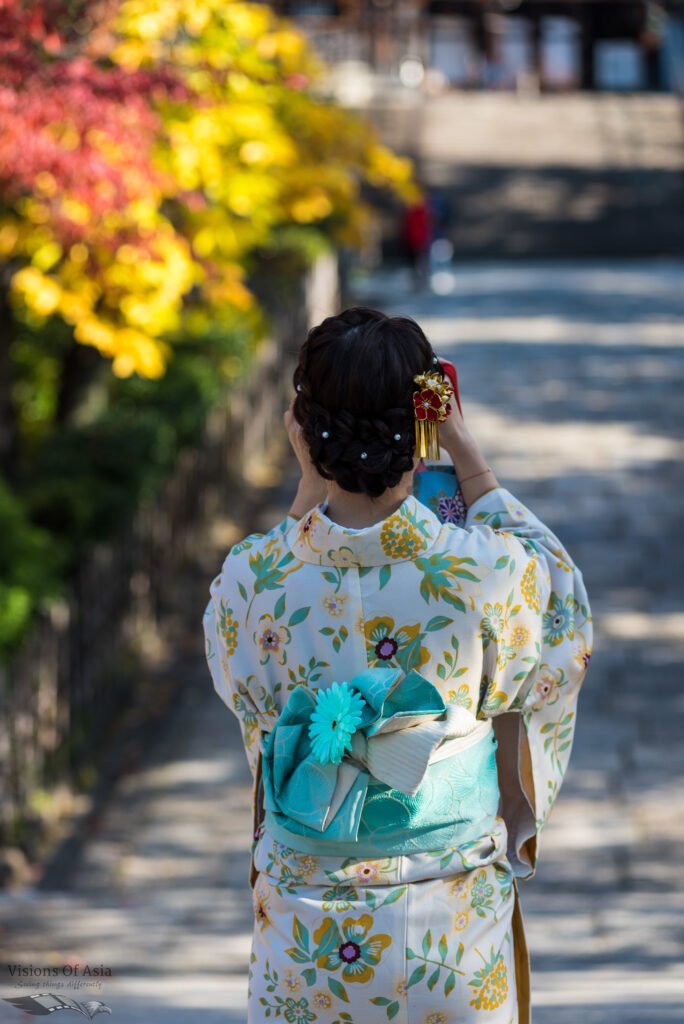 You will note that a picture from behind shows the intricacy of the obi (the belt around the kimono). If you can take a portrait of the lady, you end up often with marvelous effects on the backdrop of the fall colors (best to use a telelens for these pics, in this case I shot it at 155 mm).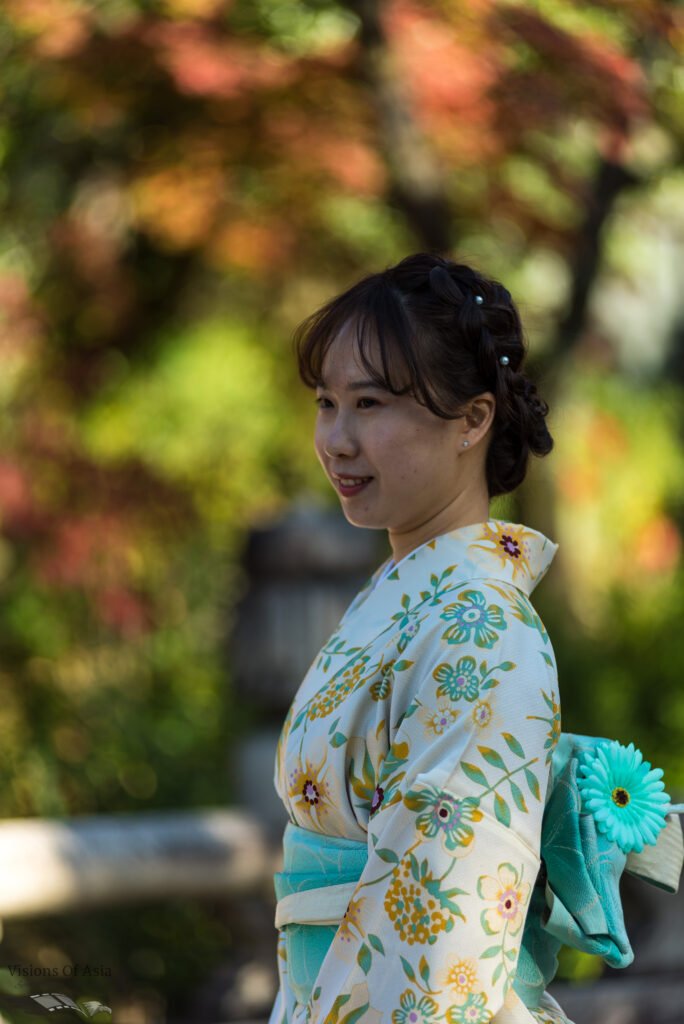 Returning to the present
Sadly, it is going to be over 2 years since I last visited Japan. At the beginning of 2020, the Covid-19 pandemic started in Wuhan, plunging the whole world in a state of anguish and pain which has been relentless. As a consequence, most countries closed their borders, including Japan.
(update as of June 2023) Today, Japan reopened the borders without quarantine. Although travel is much more costly than it was pre-Covid, if you live within Asia, Japan is still a choice destination. Kyoto, in particular, has this atmosphere which makes it a perfect city to visit to meet the essence of Japan.