Grandma Wong is a well-known figure of the Hong Kong protests. With her full name Alexandra Wong, she has often been seen in 2019 at the forefront of protests with a British flag.Born in 1956, and aged 64, the lady (who does not have children and is thus not a grandmother) moved to Shenzhen because the cost of living was lower than in Hong Kong. Despite this, she never failed to be seen at the forefront of the protests with her flag, until summer 2019.
A figurehead
Alexandra Wong, although being a recognizable sympathetic person was also often a figurehead. She and another elderly protester (who often loiters with two flags, one American, one British) were often leading the kids to the forefront in times where they were barely battle-hardened.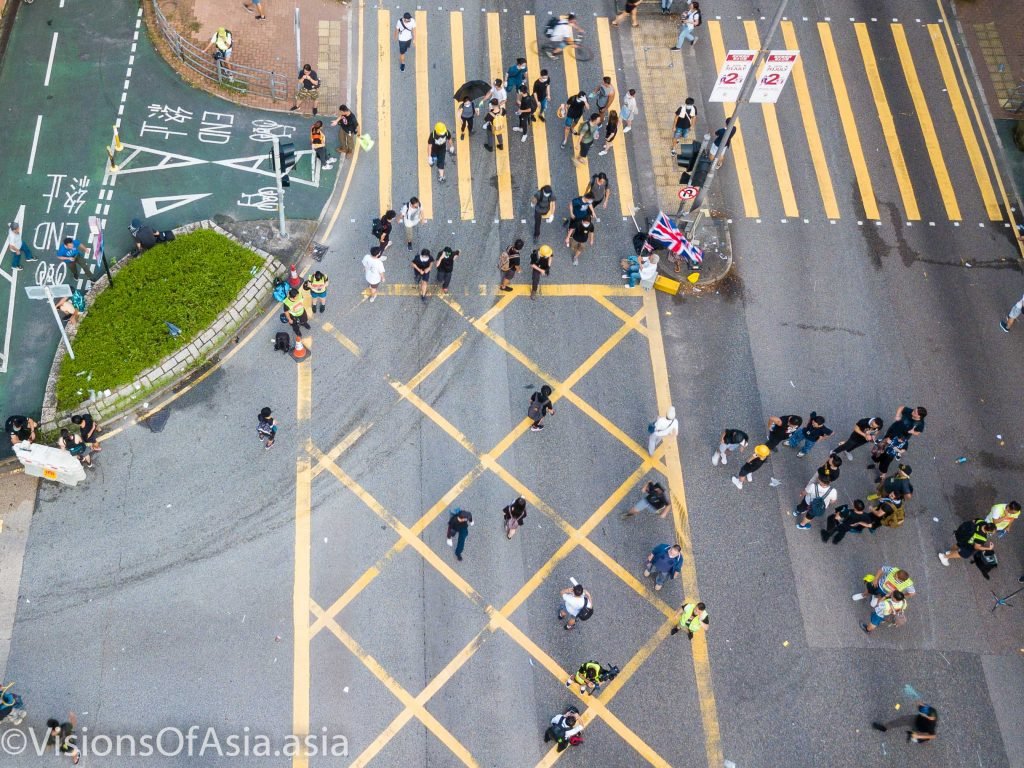 Thoughout June and July, Alexandra Wong was a familiar figure on the protests that started going crescendo in Hong Kong.
The Disappearance
In August 2019, Alexandra Wong got caught in a violent dispersal operation of the police. The police shot tear gas in the MTR in one of the numerous signs of escalation that were going to inflame Hong Kong. Alexandra got caught in the commotion and was seen apparently injured sitting on the floor, under police custody.
Later, nobody actually realized what happened, but after being taken to the hospital, she completely wanished from sight. It is only months later that we realized that she had been taken back to China, and apparently, was under custody by the authorities in Shenzhen.
Still, despite the occasional mail which she managed to send off, no news were had as to her exact status.
The Return
Alexandra Wong returned as a surprise to everyone in October 2020. Upon her return, she gave a press conference (with the help of the Democrat Party), where she told the press what had happened during th epast year.
It turns out that according to her, she was sent to Shanxi province. In that remote province, near Beijing, she was subject to a reeducation camp. Quite obviously, this did not break her mind or spirit, as, quickly, as soon as she was left alone by the security apparatus, she managed to escape into Hong Kong.
She told tales of being subject to ill-treatments and threatened for her beliefs. While not astonishing for those who know China, it was a bit surprising that an elderly woman would be subjected to a similar treatment. The reason is probably that she has no close family to pressure, as is the Chinese practice.
The ordeal continues in Hong Kong
You might have thought that Grandma Wong was done with her ordeals, but in fact no. On Saturday, 21 November 2020, we learned that Grandma Wong was once again arrested, this time in Hong Kong, for an alleged scuffle with a security guard that might have taken place in… January 2019.
While Hong Kong courts have managed to keep some independence, having an arrest on your back means the police will generally saddle you with obligations such as reporting weekly to the police station which in and by itself can be quite an annoyance.
Does it thus seem that Grandma Wong slipped from the pan into the fire? She would probably answer by the negative. She told the media that she cannot stop fighting, no matter what is the cost.
The arrest of Grandma Wong came after a similar disproportionate arrest of 4 Legco members for allegedly throwing stinky liquids in the chamber. It seems the hunt is open in Hong Kong for dissidents and opponents.