After a long lull for cause of coronavirus fears, last week-end the Hong Kong protests resumed, albeit in a very subdued form. Triggered by a coup de force in the Legco on Friday, protesters responded somewhat timidly to the call to action. While protesters played rather the role of the small nuisance in Mongkok, the HK police once again overreacted with some quite appalling displays of hostility towards press and first aid workers. This was also the occasion for me of experiencing pepper spray for the first time. It was also the occasion of seeing outragerous behavior of the police towards journalists, calling attention on the erosion of freedom of speech in Hong Kong.
Two failed calls to assemble
From an objective point of view, the protests on Sunday 10 May were pretty much a subdued affair. Between the crushing heat of the afternoon and the heavy police deployment all day, Hongkongers did not respond to calls to protest either on Friday 8 May, or on 10 May. They preferred responding in dispersed order to some singalong calls taking place over week-ends in the malls.
This brought many journalists to wonder what is the health of the protest movement and more particularly of what is called the "frontliners". To note, these prefer calling themselves the "brave" or "Yongnuo" in Cantonese.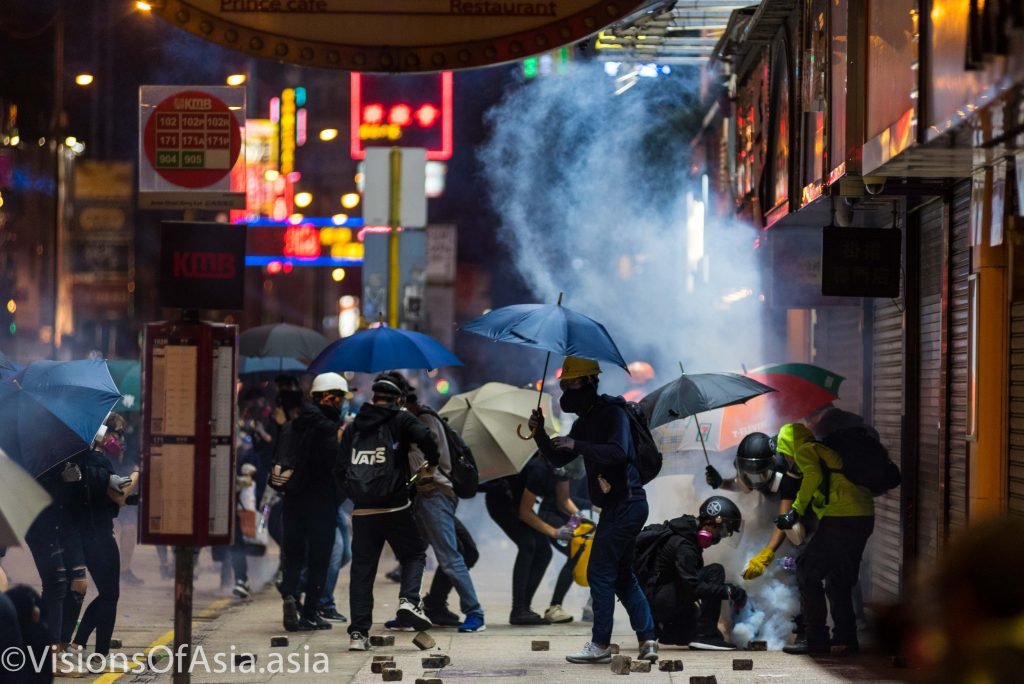 After the Polytechnic University siege back in November 2019, the consensus was that strategic errors by the frontliners brought up huge "losses" in terms of arrests among people willing to go down in the streets and fight with the police. It seems the impact of these arrests and the subsequent police investigations did a lot to hamper activists as we could see.
Small-scale incidents
However, after a rather "peaceful" day (except that riot police managed to shoot pepper balls in a mall as they already did once), some young activists managed to throw some rubbish across side streets in Mongkok.
This, in turn drew a large crowd of professional as well as amateur journalists alongside a few protesters. Police carried out a few wild charges across empty streets, making the occasional arrest here and there.
The most damage the protesters did at one point was to light up a rubbish bag.
Escalation
So far, protesters and police had just been running around and a few arrests were carried out. At a point, protesters came out in numbers, chanting slogans and blocking completely Shantung street. Journalists were in equal number if not more numerous.
Police charged in, made a couple of arrests again.
Journalists started getting targeted too, as I was pulled in with a group of journalists. Police asked us to show our id as well as let them search my bag. Although the search was polite and respectful, it was totally unnecessary as we were all clearly identified as journalists. We wore yellow reflective vests and had all cameras with us (or smartphones for the university students).
Pepper spray on journalists
Later in the evening, and always on Shantung street, marine police surged forward and grabbed a teenager, around 13 to 14. They cuffed him in the back and brought his arms backwards. This caused a serious commotion in the public who saw the child so treated.
The police took the child back towards their lines, but were followed by a surge of journalists (mingled with protesters). They started responding by spraying pepper spray on the reporters at close range, targeting the eyes in particular. I somehow found myself on the other side of the confrontation, so was able to film an alternate point of view.
At a point, riot police surged forward and grabbed Roy Kwong, a legislator member of the Legislative Council and arrested him. He was later released without charge.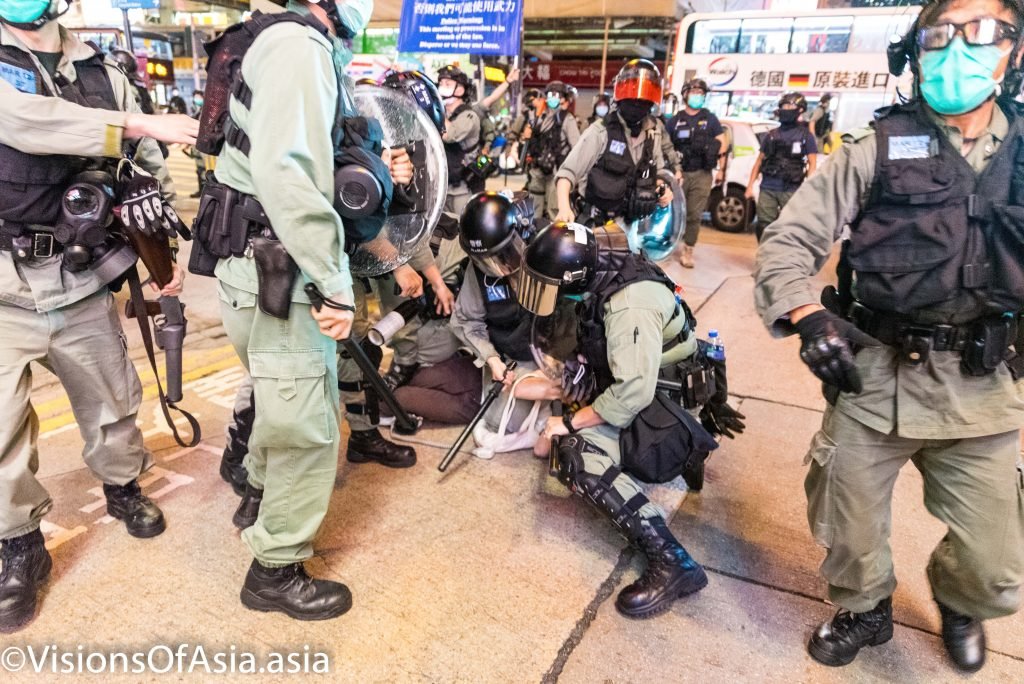 Immediately after shooting this pic, a policeman targeted me and sprayed a jet of pepper spray right into my eyes and face. Interesting fact about HK protests: the blue flag visible in the background of the pic is a warning about "unlawful assembly".
Journalists corralled
I was temporarily blinded and helped by fellow journalists and first aiders who helped me to sit down while they washed away the pepper as best they could.
While the burning sensation was intense, it is still bearable. After around 20 mins of treatment, and having had my eyes washed with saline, I was able to be operational again. More arrests took place, here on Tung Choi street.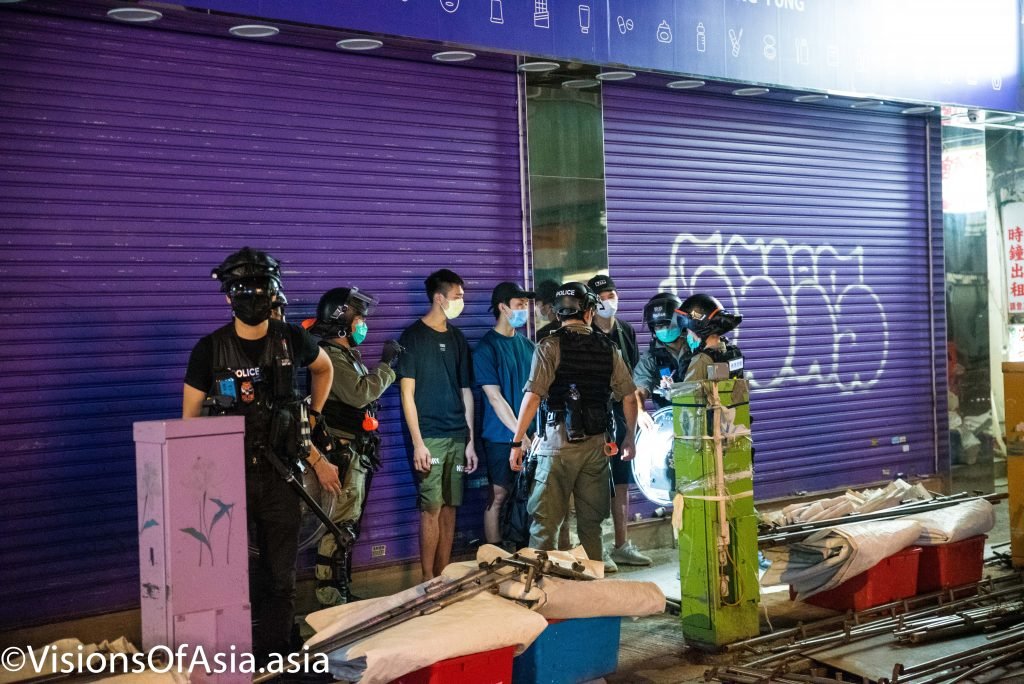 However, as I kept running around to film what was happening, the pepper reactivated hence burning my arms. Some pepper kept seeping in my eyes, making it somewhat uncomfortable. I decided thus to head home. At about the same time, another charge took place and this time, police obliged all journalists to sit down (or gave them a shot of pepper spray in the eyes again).
A journalist of Mingpao, a Chinese-language local newspaper, filmed the whole scene with his gopro.
Press freedom, a thing of the past?
Some of these incidents seem to lead to believe that press freedom might be a thing of the past. The treatment of local journalists has become more tough. This might also be explained by the fact that there is a surge of "citizen journalists", or student journalists on the frontlines (people with often little more than a phone).
At the same time, the journalists are largely and overwhelmingly personally involved in the fate of their city, often sharing the same ideals or objectives of the protesters. It did not help that some of them did not know to distinguish the planes and keep professional neutrality during their work. The large proportion of "student journalists" with smartphones (they seem to have increased tenfold since 2019!) also makes it more complex to separate journalist and protesters. The sheer number of journalists competing to get a good scene of the police ends up creating a wall between police and protesters, the latter using this wall as a shield to pellet the police with objects from time to time (although the "objects" are mostly just plastic bottles).
However, with the large absence of major foreign press outlets, except press agencies, it seems that the general unique atmosphere of Hong Kong is quickly vaning away.
Foreign journalists still keep some measure of respect from the police, but locals have been fighting a tough battle to keep their right to report events in HK. It seems with the latest incidents, and an increasing blurring of the lines, this battle is only about to get tougher.