As I returned to Japan, almost two years after my first trip, my priority for this solo trip was to connect with Japanese nature and tradition. I definitely wanted to do a hike in Japan, and the closest place to Tokyo to do so was Mount Takao. But if you follow this blog, you know that when I hike, I generally hike barefoot, so, of course, I hiked barefoot on Mount Takao (also called "Takao-san" or 高尾山 in Japanese).
An easy daytrip
Reaching mount Takao is very easy from Tokyo, as you just have to take the the Takaosanguchi train from Shinjuku station and ride it to the terminus. A quiet ride of 50 minutes, this line is pretty much clogged on week-ends, particularly during the autumn season. The train ride costs 390 JPY, unless you want to combine it with another ticket for the
The train ride is an occasion of seeing how very compact Tokyo can be, as most of the ride is in a very urban setting.
The final station of the train line is Takaosanguchi, and is a nice bucolic and relaxed station.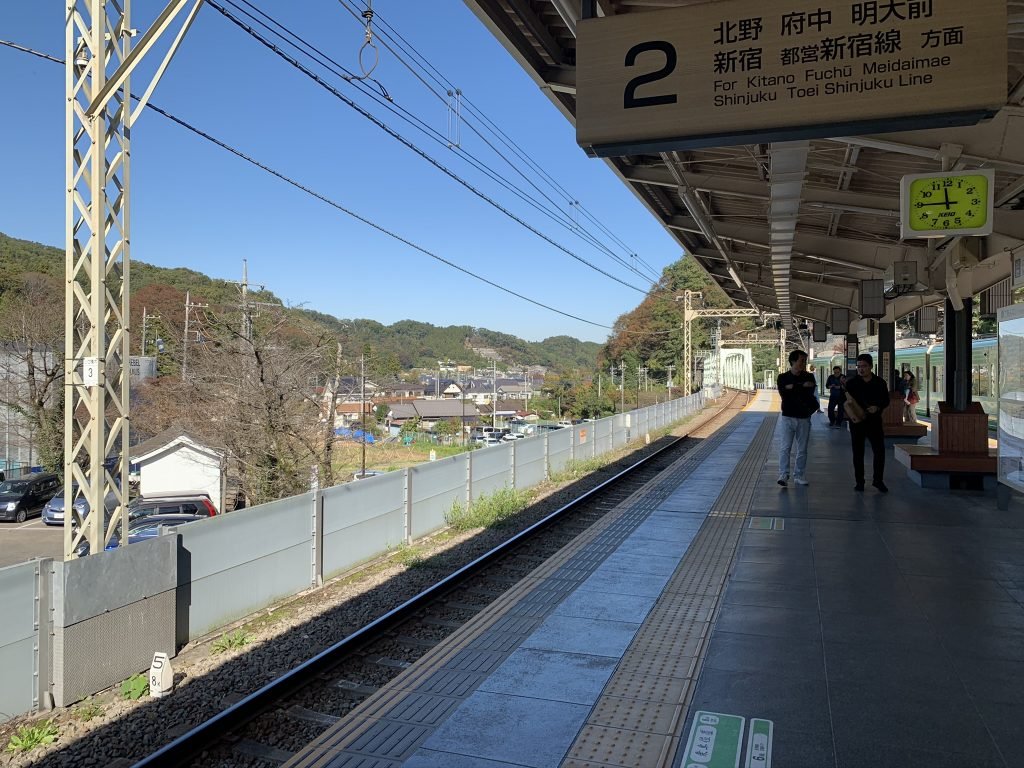 Different routes
There are different routes to climb Mount Takao, the easiest way being to just hop on a cable seat which takes you at least three quarters of the way.
The next easiest way if shod is to hike up on the Omotesando trail, which is all paved from bottom to summit. Obviously, it is the most frequented too, and can be annoying, especially in fall, when it is filled with people.
I took the different route, namely the Inariyama trail, which is one of the most challenging, but also the most beautiful. It is filled with roots and jagged rocks, and is thus slightly more challenging but also more fun to complete barefoot.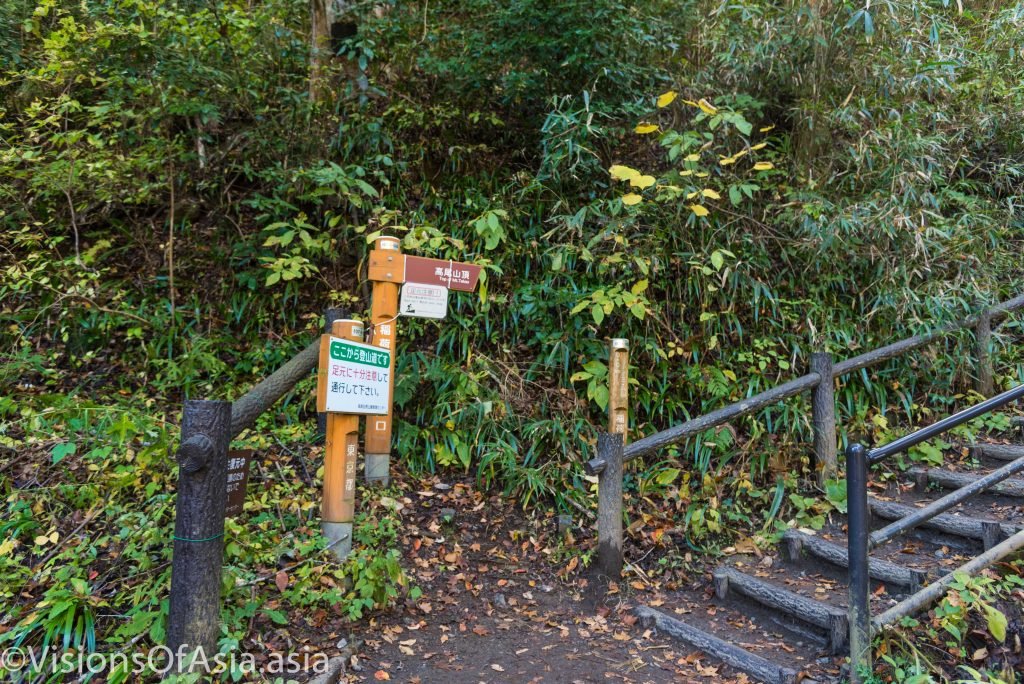 Temperatures were just a bit fresh, at around 18 degrees Celsius, so perfect to hike up a mountain. And to start off, you had a few stairs to climb.
The climb eases off a bit as you go higher, but the terrain remains rougher and less "tamed" than on the Omotesando trail.
The top of the mountain, whichever trail you decide to take, is pretty crowded in fall. I still managed to take a pic of the Fuji Yama which can be seen from Mount Takao.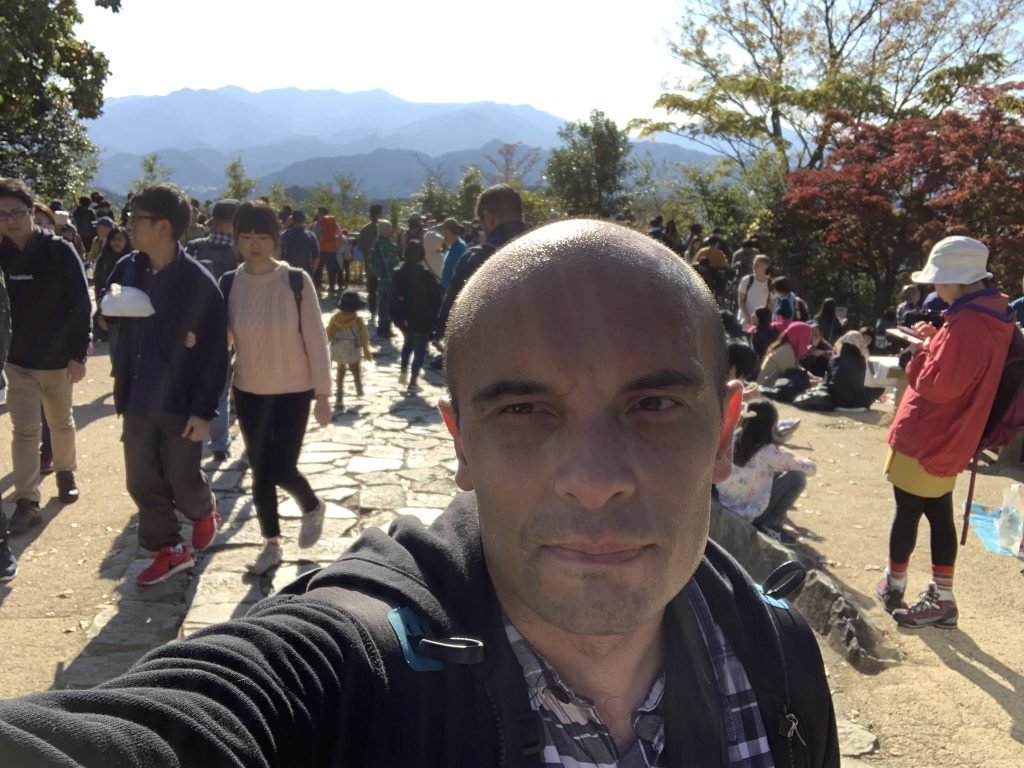 Reactions to barefooting in Japan
As expected, and not unlike in Hong Kong, the general approach was positive and appreciative. One young lady who was hiking with sandals even approached me and asked me why I was hiking barefoot. In a way, people felt envious and at the same time, scared a bit of going through the experience themselves (not unlike many hikers in Hong Kong).
When I came down from the mountain, an older man came to me to give me a high five, with a huge grin. The population seems quite aware of the benefits of barefooting, as they live barefoot at home.
Going down
You are not obliged to go down the same way as you came up. In fact, once to the top, you can go down a very different route. I decided to go down on the trail 4, or the suspension bridge trail. I can recommend that for photographers, as you come across a lovely suspension bridge on part of the trail. In addition, it is easy enough for kids to be hiking, and it passes through the forest, so a good nature trail. However, trail 4 is not a complete trail as it ends at the cable car station, at which point, you must get back on the Omotesando main path.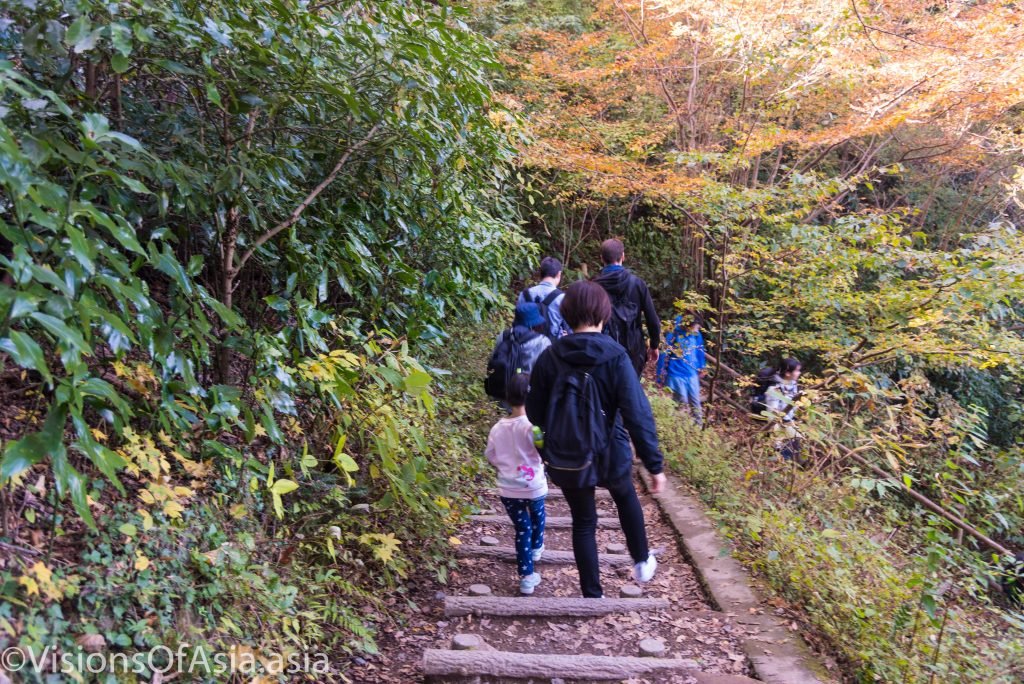 About midway down the trail 4, you come across the suspension bridge.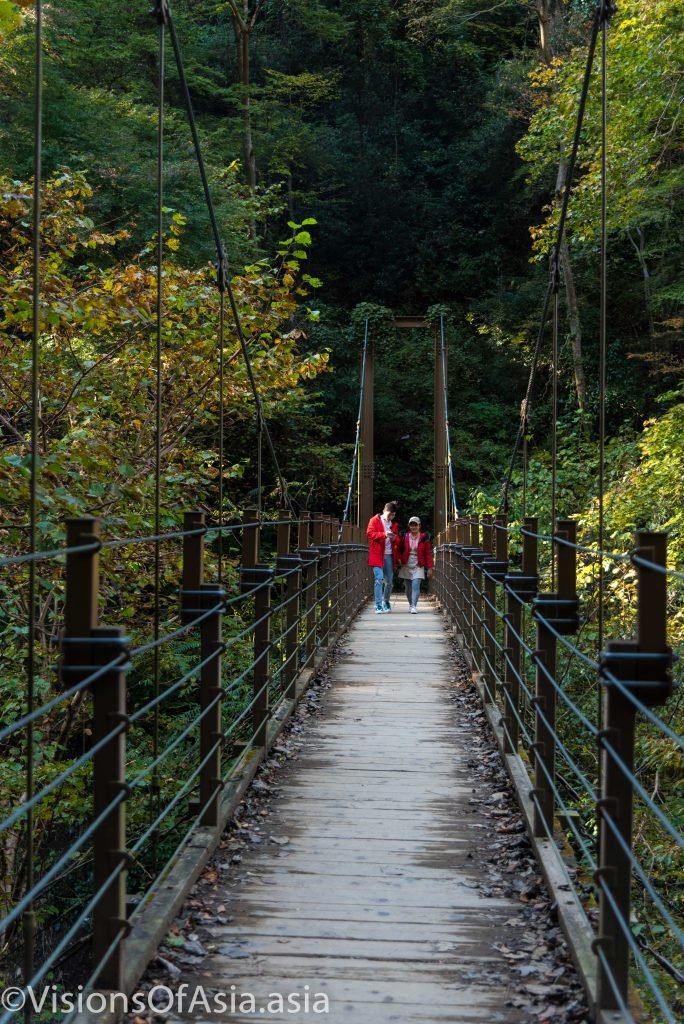 You can take a rest at the view point of the cable car, as it provides lovely views over Tokyo (and you realize then how very close you are to the city).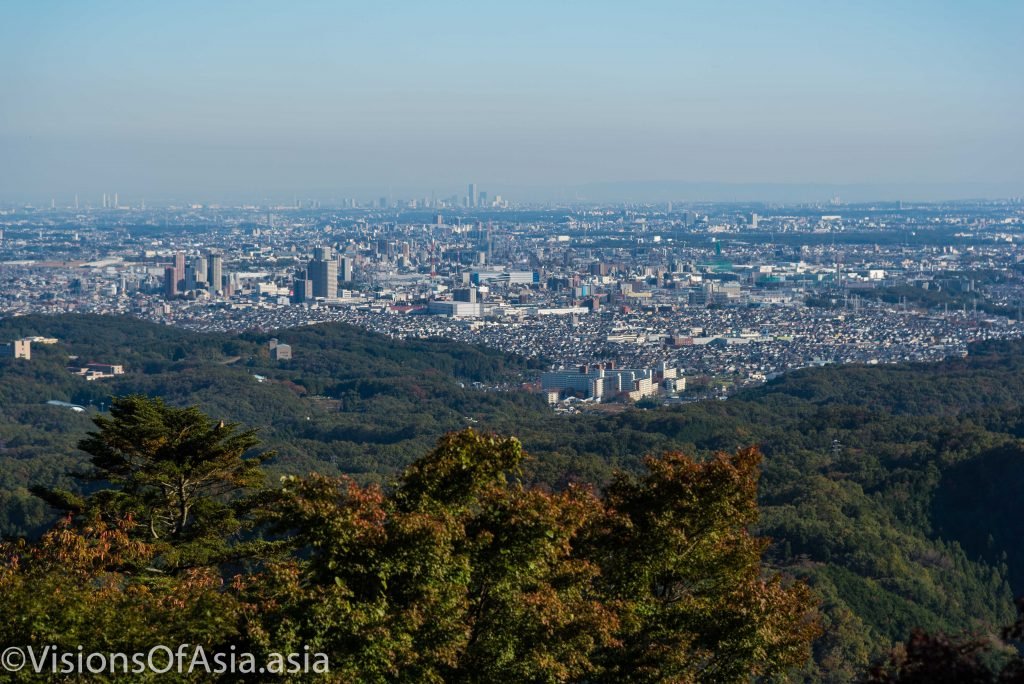 The rest of the path is pretty steep, but totally paved, so no big difficulty, except that I prefer natural paths when barefooting.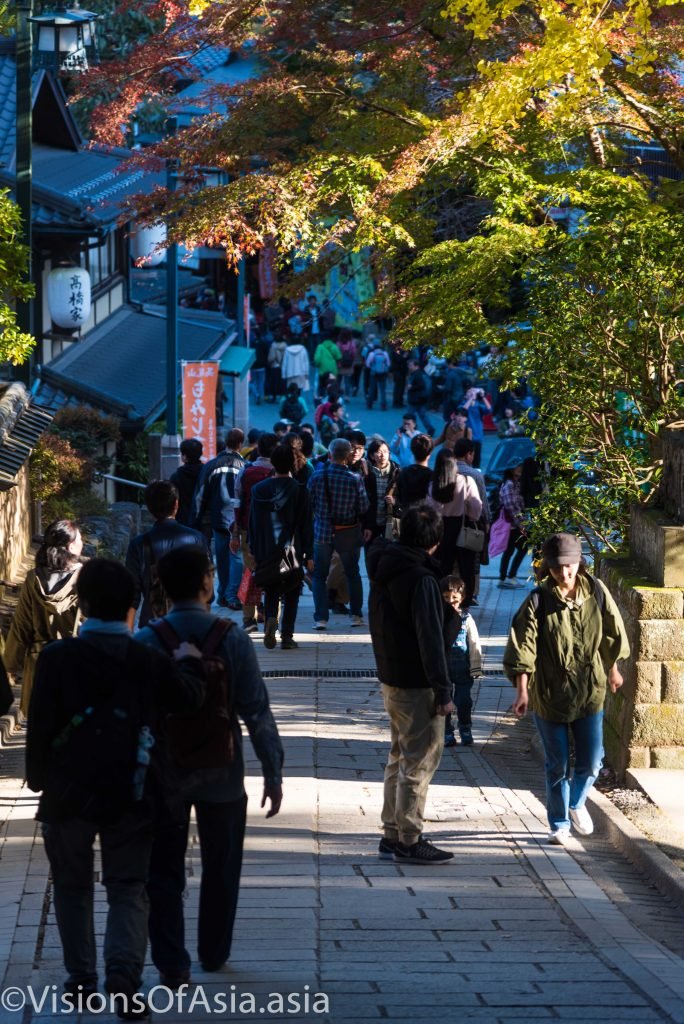 Finally, you arrive back in the city, and photographically, in the late afternoon, the contrast with color temperatures is interesting. The city in the shade takes more of a blue tone compared to the warm late afternoon razing autumn light.
In the city, you can restore yourself with some of those rice cakes they sell at about every other stand. Pretty tasteless, but nice as a local experience.
I took a relaxing sit on the grass of the Takaosanguchi museum.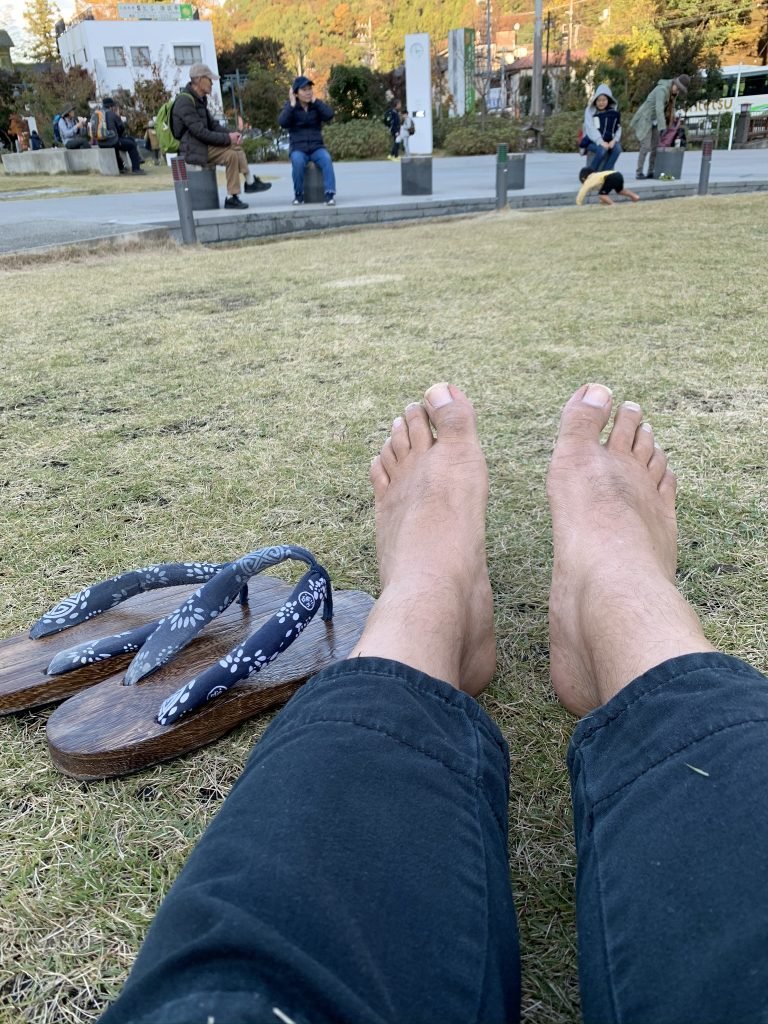 Heading back, the train is generally full, so you will be lucky if you find any sitting place. However, the 50-mins train ride passes quickly and you get back to Shinjuku (for me, not yet the end of the path, as I was hosted around Tokyo station).