My latest posts may induce in confusion and let you believe this has essentially become a political analysis and news bulletin. Not totally though. Before I was stuck at the airport, I spent a few days in Cebu. During that stay, we went to the Northern island of Malapascua. It could be said that is as close as you come to spending one day in paradise.
A long drive north
Malapascua is located at the Northern extreme of the Cebu island, near the town of Danbantanyan. It involves driving on a single-lane road for most of the route, with a lot of trucks sharing the road too. Although generally in better conditions than in the South of Cebu, the roads often pass through an uncountable amount of villages.
The road follows the coastline for most of the way, eventually switching back inland until Danbantanyan.
Trucks, bikers, and crazy drivers make it a route done best with a lot of stops along the way.
The port to paradise
Danbantaanyan ferry port is a very small port, where the ferry will wait until there are enough passengers to start the crossing. We decided to hire a private boat going there, for 1500 PHP.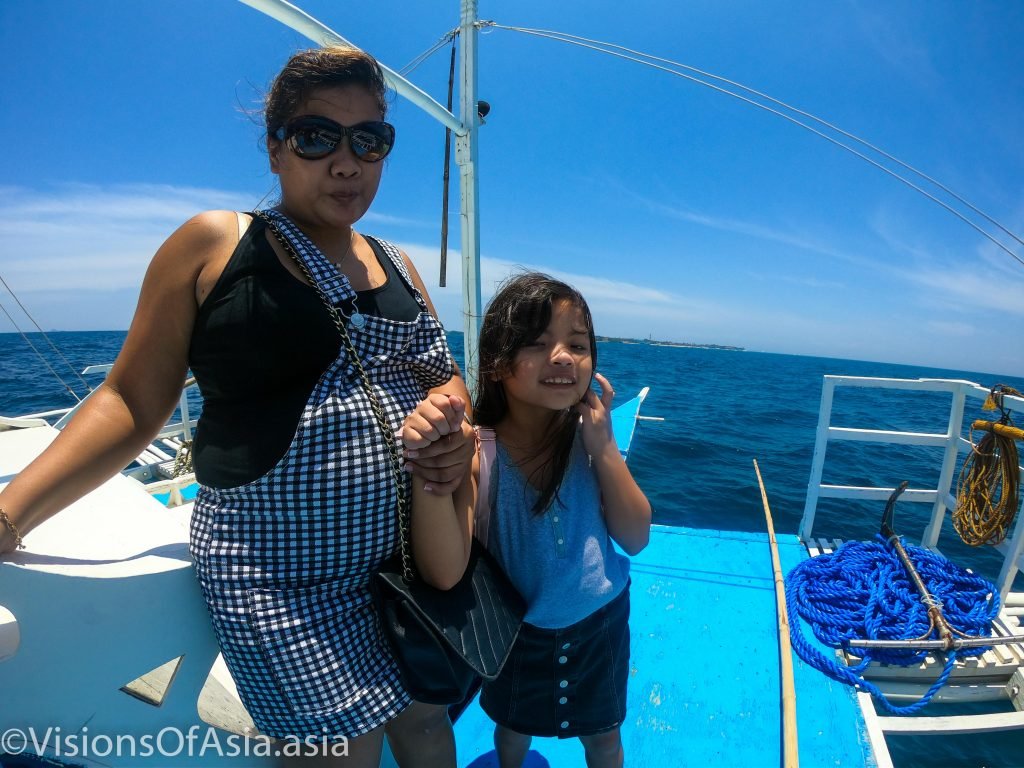 Skies are of a marvelous blue to which you are not accustomed when you live in Hong Kong.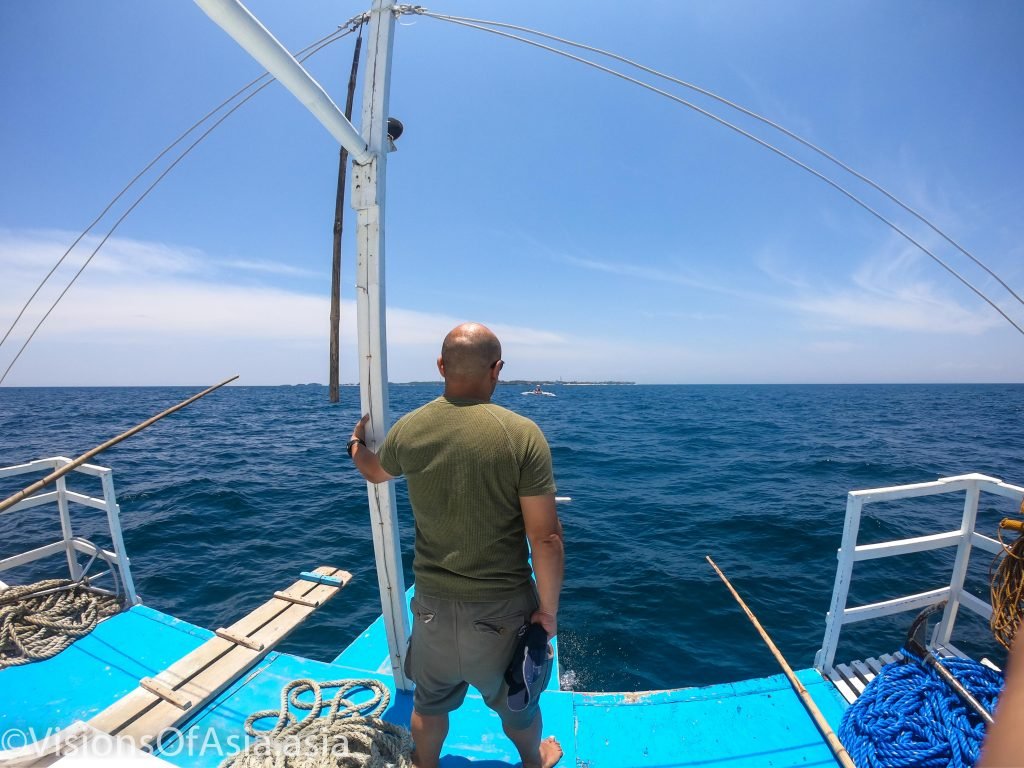 The boat ride was peaceful and took 45 mins at most. We disembarked right at the very beach of our hotel.
The "Exotic" resort where we were has that marvelous white sand beach and blue waters. For most people, this is the epitome of paradise on earth, with the gorgeous blue skies too.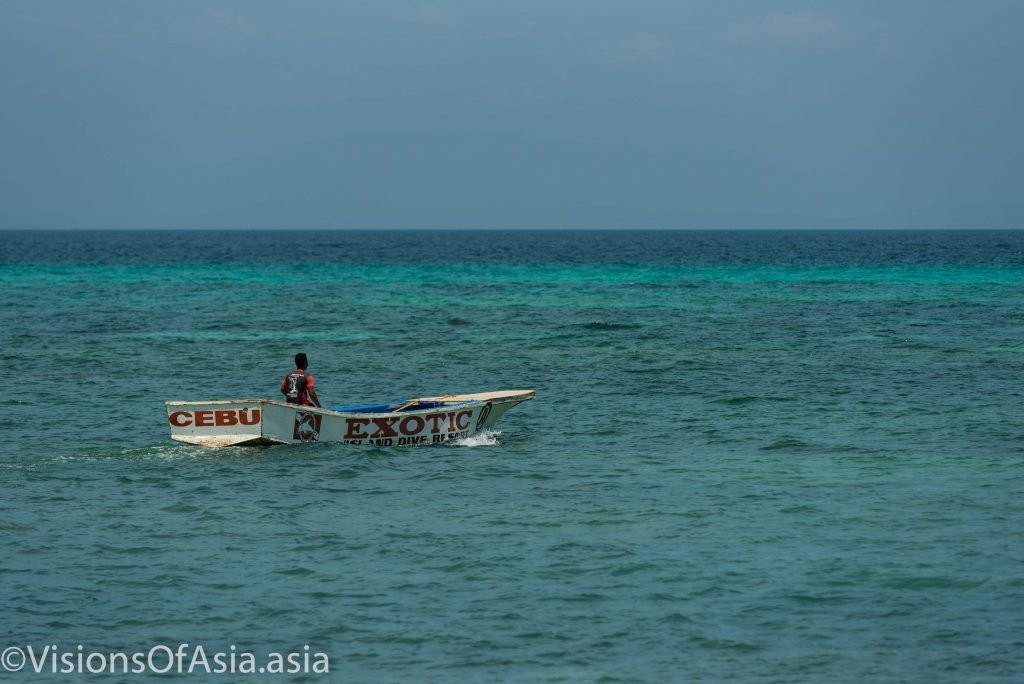 The other side of paradise
As we arrived and besides swimming under the burning sun or diving, there is not much to do, I decided to take a walk around the island.
At first sight, you will get a pristine view of what Paul Gauguin probably considered paradise, with ladies languidly drying their hair after a dive in the sea.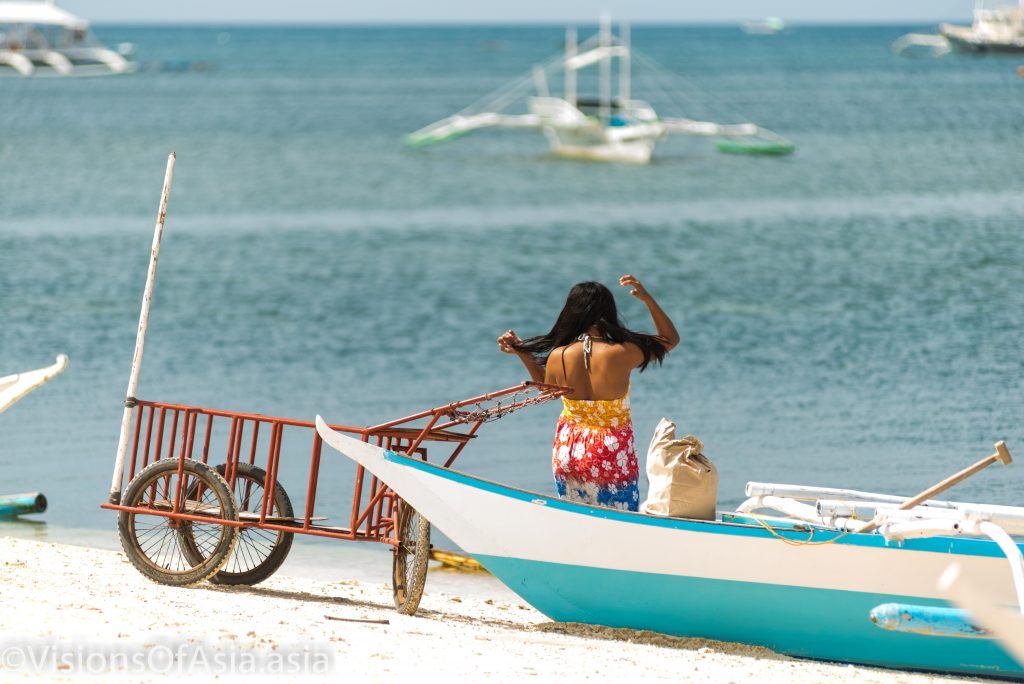 It might sound fun to go every day for a swim or being able to bathe yourself in the sea… But in Malapascua, that is pretty much a necessity, as there is no supply of running water from the mainland. In our resort, our shower was with… sea water!
As I walked further along the beach, I came a cross a group cleaning up their fishing nets. Besides tourism, fishing is the other main activity on this island.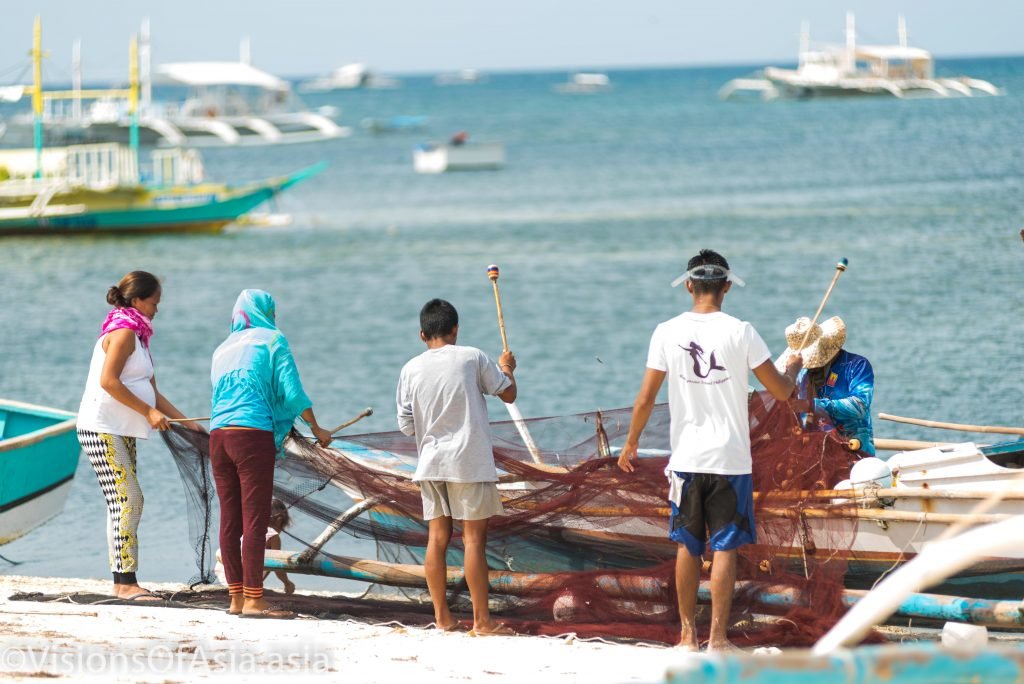 Still, this does not detract from the poetry of a pristine island. But children seem to be all very keen (or do not have much of a choice) with helping their parents in making a living in every little way they could. The island is replete with sea urchins, and children apparently love diving to fish those near the beach.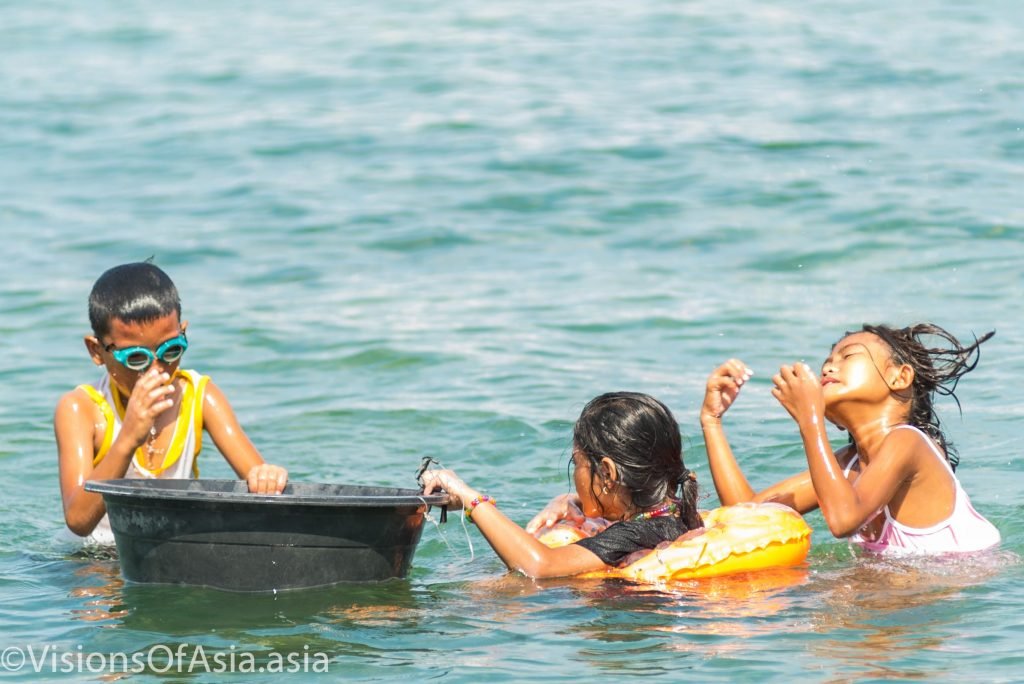 A few more meters down the same beach, children were washing the dishes in… the sea!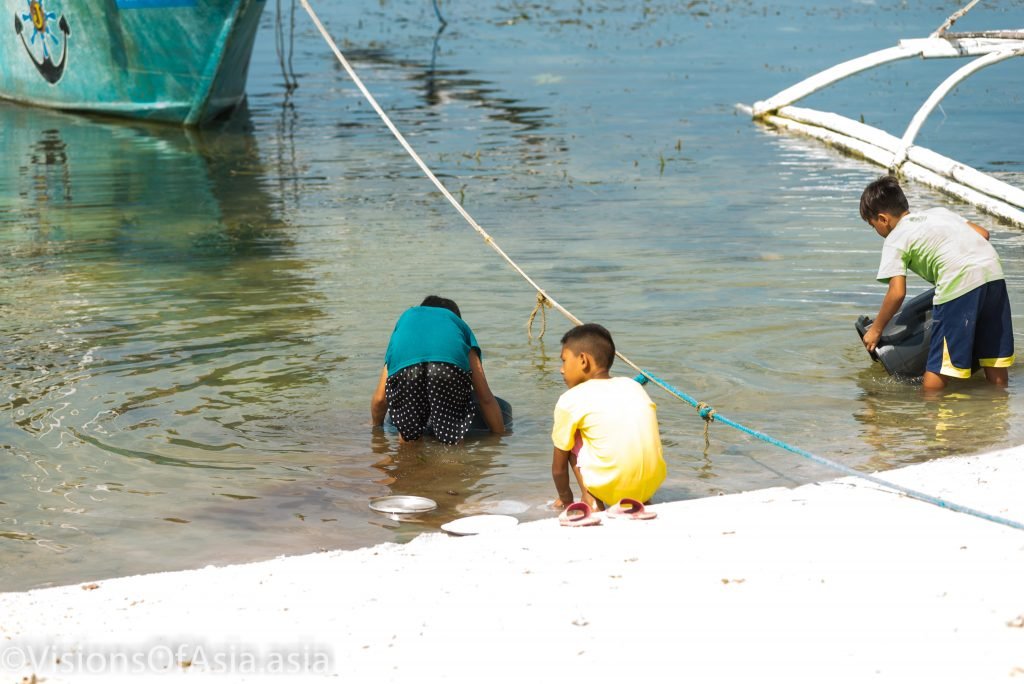 But children are children, so they also enjoy playing… And the sea is an integral part of their environment.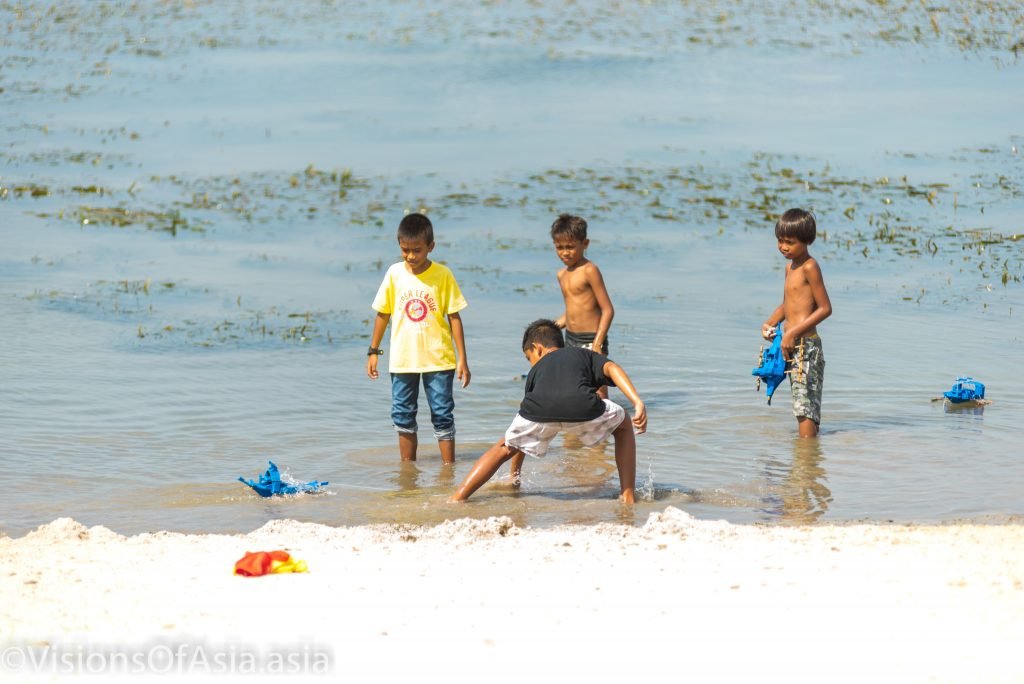 That area, where a lot of boats were moored was not exactly one of the cleanest of the island, but nevertheless, kids played all around. On the moored boats, in the sea, on the beach…
As to me, I walked around the whole island barefoot, but given most of the terrain was dirt road, not very difficult.
Helping parents
While some children help their parents with fishing sea urchins, others help them run their small business. I thus happened upon a group of kids carrying soft drinks back from their parents' boat to their shop. As the island has no supermarket, no drinking water, every supply must be sourced from the mainland. This also allows some entrepreneurial families to start some small business (called "Sari-Sari").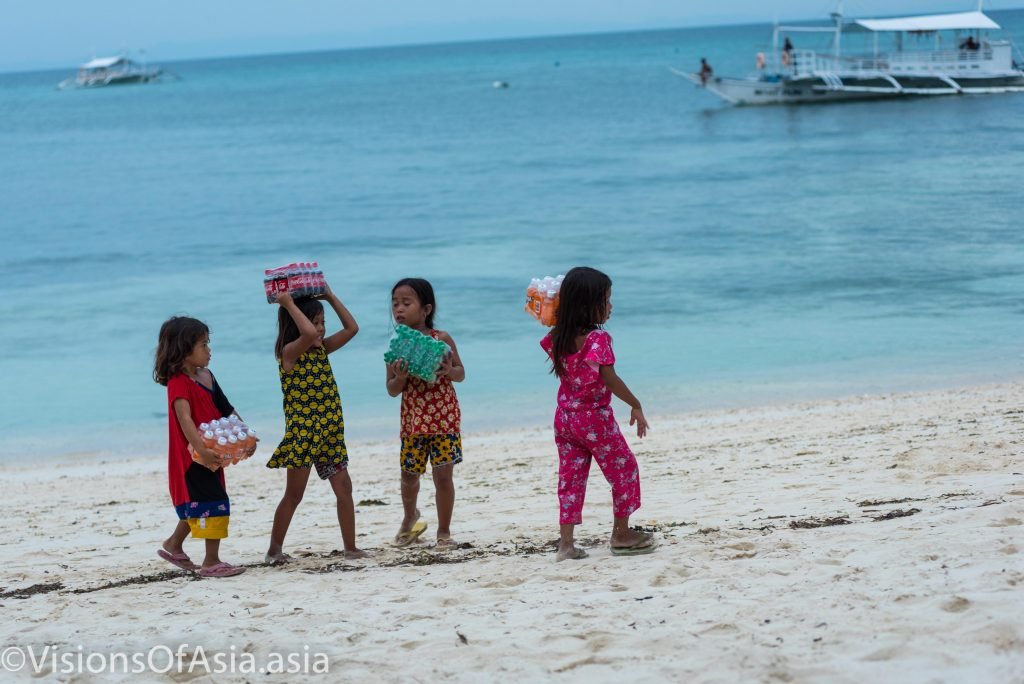 It was touching to see the little kid carry such a heavy burden and try his best to do it all by himself.
Although Malapascua feels like paradise, it is important to note that since infrastructure is so undeveloped on the island, living conditions can be tough. Beyond the lack of hygiene and difficulty of accessing drinking water or disposing of garbage, people make a living out of hard work, either with tourism or with fishing. The island has no hard road, and the only transportation is some bikes, which even small children ride.
An eagle's eye view
Malapascua is great for its marvelous white beaches, but it is maybe only a drone that can give you a bird's eye view of the small size of the island and its wonderful beaches and clear waters.
You can have an idea of the general feel of the island from this video.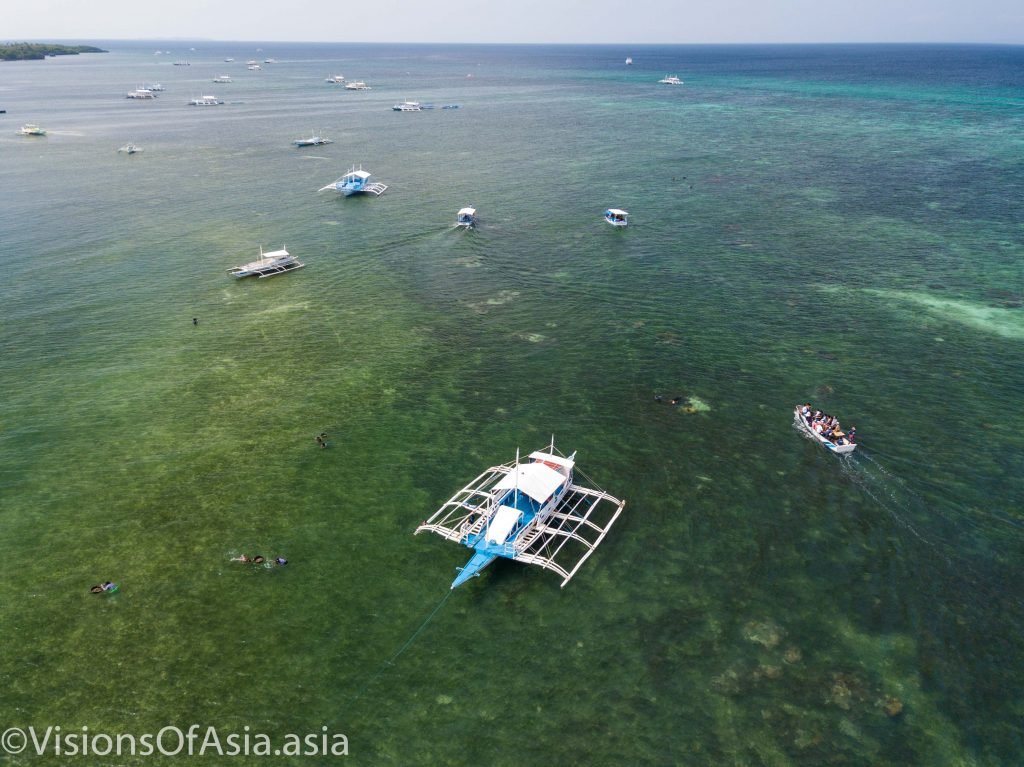 As you look at the island, you can notice the marvelous blue waters surrounding this place.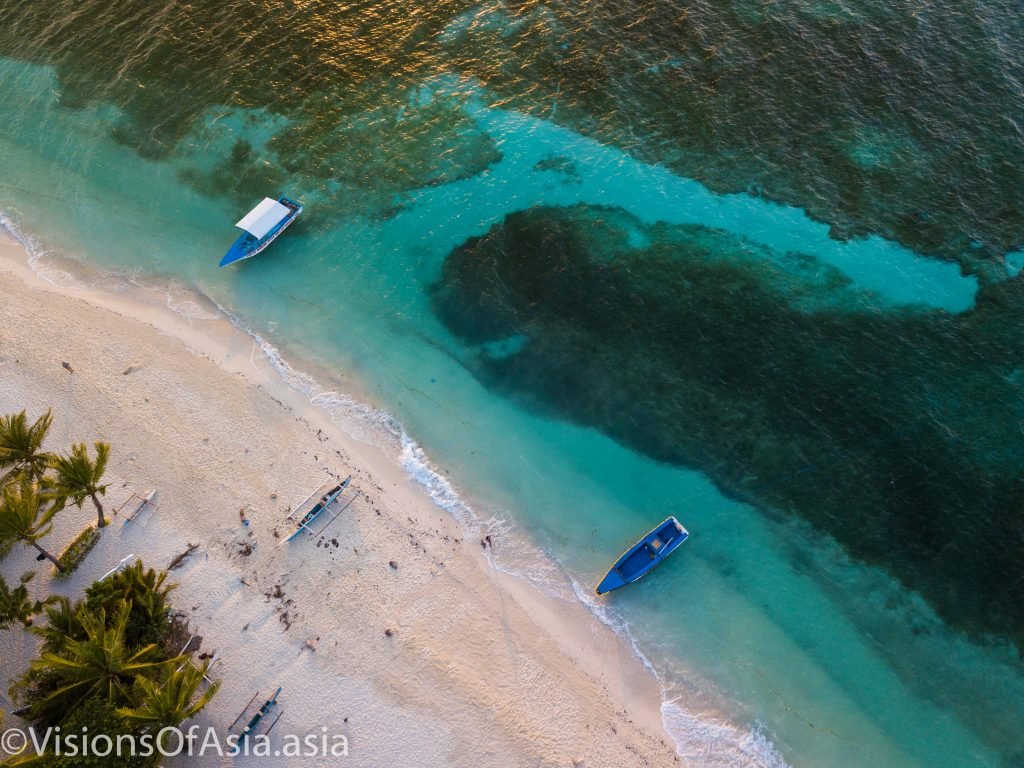 In short, it feels like paradise.
Environment: from paradise to hell
Despite the appearance of paradise, the Malapascua island is suffering from an unsustainable lifestyle, as infrastructure appears basically inexisting. Locals burn their trash or bury it into large holes visible as soon as you leave the beach.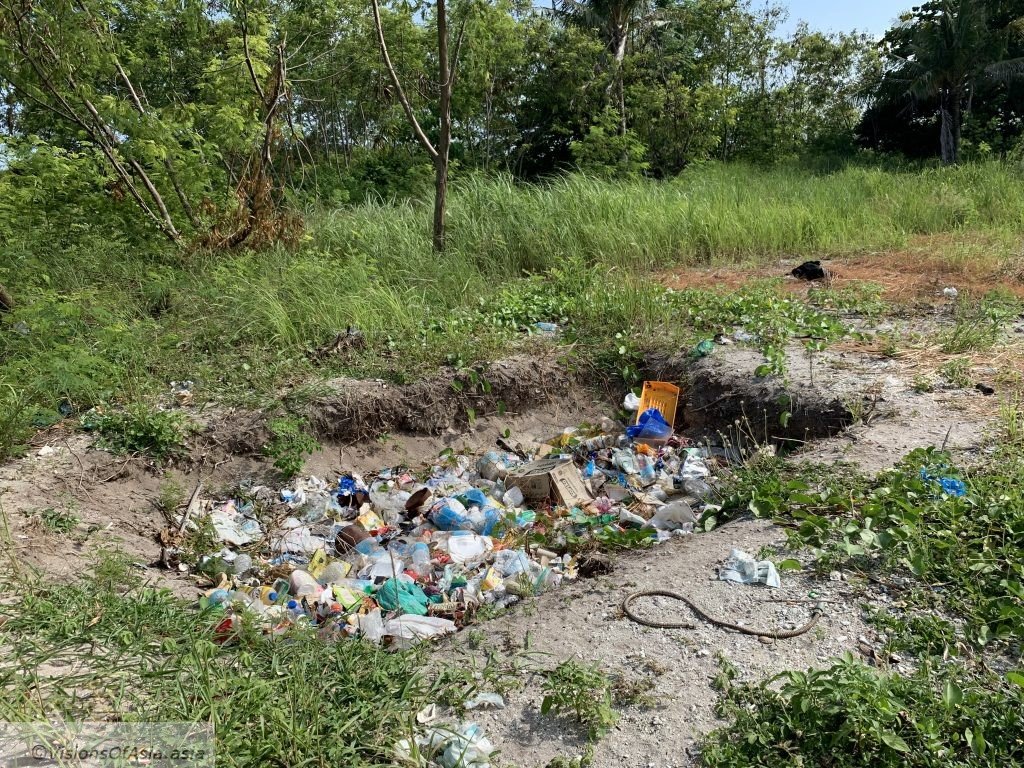 Beyond this, there appears to be no drinking water system on the island, so people are mostly obliged to bring the water from the continent via boat. Shower and washing clothes or dishes appears to take place with sea water, hence giving rise to some concern about hygiene.
Part of the under-development of the whole island can be ascribed to the local mayor who is rumored to demand huge bribes from any local establishment. It is rumored among locals that this mayor is directly responsible for the absence of a supermarket. Indeed, as supermarket chains would not pay him a bribe, he decided to keep them out of the island.
How to get to paradise?
For starters you must get to Cebu. Cebu is very famous for its pristine beaches and diving locations. It has an international airport on Mactan island and several international companies have direct flights to Cebu (if at all possible, avoid passing through Manila).
The best way to go up north is to have your own transportation (bearing in mind that you will have to leave it with an outdoor parking in Daanbantanyan).
Failing that, the main solution retained by groups is often to hire a minivan back and forth. Some of the resorts on Malapascua might offer that service, so safer to check with them beforehand.
Last but not least, the death-defying crazy buses of the North Terminal can take you all the way to Daanbantanyan, but you must accept to pass several hours in a bus which mostly plays "stop and go" all along the way.