Intense adventure over the Easter week-end. I had met Yuan, my trail-running barefooting friend for our first common barefoot hike. Weather predictions were fair, and although a low cloud ceiling could be seen, the day looked to be acceptable for a hike. Little did we know that it would transform into a barefoot hike on a mountain during a thunderstorm.
In Ma On Shan country park
Our starting point was in Ma On Shan country park, at its northern extremity, near the MTR station of Tai Shui Hang. The goal being to climb one or two of the local mountains (and where apparently Yeung, the third member of the group was quite familiar).
The climb appeared perfectly normal at first, with mostly earth and a few rocks. It was when we arrived to the top of the mountain, that things starting getting awry. We first had to clamber down rocks, to get to a position where two interesting rocks were present: the diamond rock and… a phallus rock!
The pic is courtesy of Yuan, my barefooting friend. And instead of a selfie, here a "footie".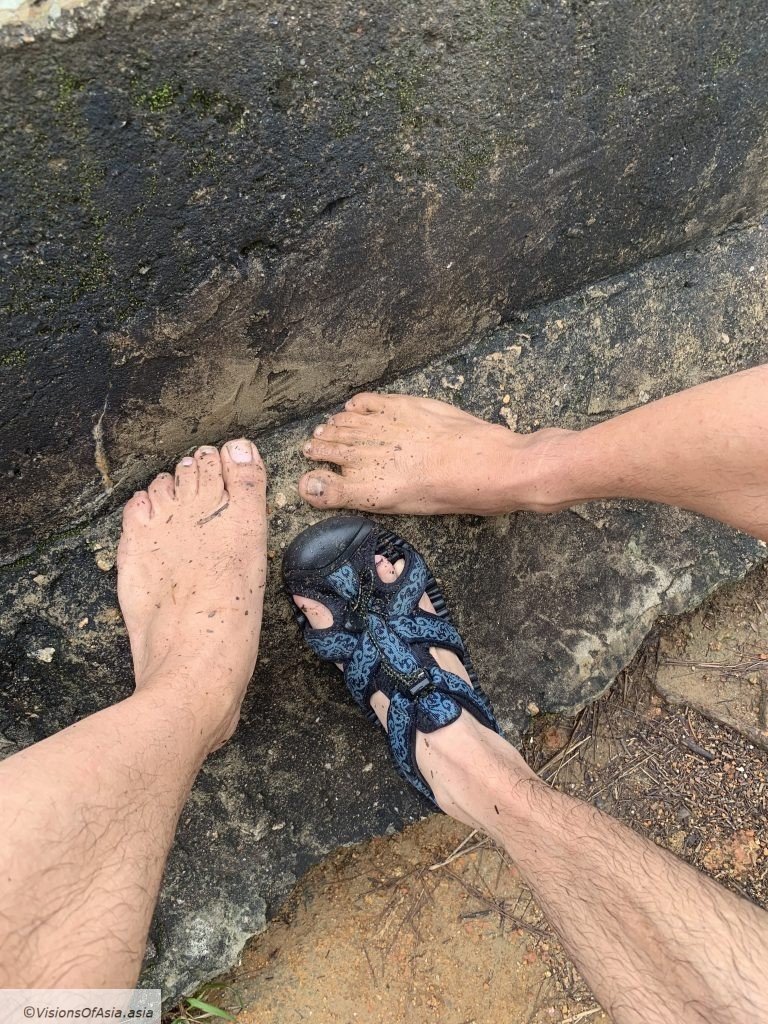 In the very same area, as we were climbing down rocks (and yes, it is rock scrambling, not simply going down), we came across a local species of chameleon, strangely very unafraid of us.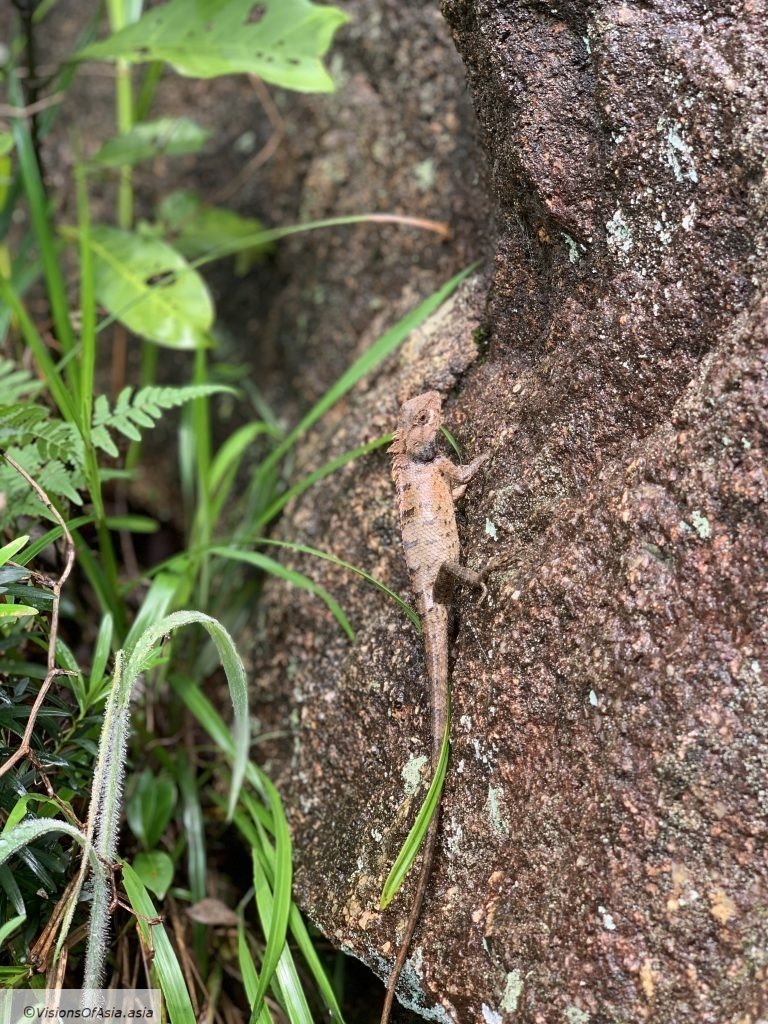 Slippery path
Going down the mountain gives us already a good taste of what it was going to be later under the thunderstorm. Most of the trails were muddy, or muddy on rocks, which proves to be extremely slippery, as it had stormed just the day before. Progression was thus slower and quite cautious. This rendered us to one of those donkey paths often used by villagers in ancient times. This one being the "Mui Fa" ancient path.
The best part was getting to a clear fresh stream, where I managed to cleanse a little bit my legs and my arms. Little did I know that we were up for yet another extreme challenge.
In fact, after taking the Mui Fa ancient trail, Yeung decided to take us up another 540 m-high mountain… Just for the fun!
A slippery slope is just… slippery!
I guess I never really understood the meaning of slippery slope, until I climbed this mountain. Very steep slope, mud was freely detaching in some parts, making it extremely difficult to climb barefoot (and even with shoes). I had to use the local trees and my hiking stick at full to progress on this mountain.
Eventually, we arrived after some rock scrambling (but I kid you not, it was really climbing up rocks), to a sort of plateau with some unstable rocks where we made a pause nonetheless.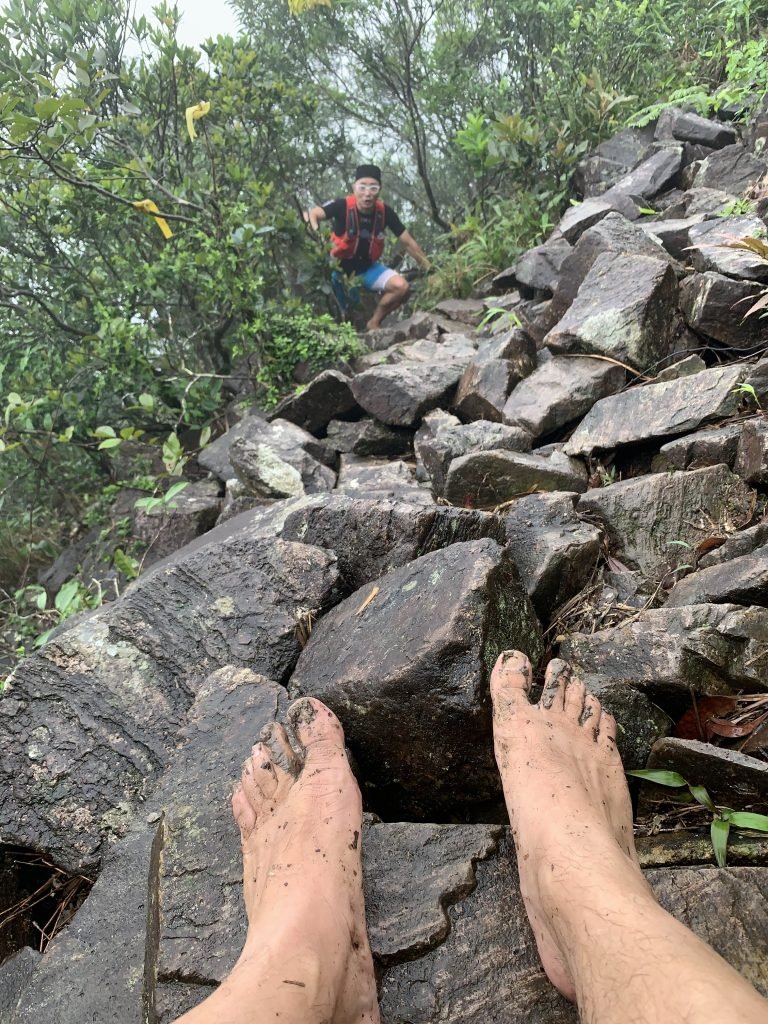 An unforeseen storm
The violence of the storm caught all of Hong Kong by surprise on Saturday, but fortunately, we were well on our way down the mountain when we took the brunt of it. Winds reached 100 kph, and in its violence, it was just short of a typhoon.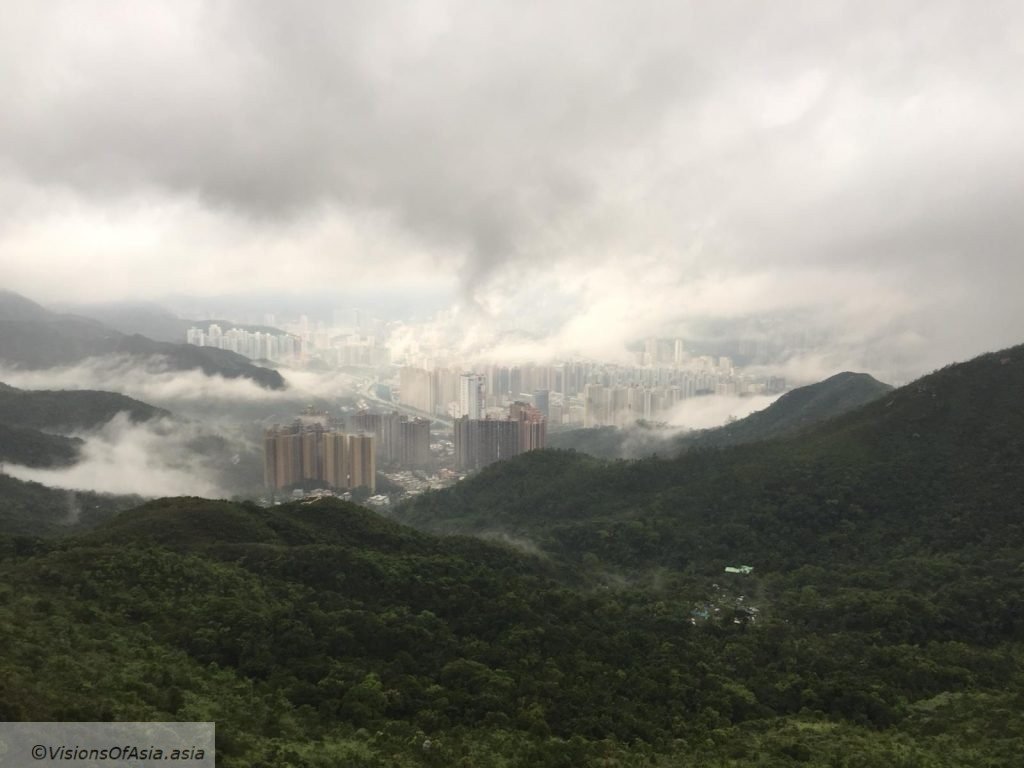 In terms of nature, it was interesting to observe a Hong Kong Newt, a form of Salamander up on the mountain, far from any stream.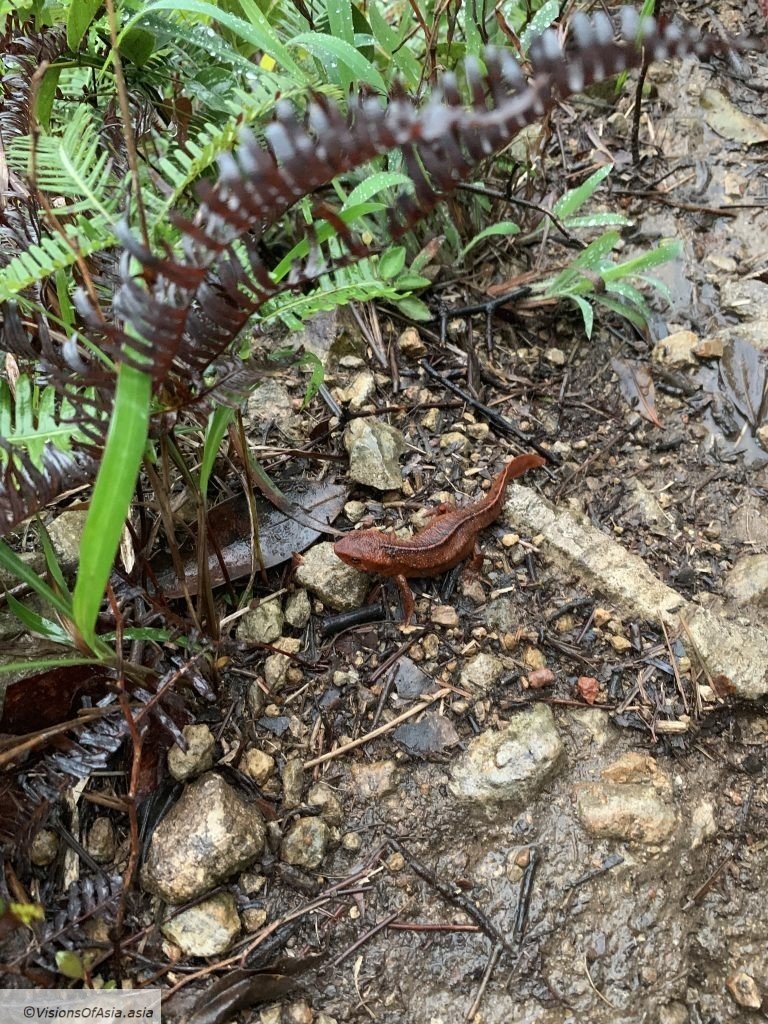 Surviving the storm
The remainder of the story, for which, unfortunately, I don't have pics, was a race to get down the mountain, as best we could. Unfortunately, the normal mountain trail transformed itself into something just short of a wet slide. I think I must have fallen a half dozen times, and on some very slippery sections, did not have other choice but to do a controlled slide downward.
It started getting scary when the thunderstorm got over us and lightning started striking. For the record, about 9,000 lightning strikes took place over Hong Kong during this storm. We were particularly exposed being in altitude and in this particularly nasty storm. However, with a lot of luck, we made it to the cover of the trees, which meant less chances of a direct hit on us. After that, we found finally the Mui Fa trail, and it brought us to a stream inflated by the waters of a flash flood.
And this allows me to illustrate yet another advantage of barefoot hiking: no problems at all with walking in the mountain torrents!
For the record, as some people might consider it irresponsible to be hiking in a thunderstorm, in the morning, nothing advised us of such a sudden and brutal storm, all that was mentioned by the HK observatory was "showers". The brutality of the storm suprised many in HK and even caused a loss of life (boats capsized, and at least one person struck by lightning). When I noticed warnings of thunderstorm, I asked my companions to shorten the hike, but to get down was quite an endeavour, supposing to pass through several hills. Nevertheless, we were extremely lucky to have escaped with no loss of life and limb, so the lesson is simply to postpone hikes even if showers are forecast.