One year ago, in October 2017, at night, out of sheer despair, I cast aside my flip-flops and set off on my first steps barefoot running. Slightly painful though they were at the beginning, soon, these steps gave way to the elation of being able to run once again, about one year after having undergone an ACL reconstruction. Since then, over one year barefoot running and hiking, I kept pushing the envelope, among others barefoot hiking on Suicide Cliff.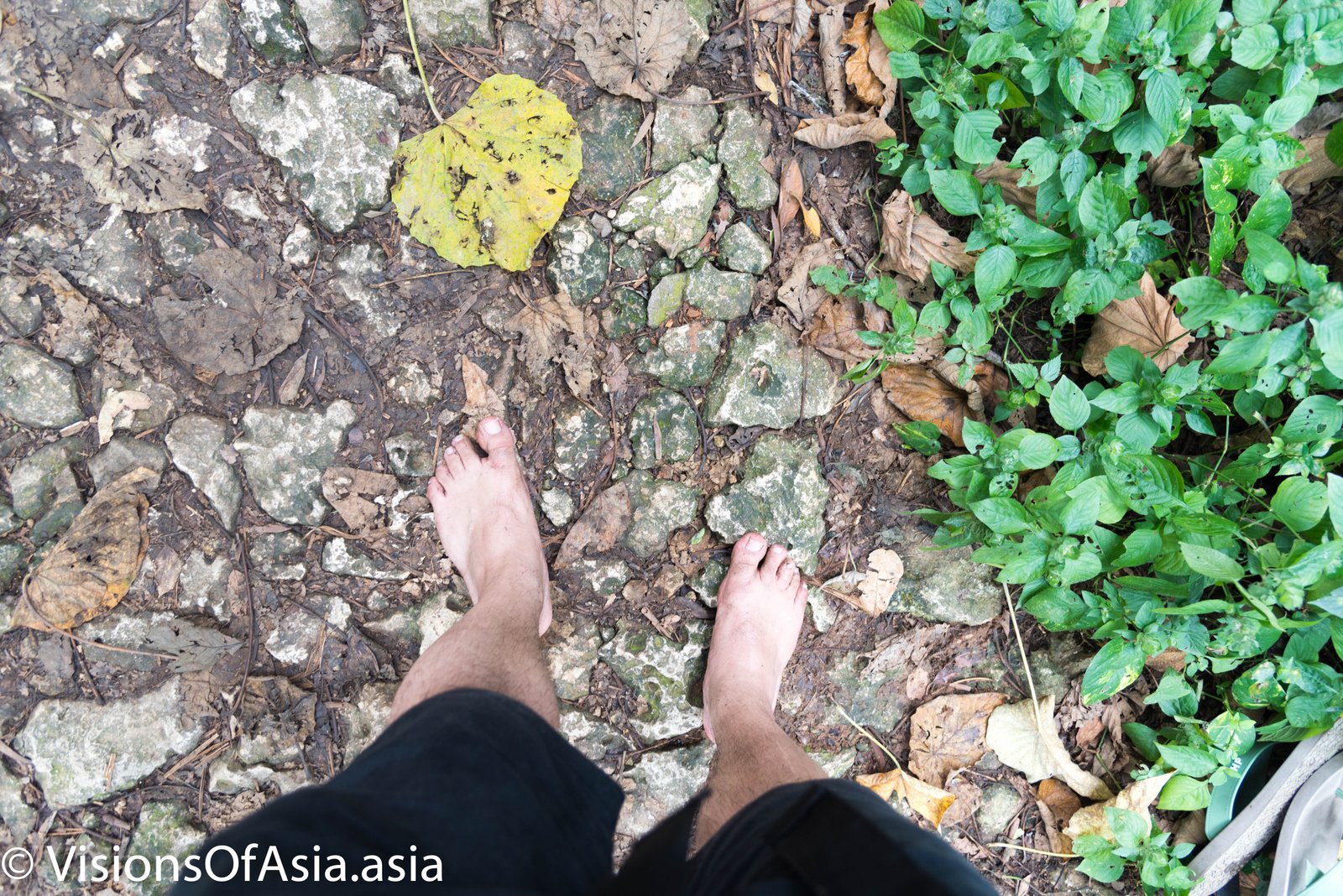 Slow start vs strong start
It is traditional for barefoot running proponents to advocate a slow start, and this probably makes sense for most runners. I must say that since I have lived in Thailand, I generally do walk barefoot at home and use wooden sandals most of the time, otherwise.
When trying to resume running with shoes, the knee patella pain was too present to allow me any form of recovery. As a last resort, I switched to barefooting – and to be quite honest, always wanted to run barefoot.

As such, and rather counter-intuitively, my start was immediately with 1/2 hr runs and 4 to 5 kms each time. Though I was rather out of shape when I started, I did not suffer serious inconveniences when running. At the beginning, and mostly an effect of bad technique, I did have a few blisters. But beyond that, what I did was avoid running every day. I started by running twice to thrice a week, which gave time to the tendons to adapt. My feet, in themselves, did not suffer at all of the barefoot running, on the contrary.
Recently, I acquired a garmin smart watch. This allowed me to identify more precisely my running cadence, and it seems very close to the 180 steps per minute which are the optimal cadence at which barefoot running should be practiced.
Advantages of barefoot running
The advantages of barefoot running, beyond allowing me to get back to the point where I can run even with shoes, are numerous.
I realized when hiking barefoot lately, that my ankles and body muscles have grown stronger and can now ensure stability in all terrain, especially in the mountain. I did not have any injury, except a sensitivity once, to the Achilles tendon, which got solved simply by taking two consecutive days of rest.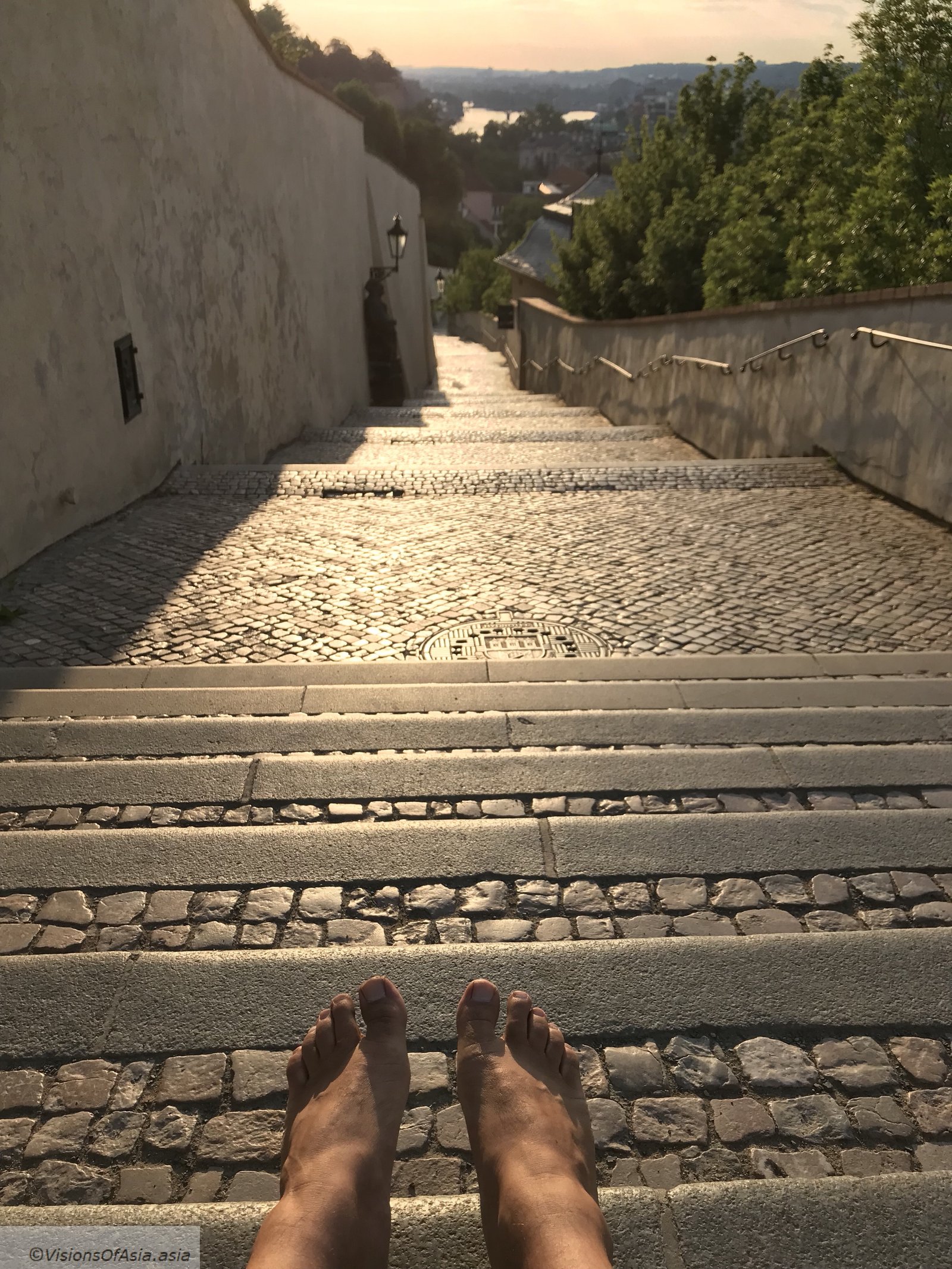 Running barefoot also helps gaining in self-confidence as it is something putting you under the spotlight. Only people with a relative confidence in themselves can do this exercise.
Another advantage of barefoot running is the comfort in which you feel even after several hours running/hiking barefoot. You don't have shoes weighing you down or making your feet sweat.
The cons
Now the most obvious will be that gone are any pretense at passing unseen or discretion. Often people don't look at the feet, but when they do, you can be guaranteed to see various levels of shock.
Look, for instance, at this video of my latest barefoot hike on Needle Hill:
People do tend to get surprised when they see someone walking or running barefoot. Some people may react aggressively, as somehow, the feet seem to have a special place in the human mind.
Sometimes, the problem is with "conviction-based" barefooters who tend to appear as aggressive in enforcing barefooting as Jehovah witnesses at your doorstep.
Your tendons and feet muscle will also be loaded much more than with shoes, and at least at the start, it is important to bear that in mind. Indeed, starting too quick may overstress those body parts and lead to overuse injury as well.


The other factor to bear in mind, is that you are inherently more vulnerable barefoot. As such, you generally run or hike slower (especially hiking in rough terrain). The counterpart to this being , of course, that you hike more leisurely and are more in phase with your environment.
After all, what better experience than being able to remember the feel of the terrain on a hike on top of the view or the general area?
Consistency
A key word in building up your resistance and capacity to run barefoot is to be consistent. Most of us cannot walk barefoot 24/7, so while we wear shoes, our feet lose some of the benefits of barefooting as well as become softer (which is not always a boon when practicing on rough terrain).
In addition, consistency will ensure that your tendons and other body parts remain trained to support the heavier load put on them by barefoot running. As for me, partly because it is fun, partly because it pushes the envelope on personal comfort, I do sometimes take the MTR barefoot after a hike. For example, see this timelapse:
The future
The future is probably not a generalization of barefoot running, but the development of a core of consistent barefooters who will serve as a reminder to the other runners  that barefooting can be good for health. Obviously, in Asian cultures, where some degree of barefooting has always historically existed, acceptation of barefooting is greater than in Western countries.
And then, obviously, there are areas such as San Francisco,  where barefoot running is basically impossible given the dirtiness and disastrous condition of the streets.
Nevertheless, never mind how gross or "painful" this may appear to you, try running or walking barefoot in the street. You will be amazed at the sensations and the incredible benefits this practice can bring. And if you need more references, I created a page solely for collecting references on barefoot walking and running.