There has been a little bit of a hiatus in this blog, but that is merely because I was traveling quite a bit. In April, I returned to the city of Kaohsiung, in Taiwan. This time, as I had a drone with me, I managed to capture a drone view of Kaohsiung. This time, I was traveling with my wife and daughter. We had just one day for visiting all of Kaohsiung, so we tried our best to fit the most into our day. Incidentally, the proximity to Hong Kong and the low cost of the place makes it an ideal place for a week-end trip. For me, it was the occasion of being back to the island of smiles!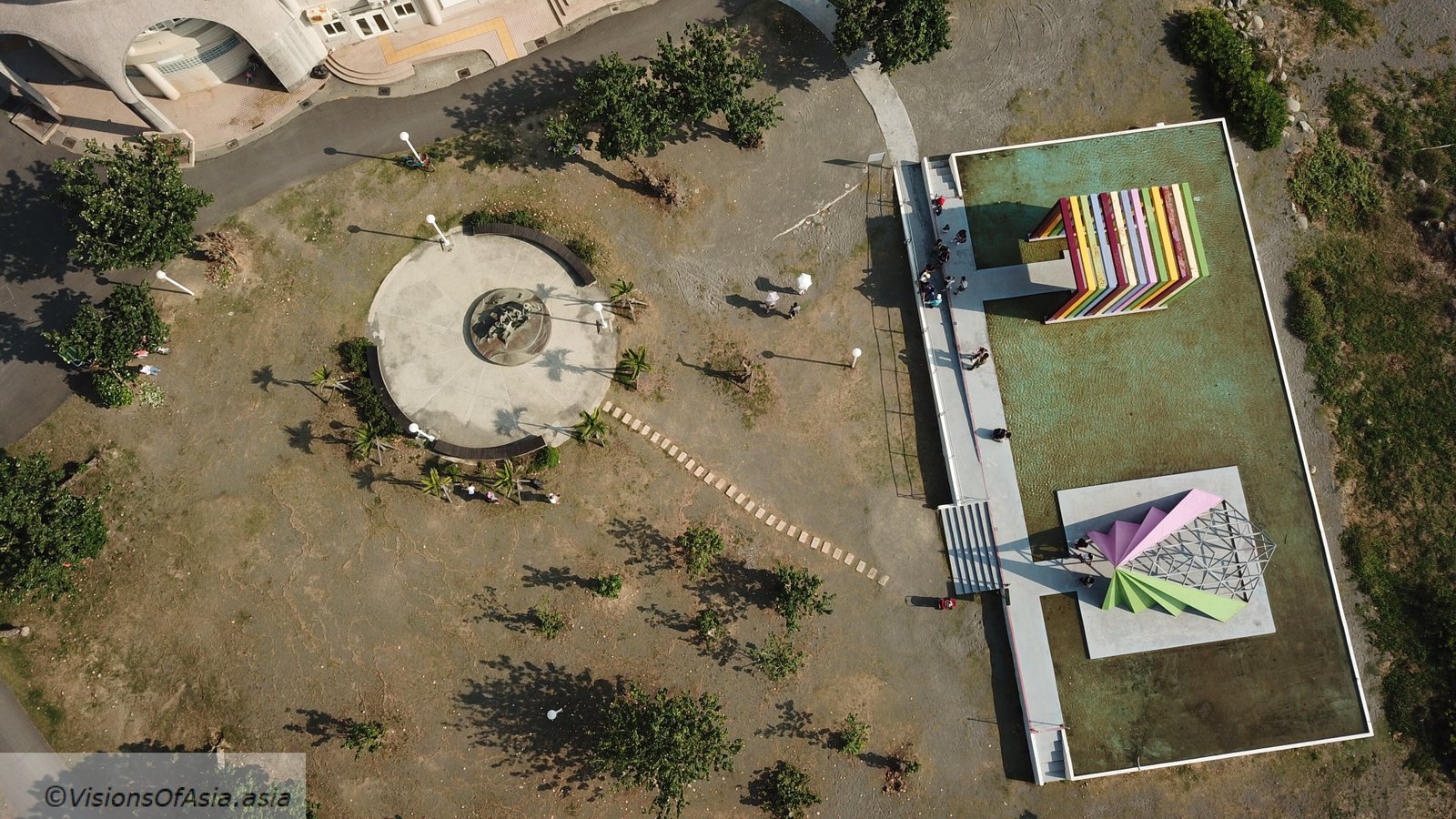 Cathay Dragon
Previously, I had flown on China Airlines, which was an ok airline, but affected by several delays.
With Cathay Dragon, an affiliate of Cathay Pacific, the trip was smoother, but it still had hiccups. The gate was thus changed at the last minute, and we had to run to the new gate. The plane was ok, and the flight attendants quite nice too. Despite flying economy, the kindness and smile of the flight attendants was the main asset of the airline. On return, some plastic fittings were disarranged, giving the aircraft quite an old and used feel.
In Kaohsiung airport instead, it seems they had a single bus to transload passengers from plane to terminal. After all, it is just a small provincial airport (but very homely).
Despite these little hiccups, we did not have any issues in arriving in Taiwan.
This slideshow requires JavaScript.
The Lees hotel
As I was with my family, I booked a more luxurious hotel, the "Lees hotel". Located quite centrally, near to the Formosa Boulevard station, this hotel provides an excellent and lovely place and a very lovely position.
This slideshow requires JavaScript.
The interesting part of that hotel is its position next to a rainbow-colored water castle with a motive "I love Kaohsiung".
Everything is bigger in Kaohsiung: from roads to smiles
I mentioned earlier, that the Taiwanese and the people of Kaohsiung in particular are very friendly. My impression was confirmed on this second trip. People were warm and kind everywhere we went. What prevailed was a general impression of happiness among the population, which was very refreshing. When compared to HK, everything is bigger, from the roads to the smiles.
Art2Pier: "art" as a place for living
I mentioned in an earlier article about the Eslite library as a place for living. Art2Pier, the open air modern art exhibition has the same flavour.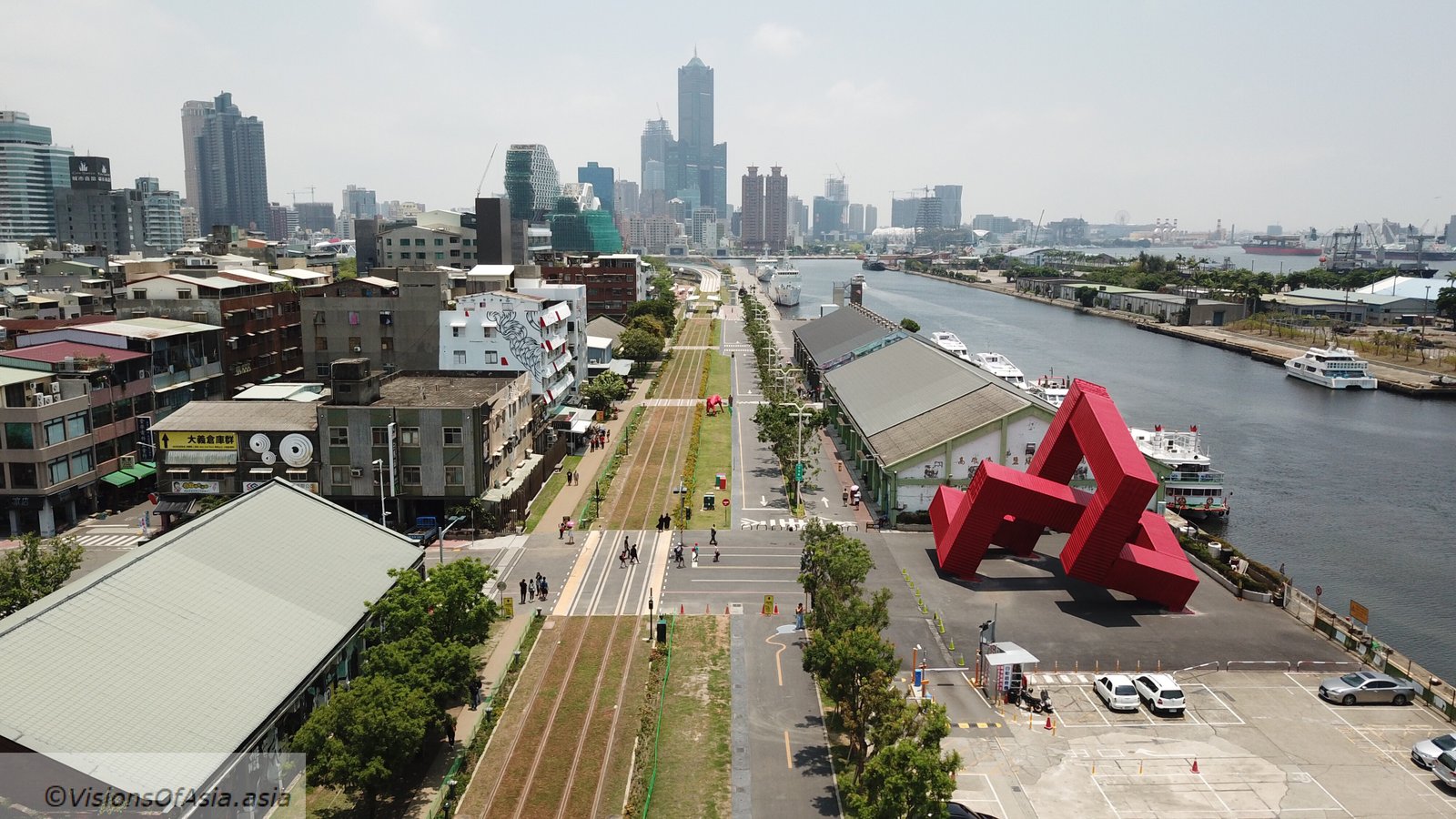 A view by drone allows to see a bit more of the expanse of the art2pier installation.
Our daughter loved seeing the art and posing in front of the murals.
We also visited the famous stationery shop located at Art2Pier. Unfortunately, they don't allow pictures to be taken inside, but it is quite a lovely place if you are into Japanese cute stuff.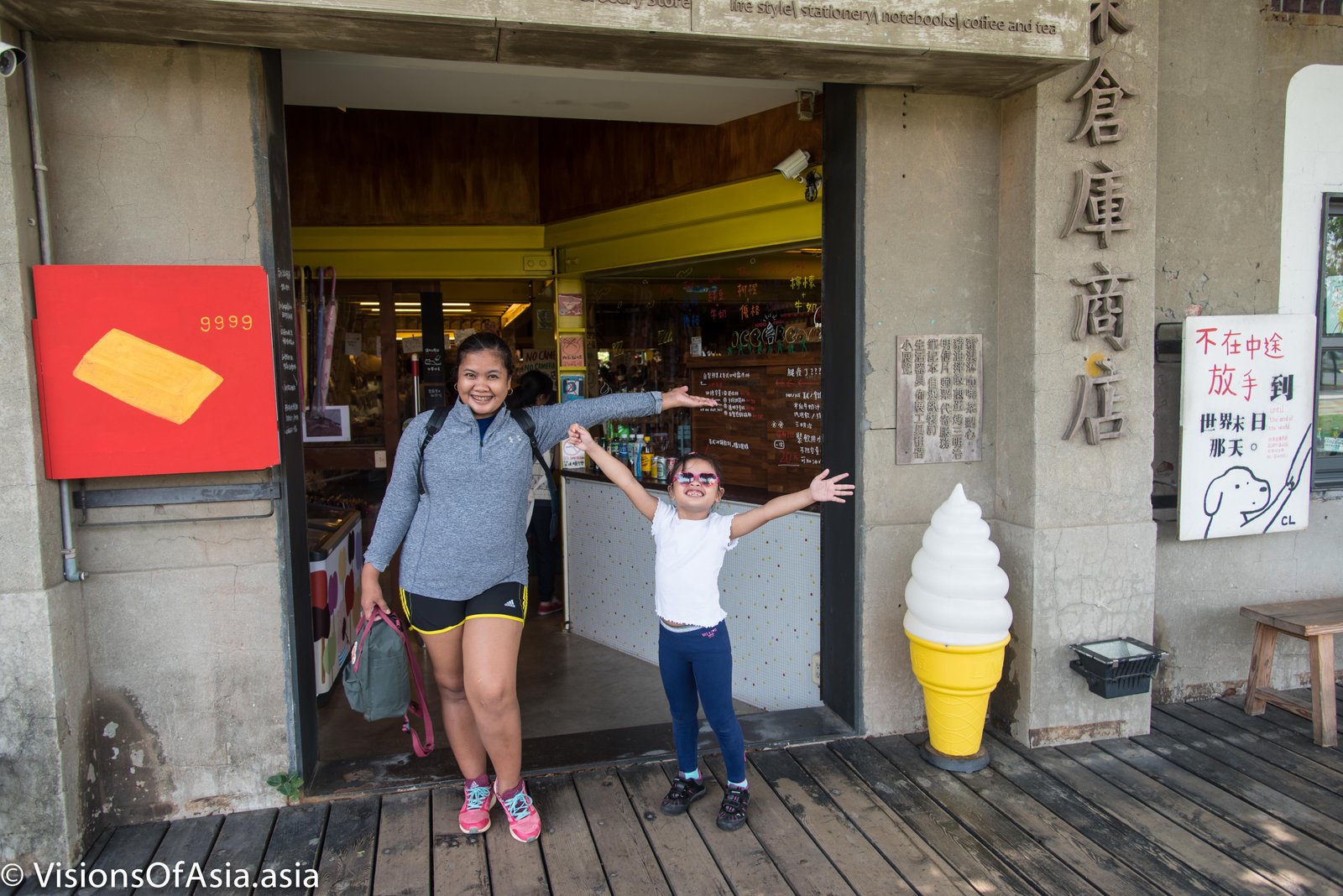 We managed to have a dronie taken despite the very hot sun…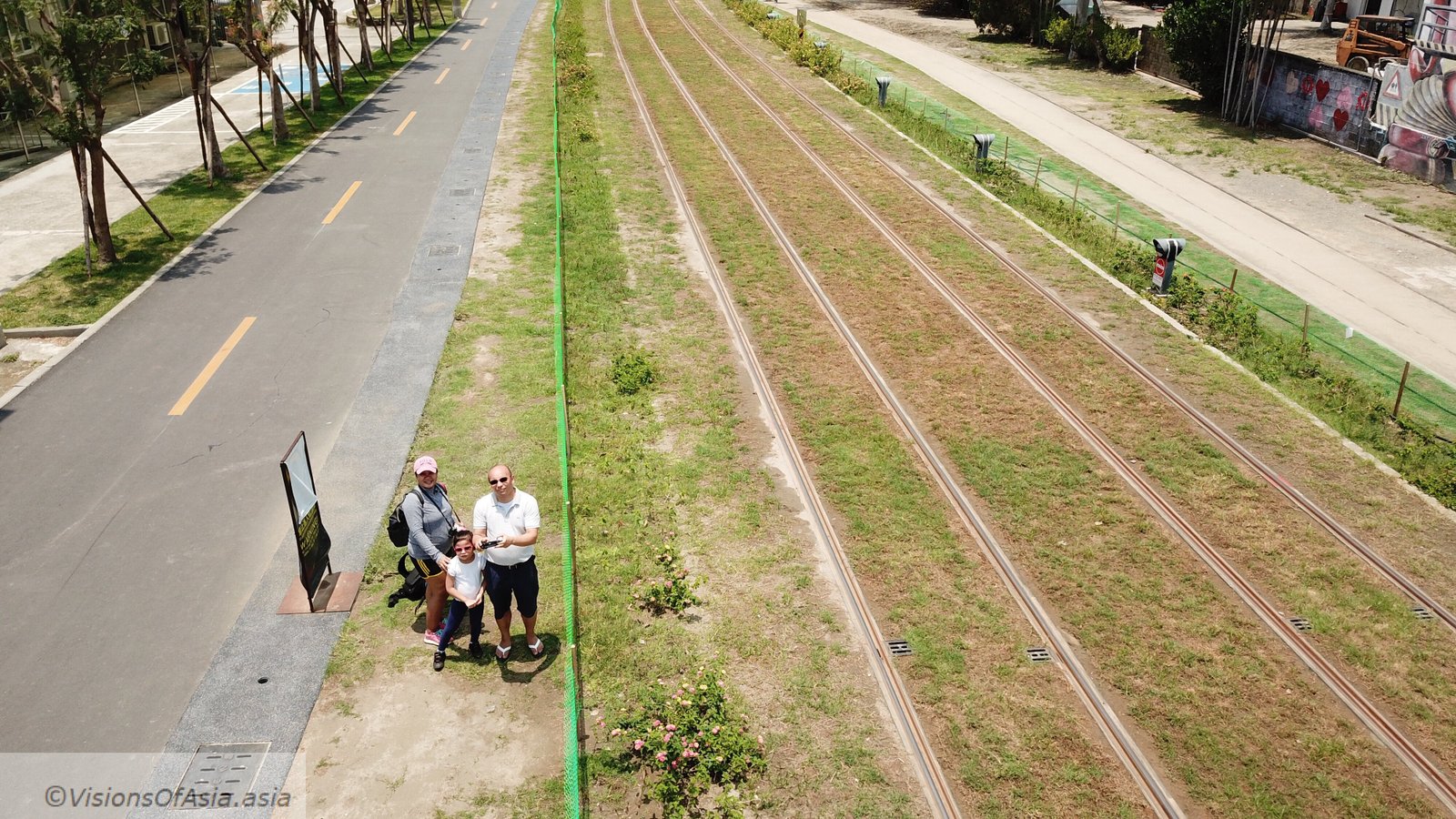 The scale of the metallic Optimus prime at the Art2Pier installation can only be appreciated from above:
Hamsan Railway museum
At a walking distance of Art2Pier, you can find another interesting place, namely the Hamsan Railway museum. "Museum" is a big name for a trainyard with a few old locomotives, but there again, the open space and views make it lovely to be seen by drone.
This slideshow requires JavaScript.
As it is the city center, the flight height is limited to 60 ms, but that is plenty to take some nice pics (above 60 meters, land features become unrecognizable).
Cijin Island: the island of smiles
I did a periscope on my first trip where I shared my love of Cijin island. This time, not being in winter, heat was much stronger, but Cijin is truly the "island of smiles". A lot of locals or tourists go to the island and rent "family bikes", sort of 4-wheeled bikes allowing you to ride together through the (very flat) island. Our family only encountered smiles on the way, and this was truly a heart-warming experience.
Renting an electric "family bike" for two hours costs about 300 NT$ + 150 NT$ for every additional hour. The enjoyment and fun was truly worth the price.
The Kaohsiung lighthouse
Due to my time limitations on my previous trip, I had not gone to the Kaohsiung lighthouse. I realized it was a mistake, this time around, as the view up there is simply gorgeous, especially when shot by drone (in this case, my Mavic Pro).
it requires a short but steep hike up a cemented road (which I did barefoot, of course). The heat of the pavement was at the limits, though.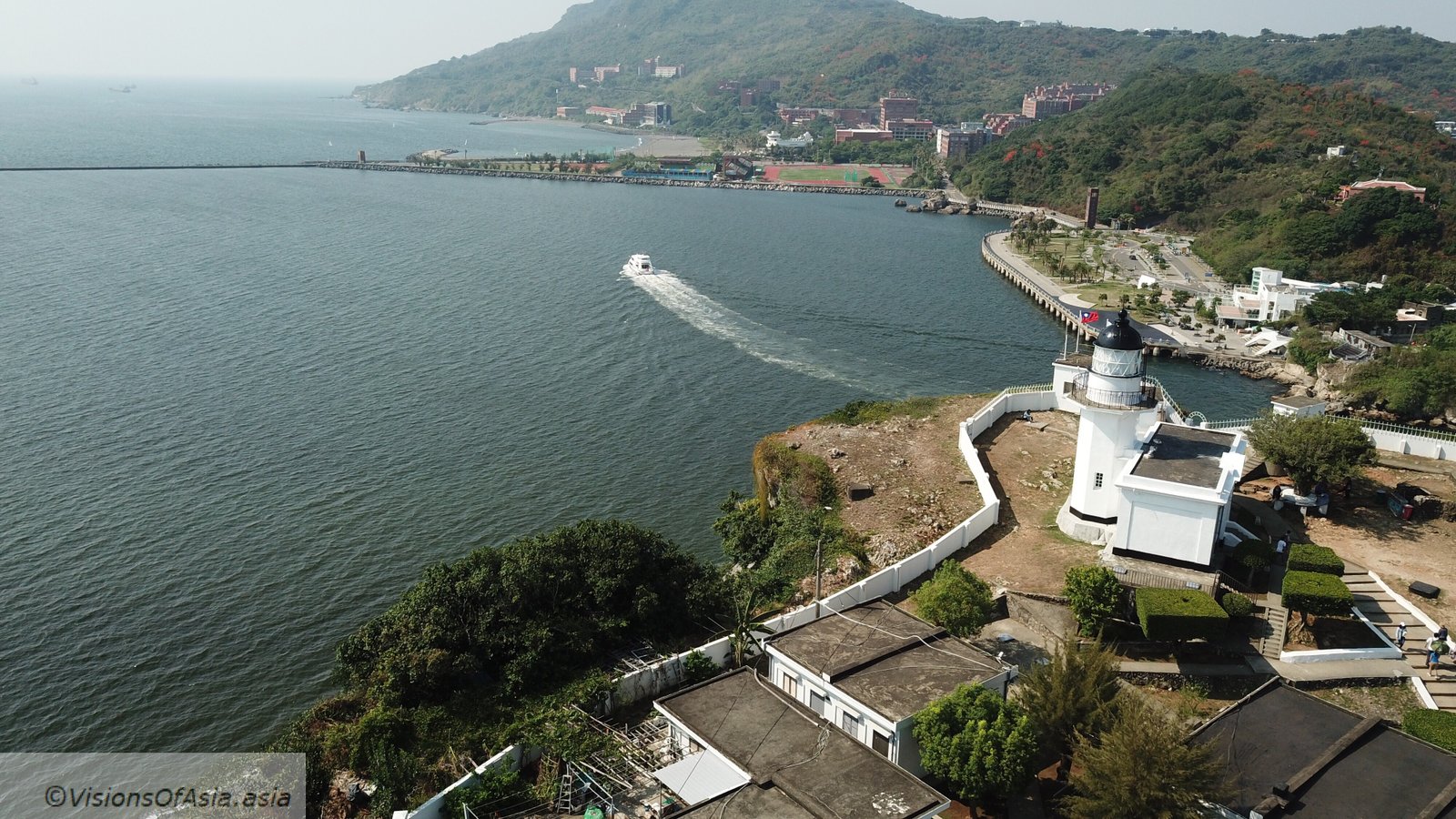 I managed to capture the lighthouse, with a boat heading out at sea, which provided a nice composition element for the picture.
The view on the island from up there is also interesting (some comparison with Cheung Chau island in Hong Kong, might be warranted).
But the lighthouse is not only a place for scenic pictures. It is also an ideal location for capturing pictures of ships passing by, like this empty tanker.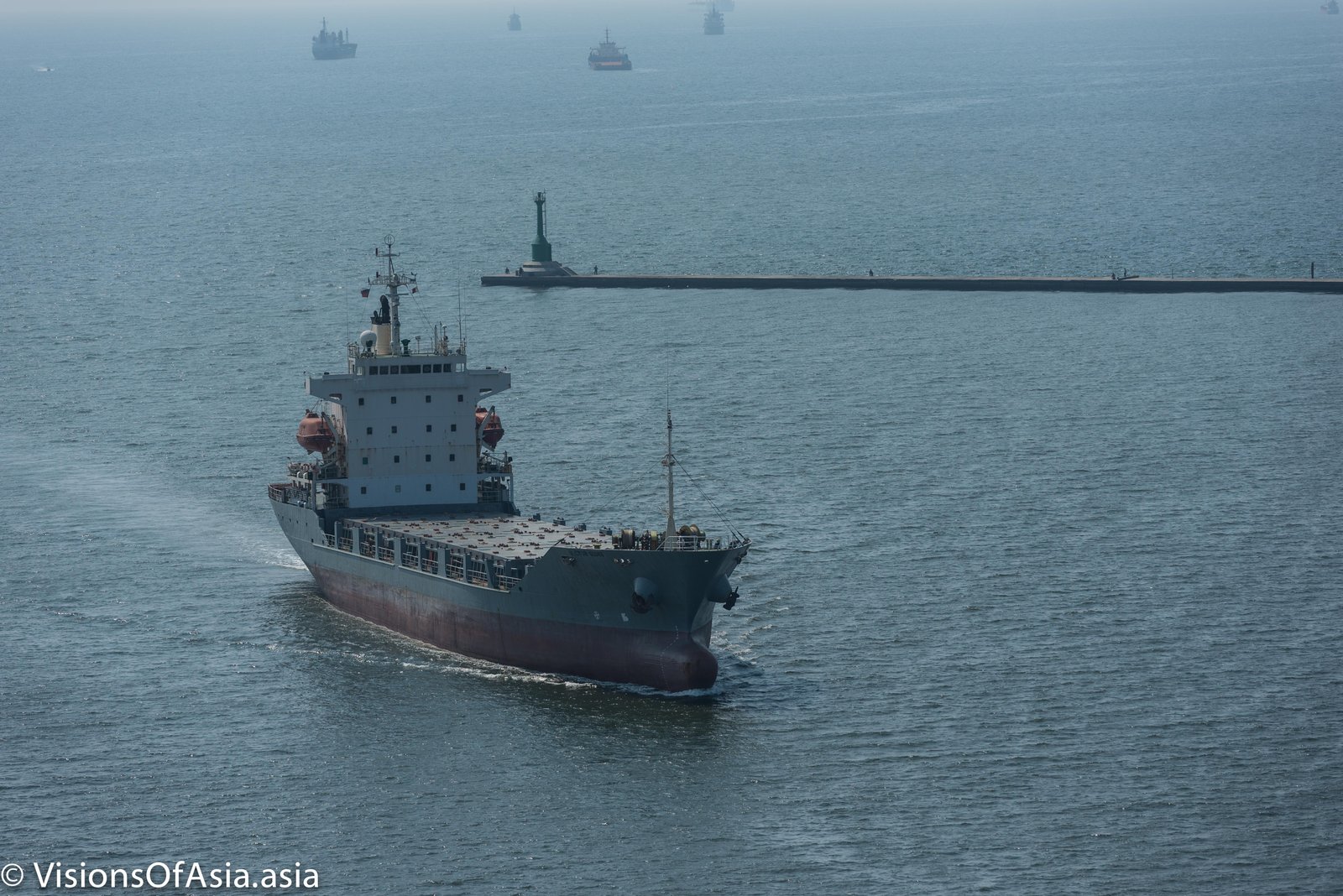 The rainbow chapel
Another must-visit location and a preferred location for selfies is the "rainbow chapel", located near Cijin Island's shell museum.
The museum, in itself, is magnificent when seen by drone, as you can appreciate its architectural form, vaguely reminiscent of a shellfish.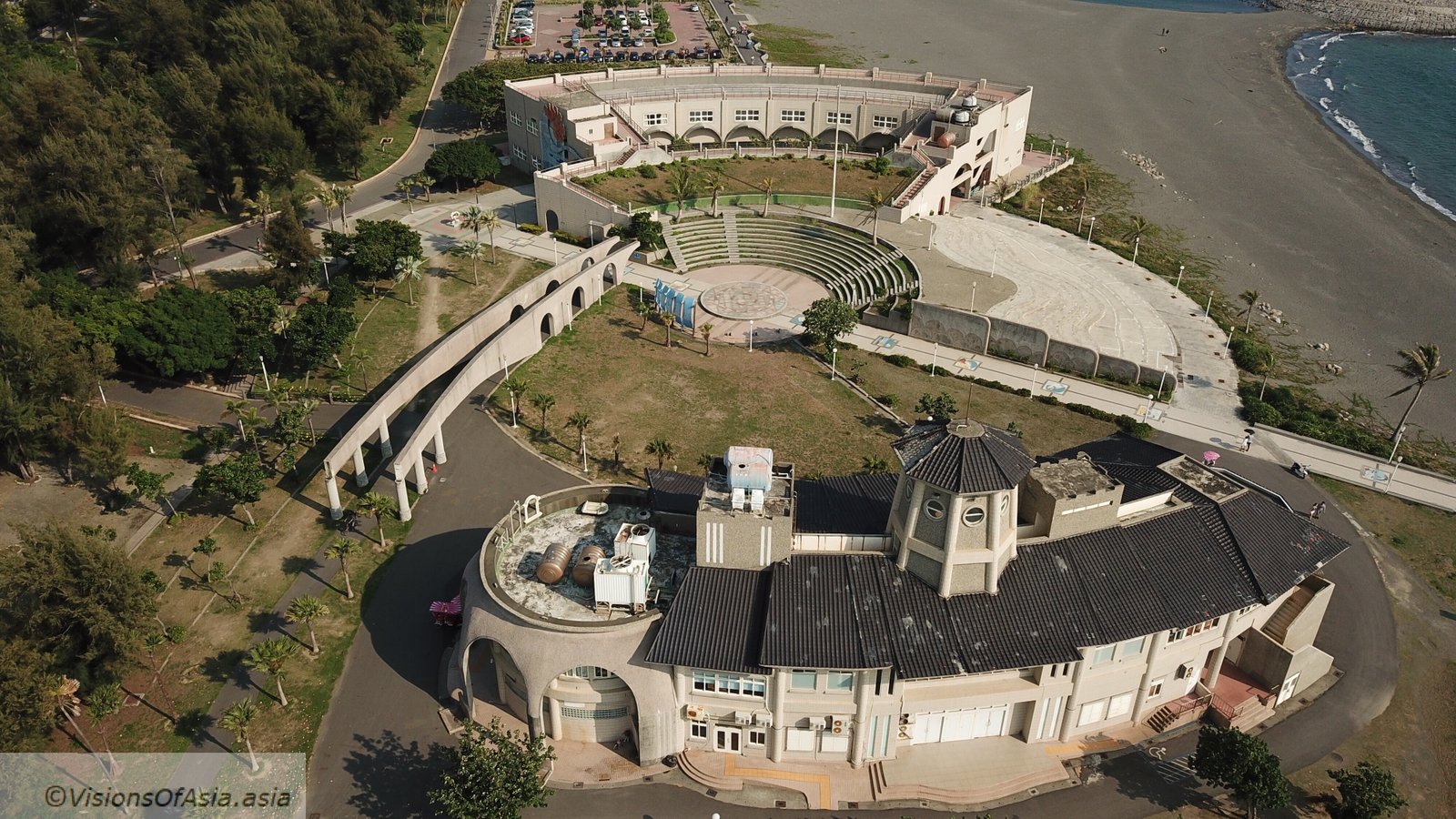 The rainbow chapel, itself, provides its best effect when seen from above.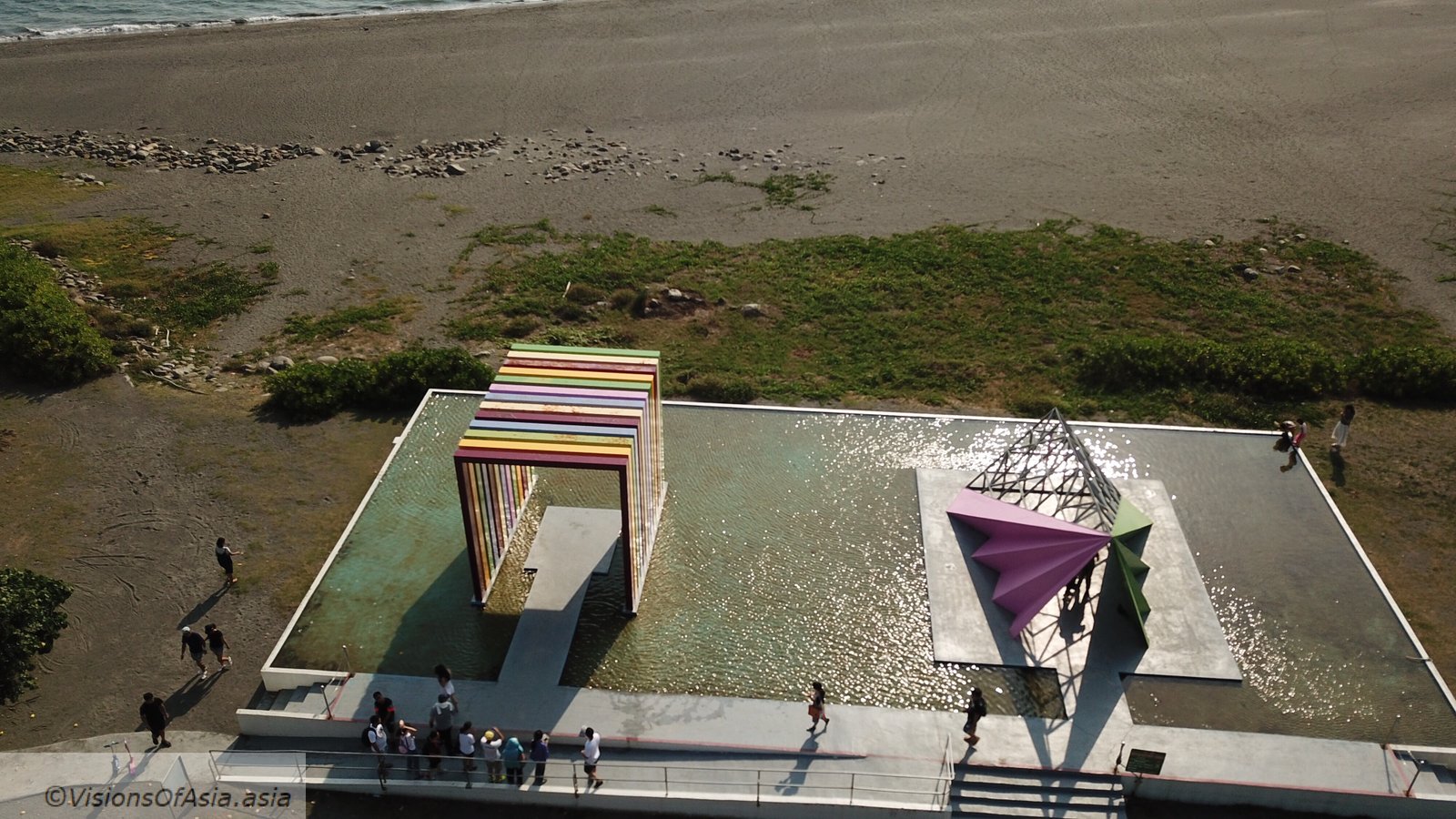 We then pushed with our bike to the windmill farm, but by then, our daughter was already exhausted from running around in the sun. After a quick photo pause at the windmill farm, we headed back to return to the city.
Of course, being in Taiwan, we had to try their famous bubble tea. Taiwan being the place that invented this delicious drink, it was only logical that the milk bubble tea we drank was probably the best ever!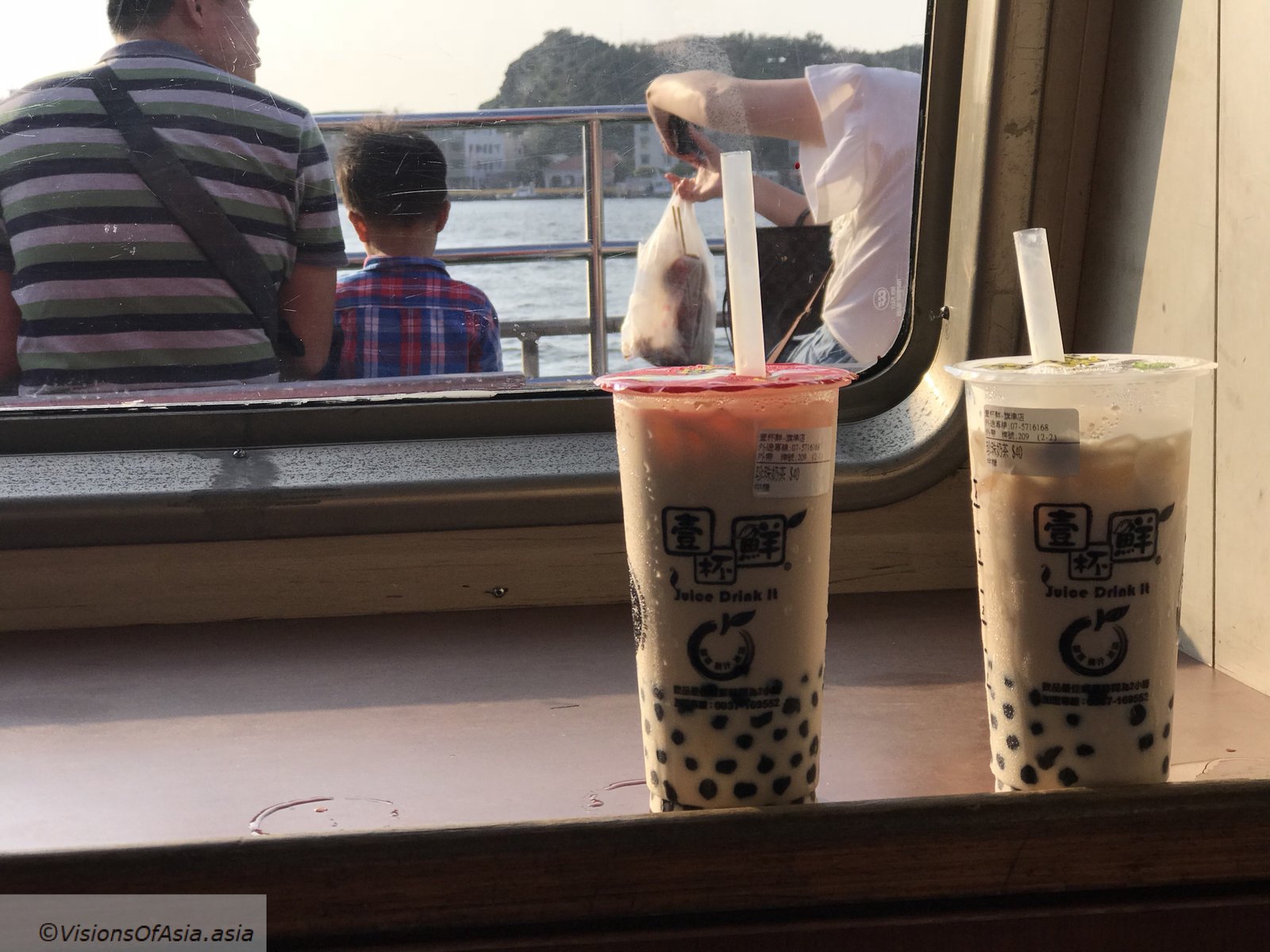 How to get there?
There are regular flights on both China Airlines and Cathay Pacific, at least twice daily. China airlines costs roughly around 864 HKD, while Cathay Pacific is slightly more expensive at 1080 HKD. The difference in price might be worth it for more convenient departure times.
Uber is functional in Kaohsiung, but taxis are also quite cheap. Otherwise, using bicycles might also be a good way of traveling around.