Over the past five years, I managed to see a number of celebrations of Chinese new year in Bangkok. While similar to some degree to the traditional Chinese festival, they differ too. Indeed, the Thai version has a more marked Buddhist flavor to it. Of course, this goes together with the Thai syncretism and the hotchpotch of beliefs which mix Hinduism, Buddhism, Chinese traditions and animism.
Red is the color
Of course, wearing red is almost an obligation on Chinese New Year, as this color is said to bring prosperity.
Even little kids dress up in quipao, the traditional Chinese dress.
For tourists, this is also the occasion to bargain to buy some traditional red garb and attempt to "blend in"…
A family reunion
Just like in China and in Hong Kong, Chinese New Year is mainly a family reunion. Families often go together to the temple, but mainly just like in China, it is an occasion to meet relatives.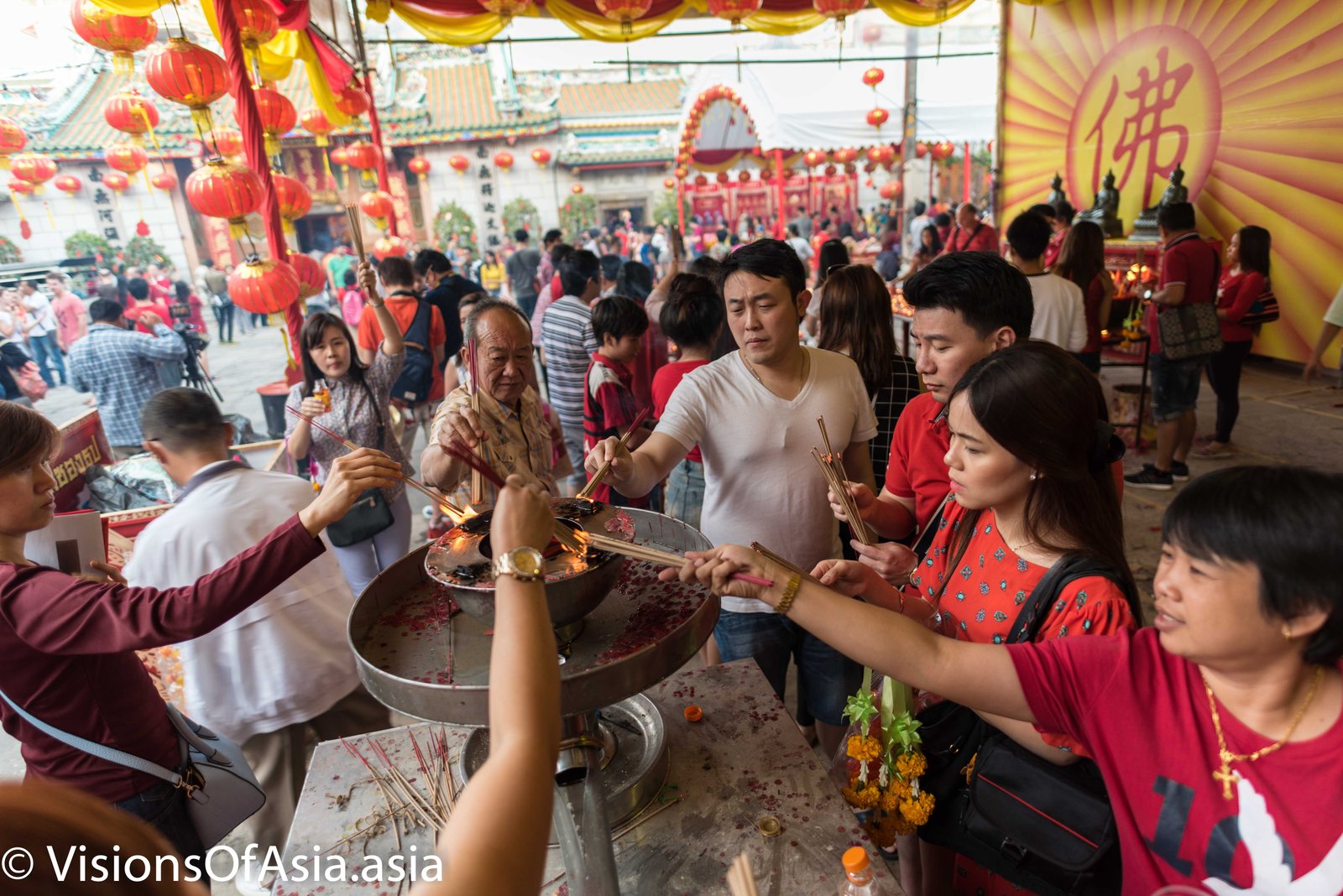 People often go in family to the temple. Like in this case, the mother and daughter.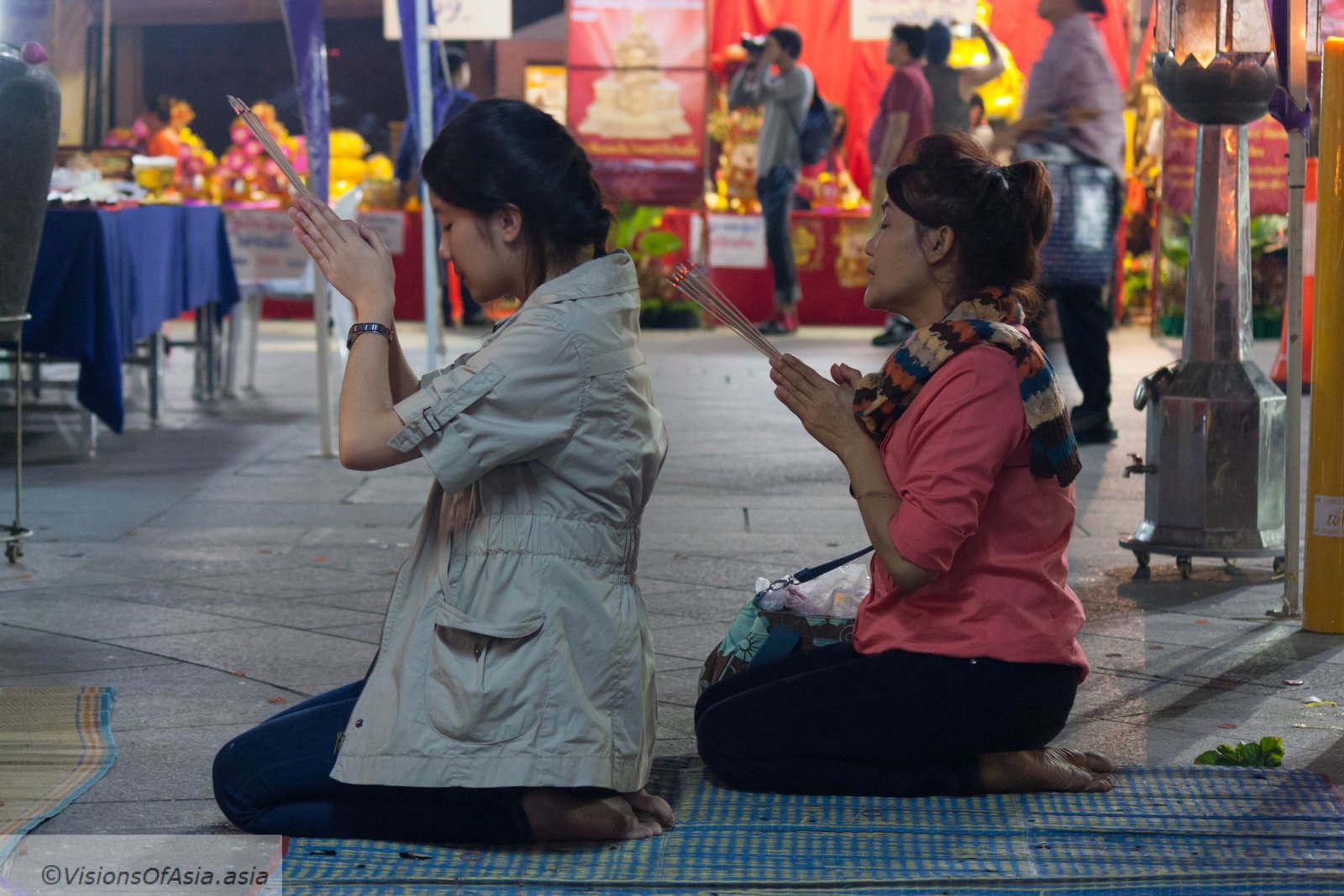 The biggest event however takes place on Chinese New Year eve. Indeed on that occasion, it is believed that wishes have the best chance of being realized upon the passage to a new (Chinese) year. Hence, beyond burning incense, Thais also splurge on huge candles as can be seen in the picture below at Wat Traimit in Chinatown. Obviously, the most expensive or biggest candle is believed to bring the most "luck".
It is a money thing…
There is a heavy confusion among Westerners between what they see as "faith" or "religiosity", and the own view of Thais on their practices. Thai modern Buddhism is, with some exceptions, mainly oriented on materialism and obtaining immediate material benefits. It goes to the point that some temples have been shamelessly riding the wave of greed, by posting publicity for Mercedes at their entrance! The most uanabashed Thai invitation to relinquish your money to get more money is probably the "garlands of banknotes" hung in the temples…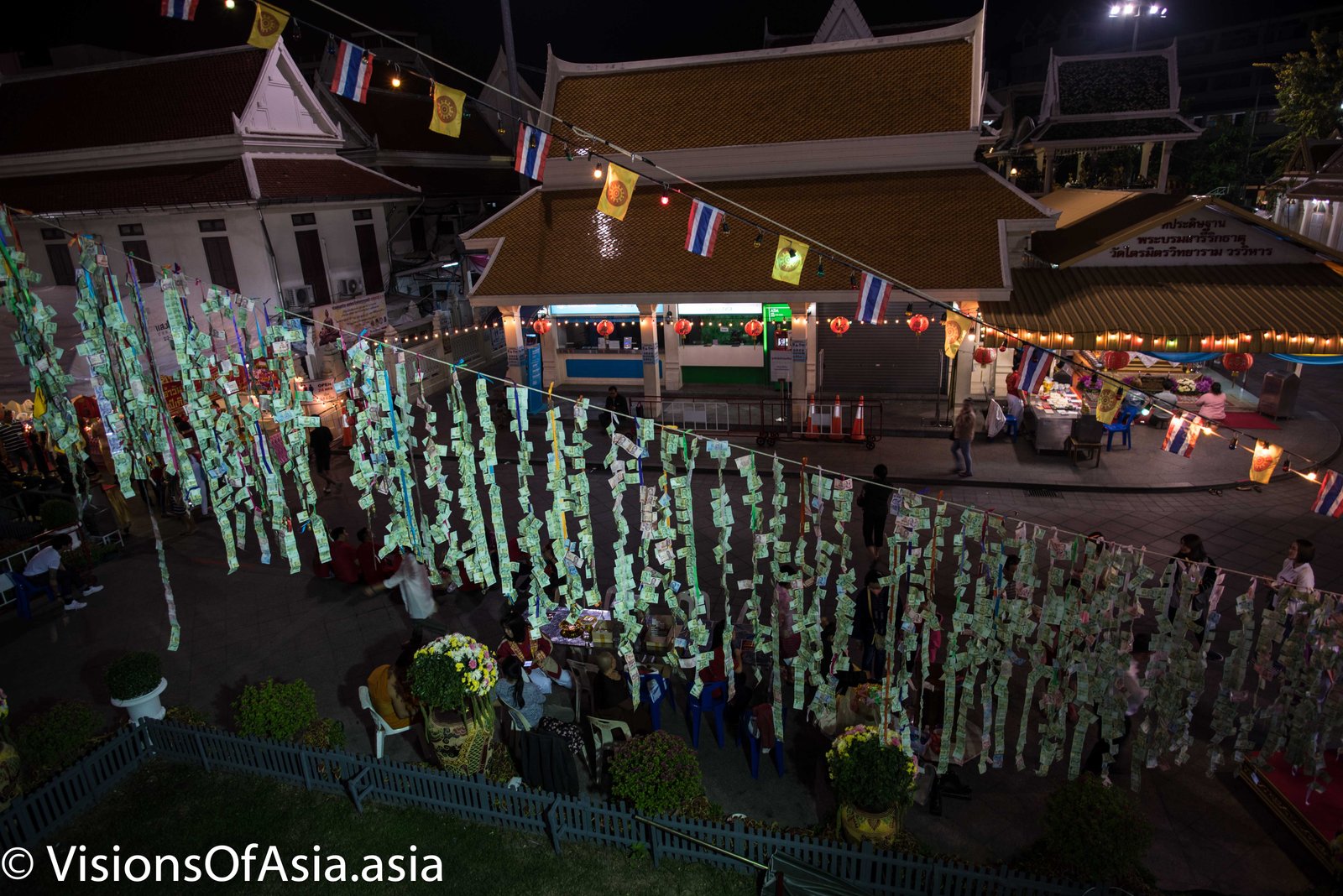 On some occasions, monks can be rude enough to be checking their smartphones under the nose of the worshippers…
Probably the most outrageous was seeing a famous brand of German cars "sponsoring" a temple on that occasion: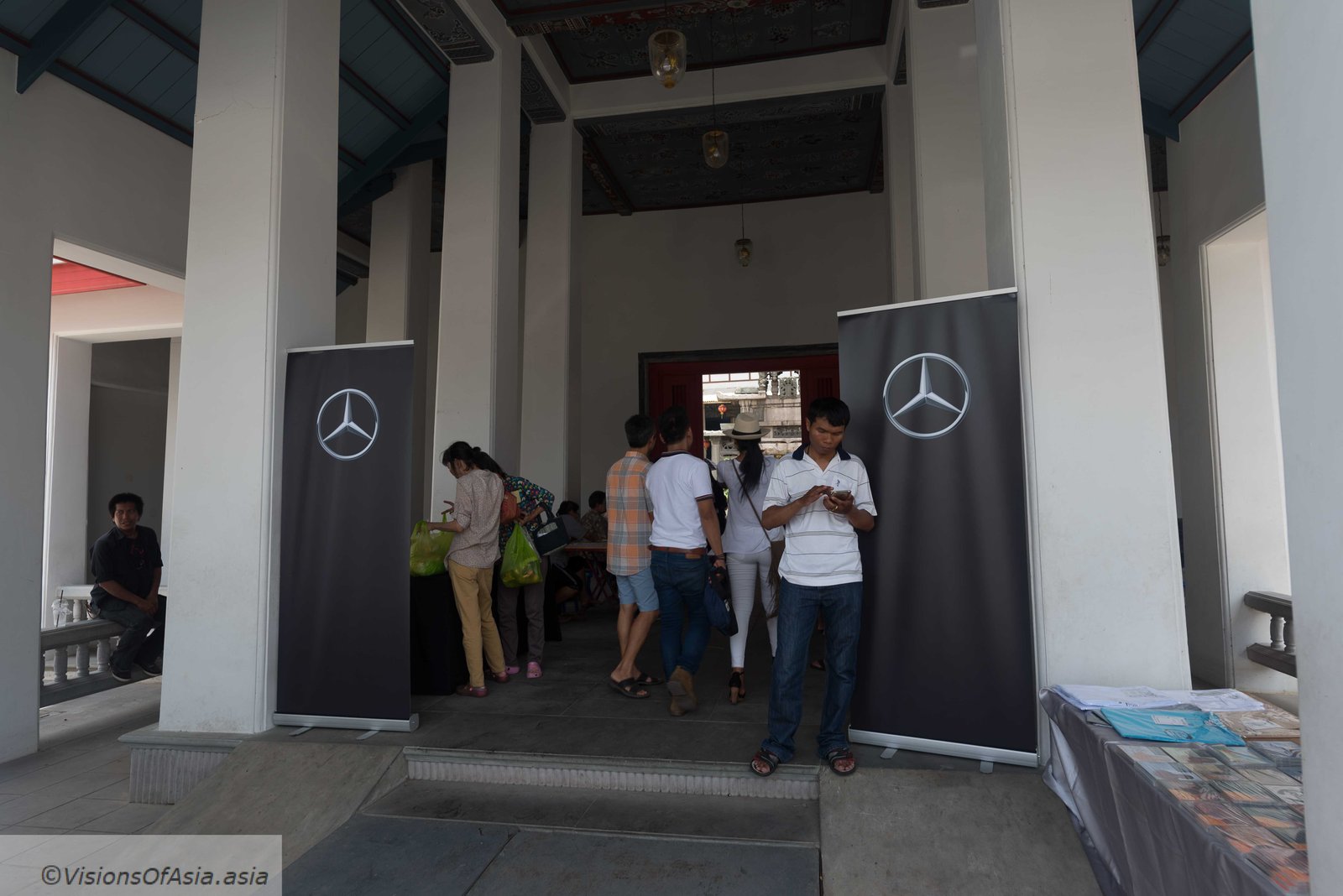 The bigger candle brings the biggest luck…
The Chinese tradition says that you should be burning incense as soon as possible after midnight on Chinese New Year. Where in Hong Kong, this causes regularly some scuffles, to the temple, in Bangkok, things are taken way more easily. People go to burn incense no matter what the time, as long as it is done on the eve of Chinese New Year.
Of course, the candles, themselves make for interesting subjects at night time.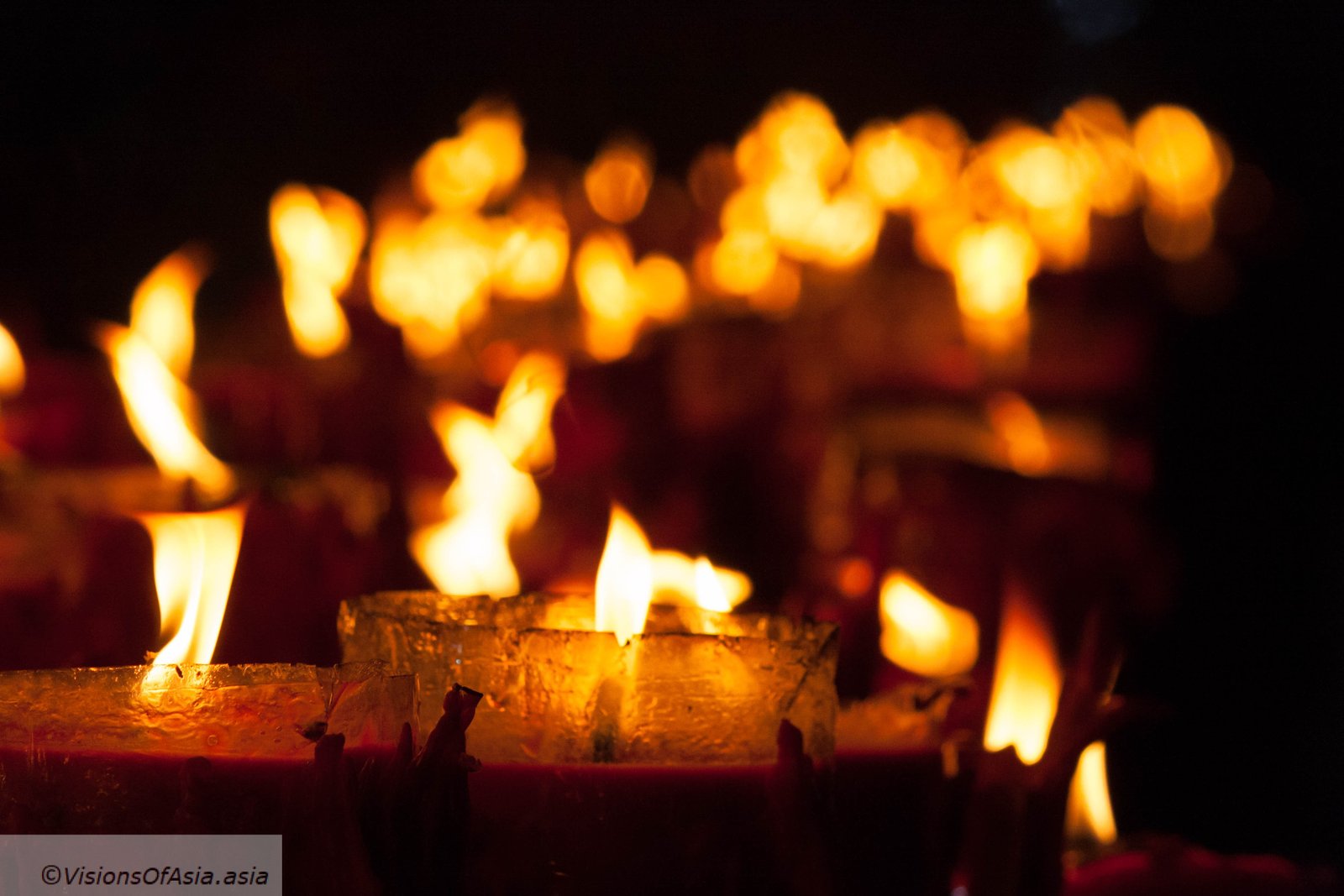 Business at the forefront
Chinese New Year is also an occasion for doing business. On that single day, the police is rather understanding with the small-time hawkers which populate Bangkok. Yaowarat road, the main artery in Chinatown becomes  a  pedestrian area on that day Despite this, the heavy crowds and the sheer number of vendors make it a very difficult area to walk through.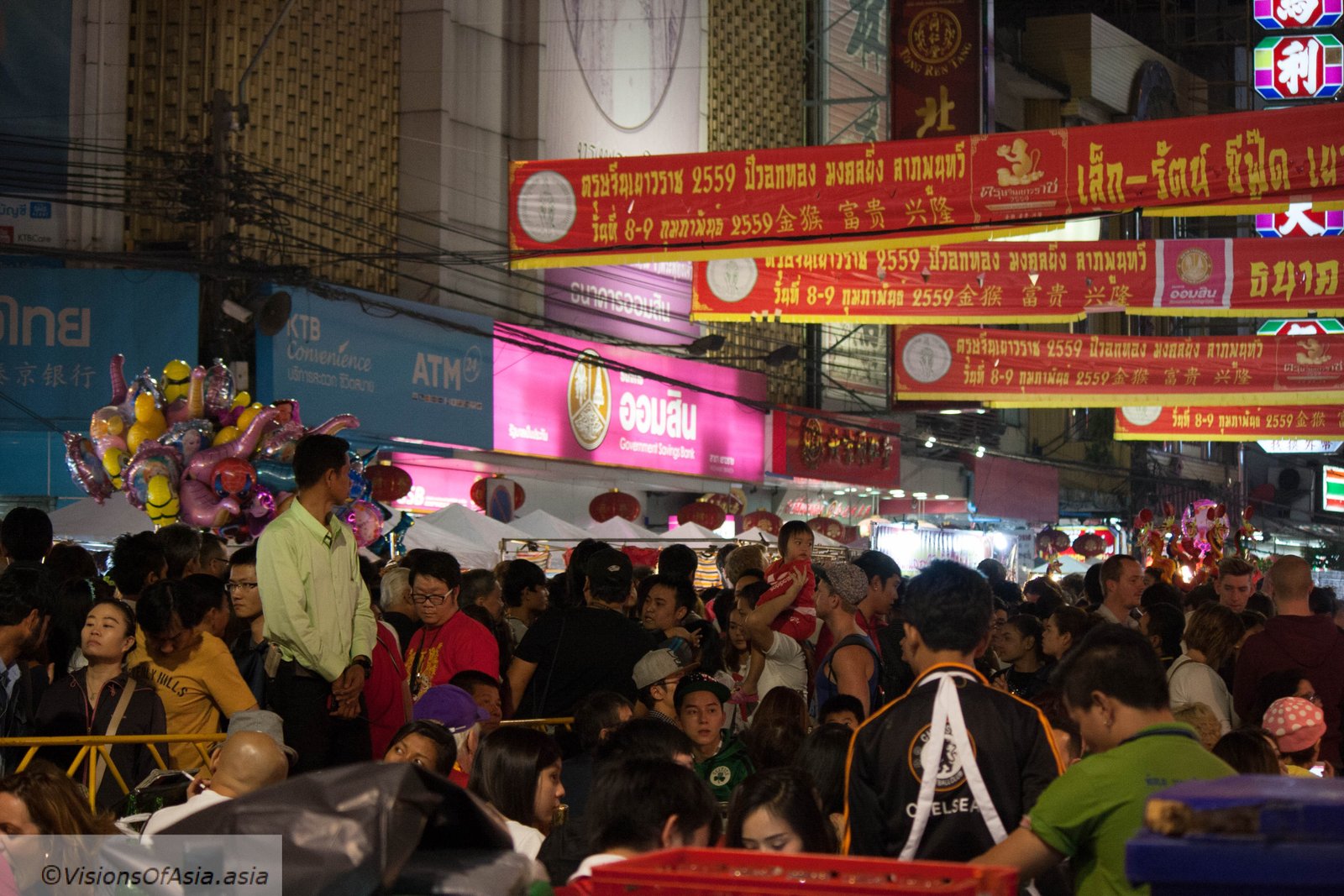 Of course, among the stuff sold, you have the habitual "snake oil" peddlers as below (with English advertisement too!).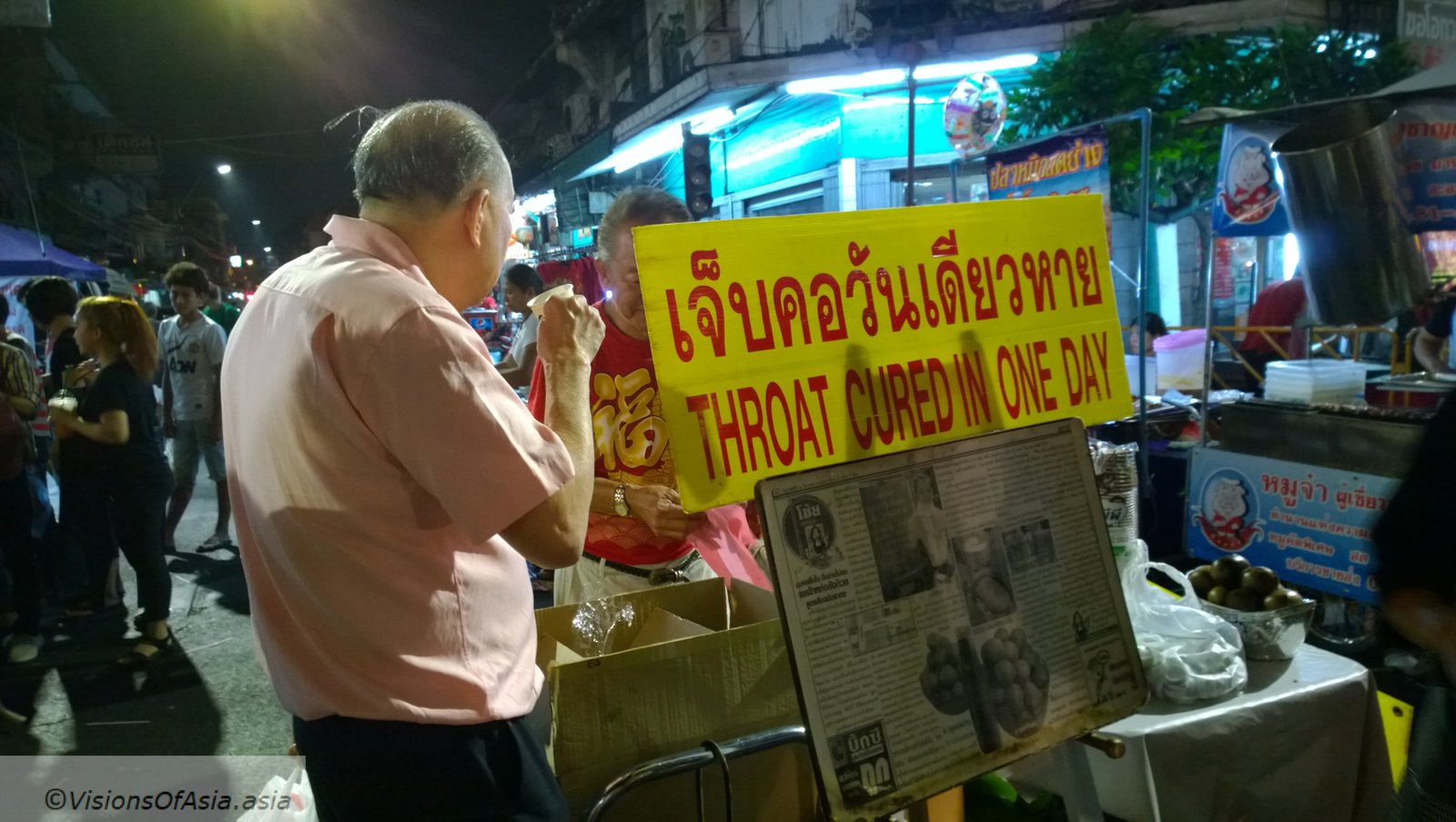 Bangkok adds a Buddhist touch to Chinese New year
Traditions, for Chinese New Year in Bangkok, are mostly similar, with incense being offered, but an interesting departure from Chinese tradition is that instead of food, the offerings are often lotus flowers as the two ladies below can be seen holding at Wat Traimit, the main temple in Chinatown.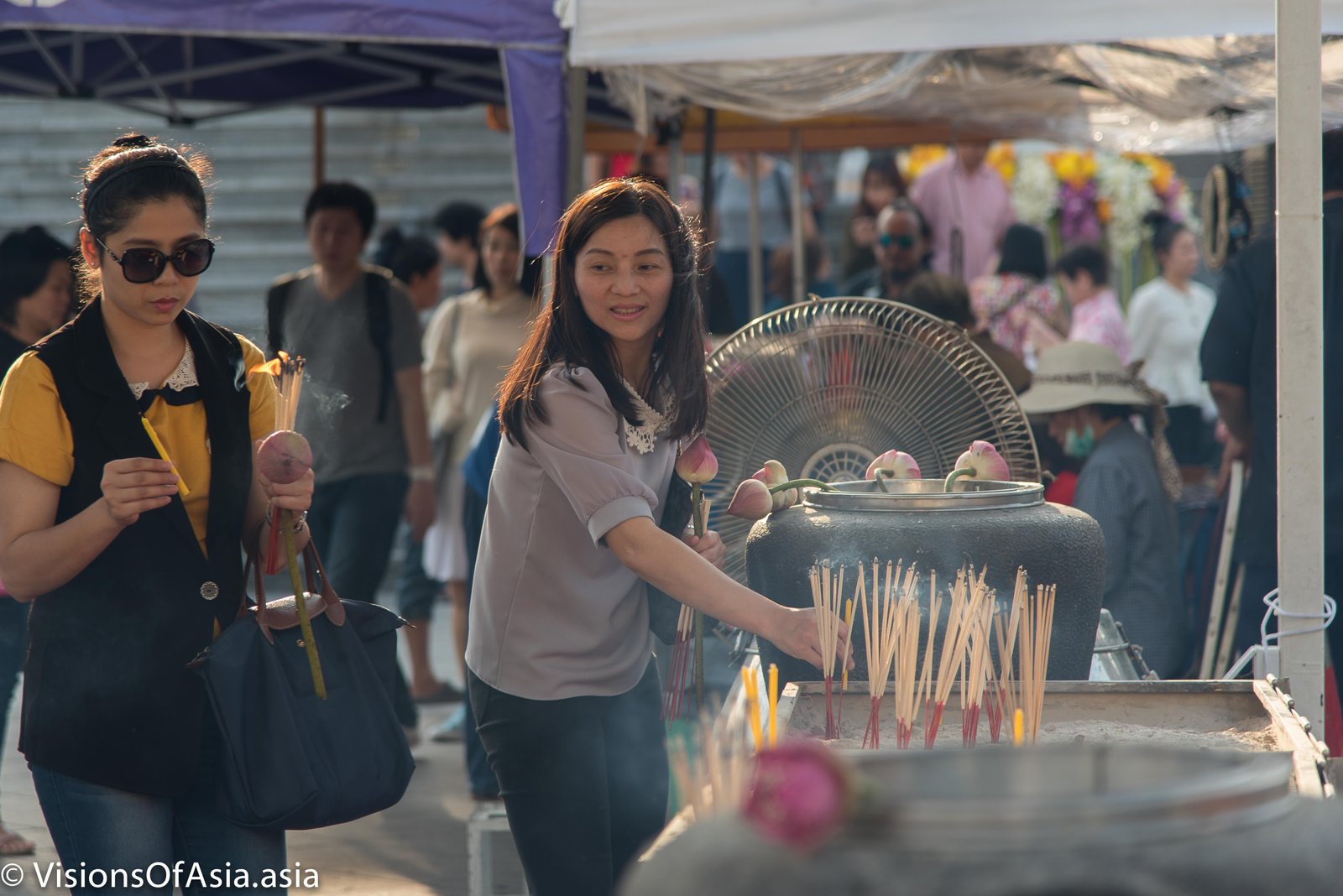 The meaning of the lotus flower is very Buddhist in its core, but very few Thai are aware of the roots. In fact, the lotus flower means the purity of the body, speech, and mind. Indeed, while rooted in the mud, its flowers blossom on long stalks floating above the muddy waters of attachment and desire. In Thai temples, the symbol of detachment, becomes another reason to earn mone.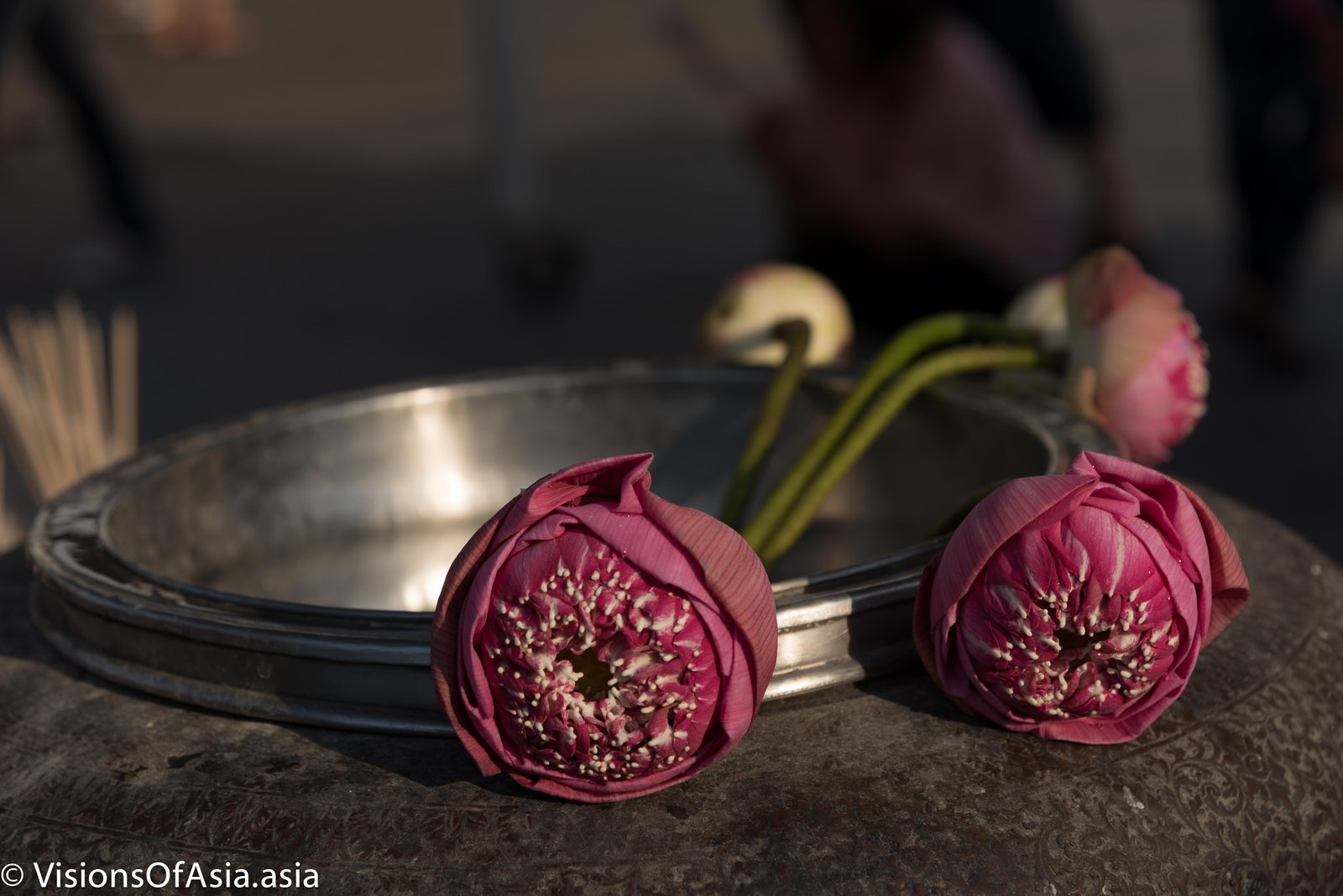 Within Chinatown itself, Wat Traimit, the main temple of the area hosts a 2-ton massive gold Buddha statue. On Chinese New Year eve, many Thais come to pray for favors (or take selfies in front of it).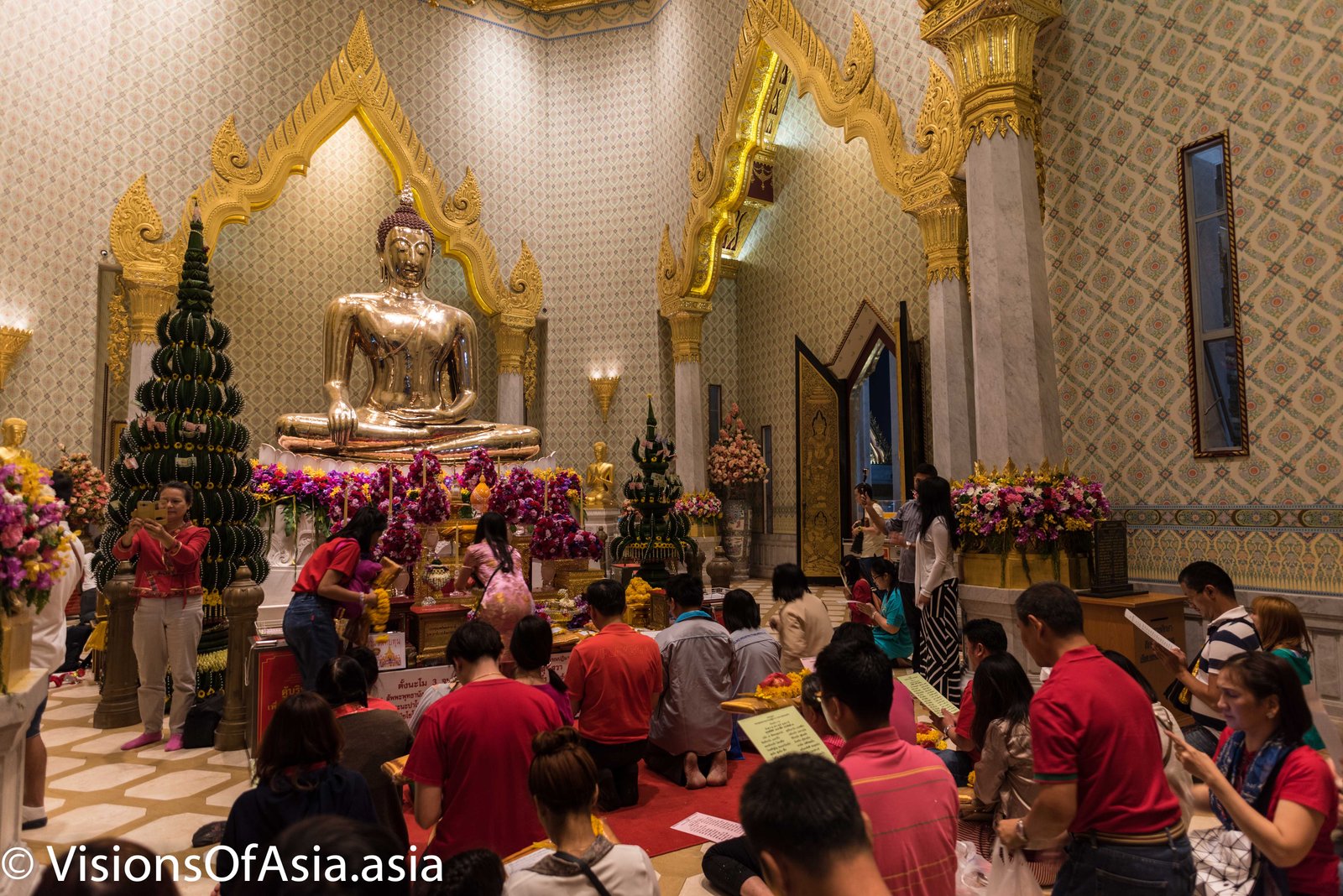 Selfie Mania
Last but not least, Thailand would not be Thailand if there was not a selfie mania on Chinese New Year. In temples, when giving offerings or anything, Thais will try to grab a selfie to post on social networks.
How to get there?
Yaowarat is a quite long road extending through Chinatown and large parts of the area are reserved to pedestrians on Chinese New Year. Your best bet is still to take the MRT to Hua Lamphong, then to walk on foot to Yaowarat. On the way, very near to the train station, you will see Wat Traimit. To have a glimpse of the agitation and the vibe of Chinese New Year, do drop there.