When you visit Tokyo, a must visit if you are in the area of Asakusa is certainly Sensoji, the oldest shrine of the city. A visit to Sensoji shrine is not only the occasion of watching Japanese and their beliefs which intricates elements of Shintoism along with Buddhism. It is also the occasion of watching numerous ladies and men dressed up in elaborate ceremony kimonos.
A very old shrine
Sensoji (浅草寺)is so called because it is another way to read the character for "Asakusa", where the temple is located. I mentioned earlier that Sensoji was the oldest temple in Tokyo, and its establishment dates back to 645 AD. Obviously, the current temple looks too new to still be the original temple. All the more as the area was destroyed in the WWII bombardments.
Despite the current relative "freshness" of the shrine building, Sensoji still carries a special weight in the heart of the Tokyo dwellers. Before entering the temple grounds themselves, there is a very famous shopping street, Nakamise street, mainly targeted to tourists, but still very interesting for visitors. Originally, the street appeared when traders obtained the permission to set up shops in the street leading to the shrine, several centuries ago. While the shops may have been chased away from time to time, and were destroyed to the ground in WWII, today they are back into their prime.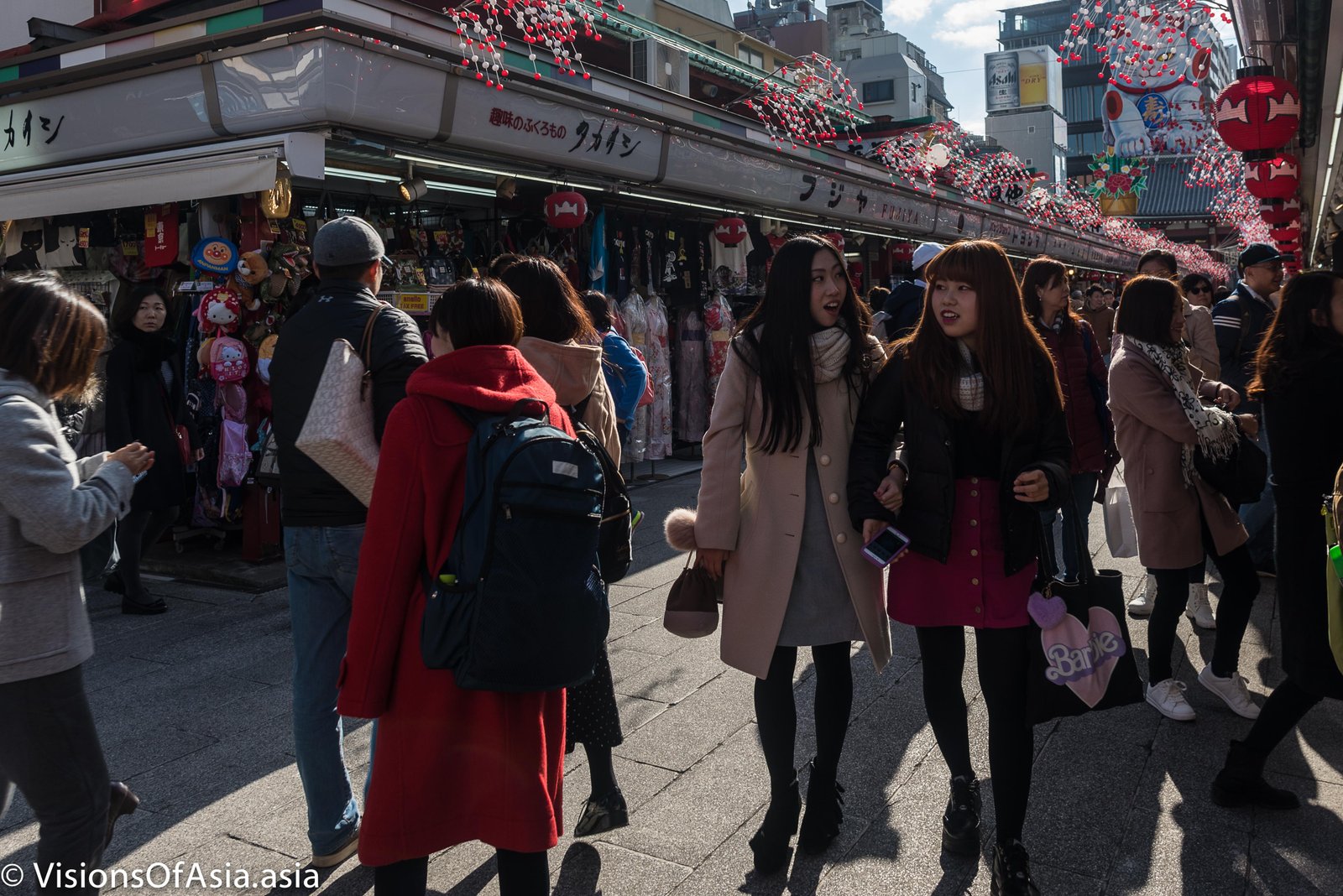 Things to buy in Nakamise street
Since you are already there, you may want to buy some souvenirs. It might be the occasion to buy some Geta, those traditional Japanese wooden sandals (very comfortable, by the way).
There are shops like the below shop, but while expensive on the main street, you find some interesting deals either in made to order geta or generally sized geta in side streets.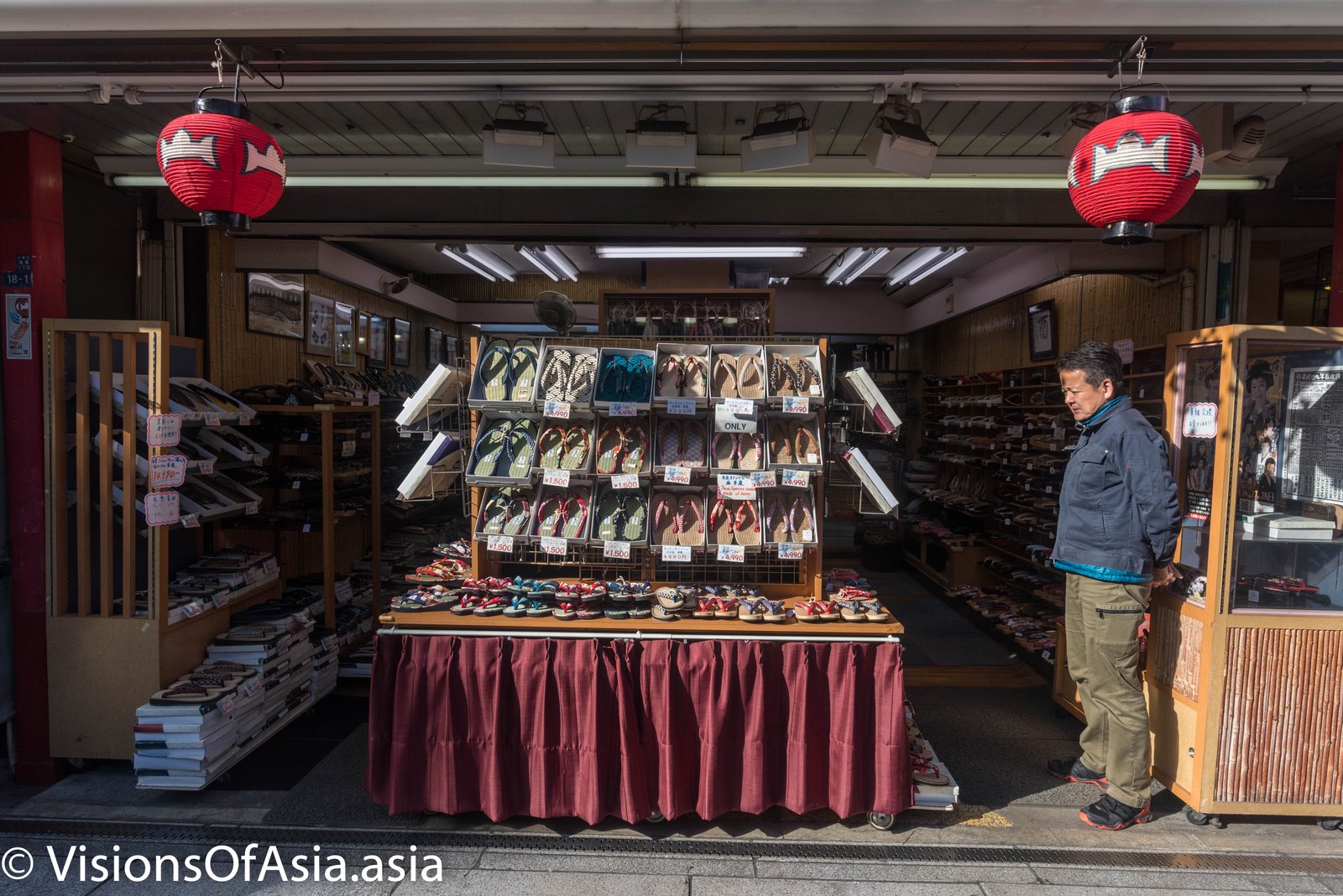 I got my own geta from a side street with a very lovely couple. They fit well, and are just as comfortable as the Berkemann slides I habitually wear too.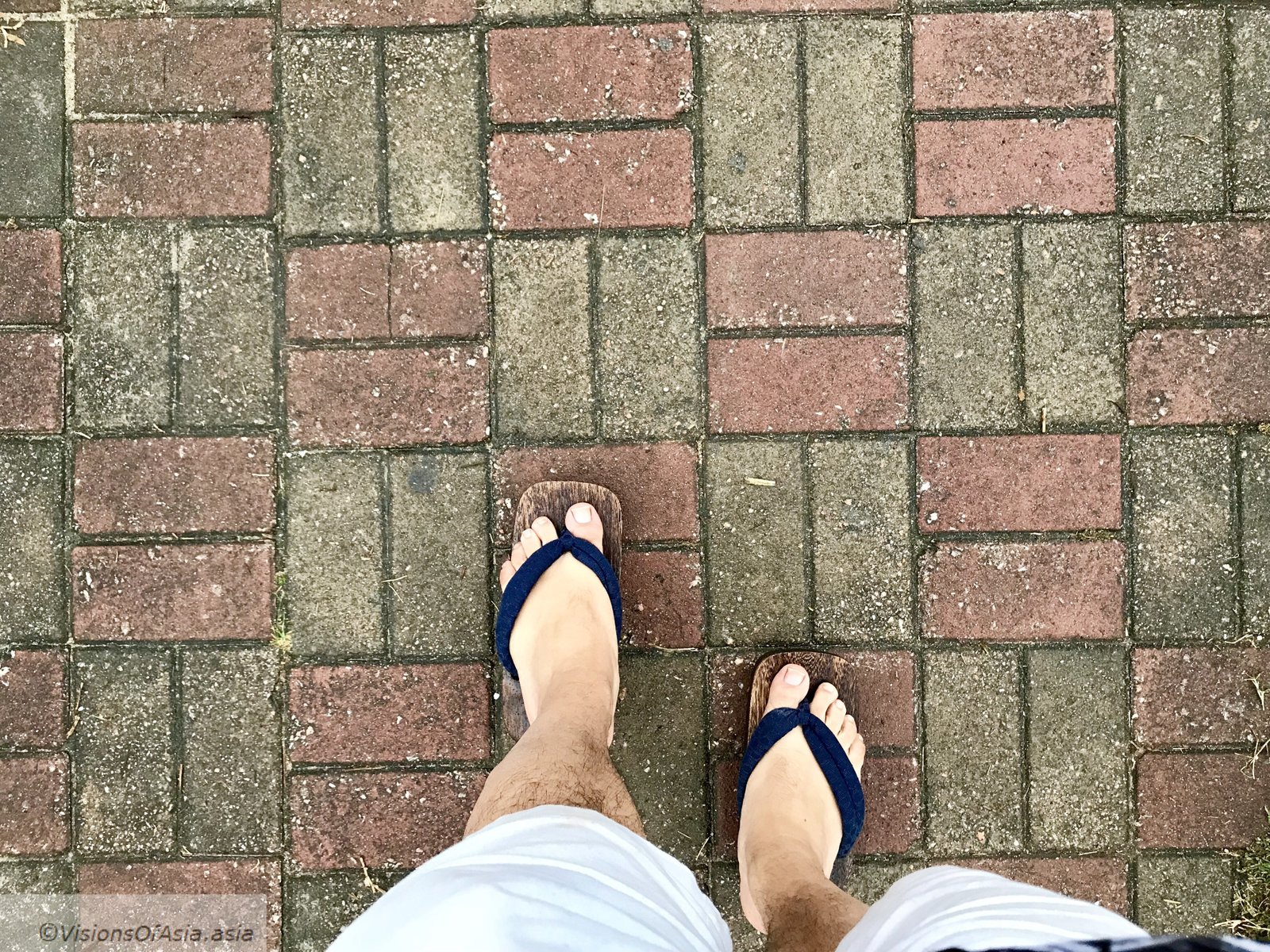 There are plenty of sites explaining how to wear geta, but the general idea is that they should be slightly smaller than your foot. That way, your feet hangs out a little bit.
Besides geta, the side streets also display some lovely fans as these hand painted ones (a bargain at 1,100 JPY).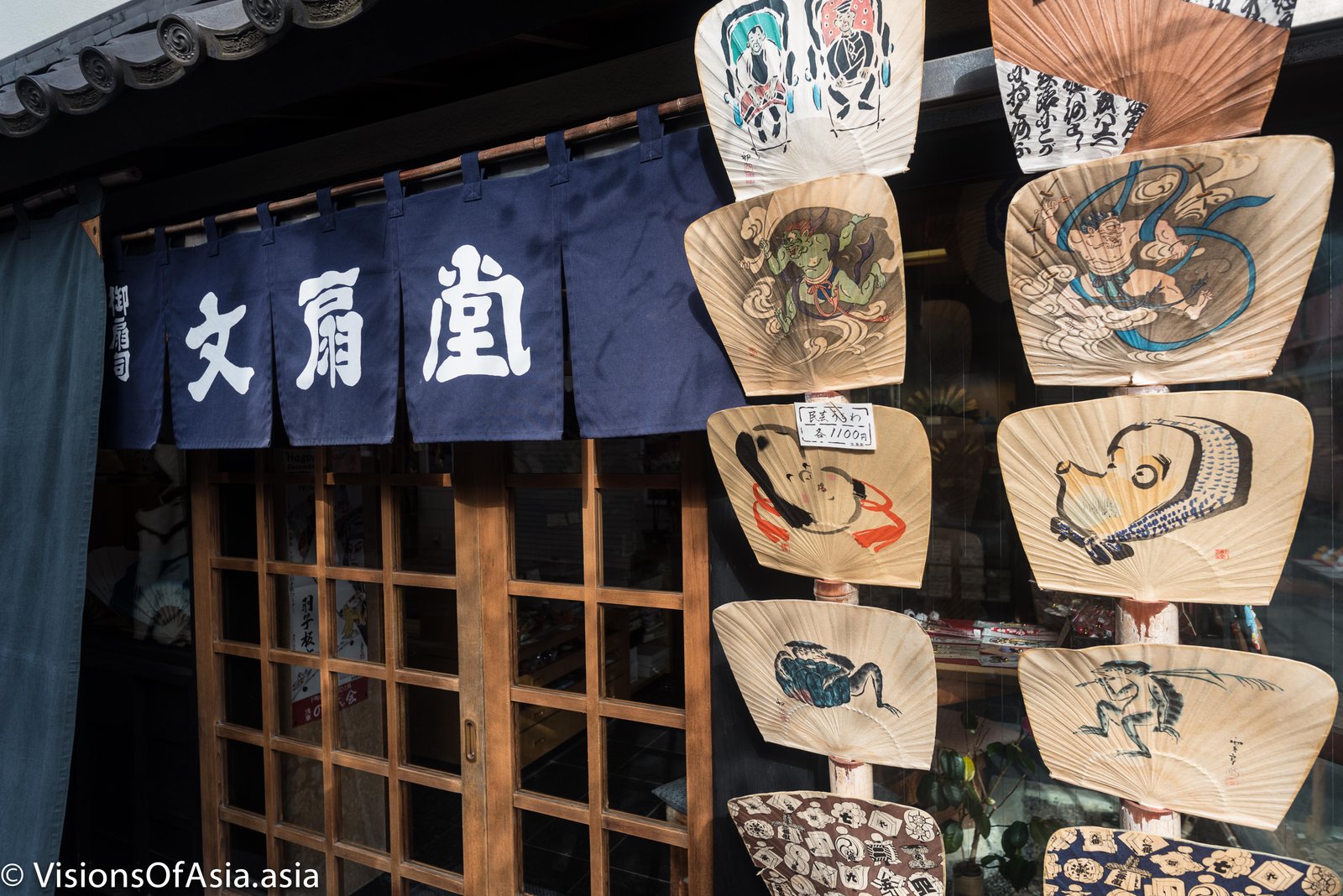 The gate to the shrine
The gate to the shrine itself is painted in tones to remind of thunder. This is logical, as it is called Kaminarimon (雷門, "Thunder Gate).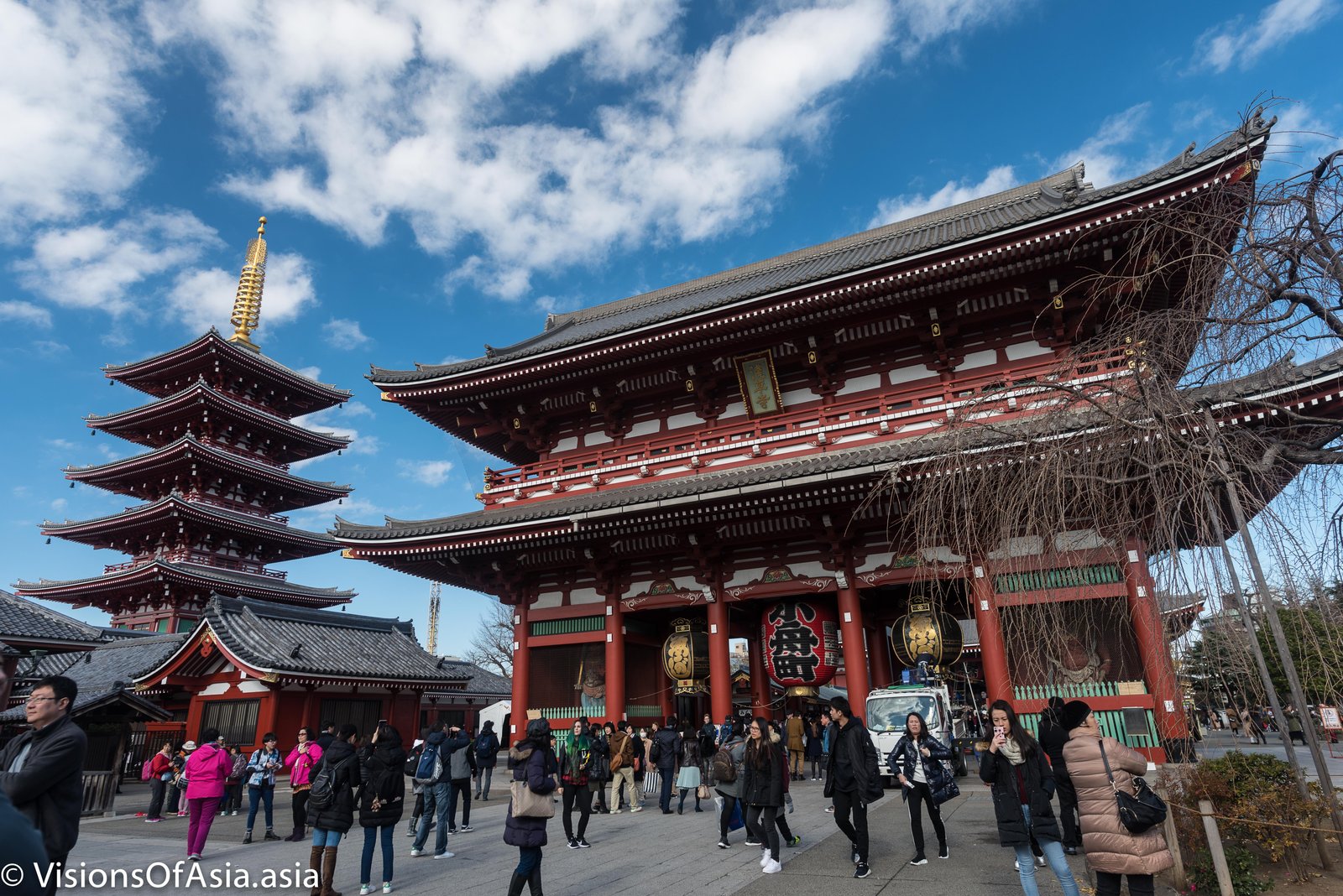 It is nearby that I asked the two lovely Japanese girls if I could take their picture in kimono and they kindly agreed.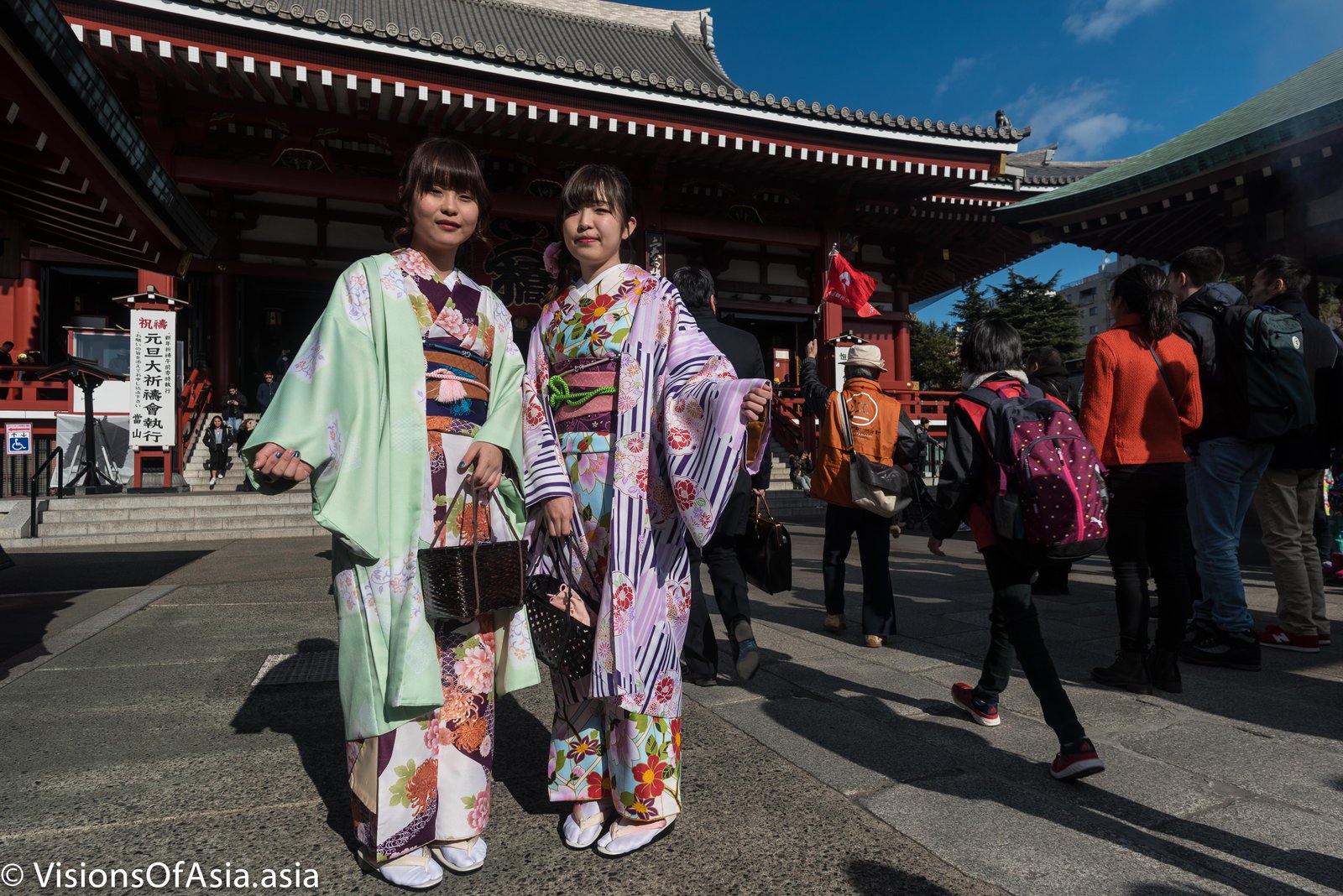 As much as possible, it is recommended to ask the permission of people to take their picture, as generally, it is frowned on taking pictures even in a public space. A smile and a few words in Japanese help a lot in that respect.
It must be said that shrines and temples are often places used for photoshoots of kimonos. Like this group where they were focusing on the elaborate obis (the "belt") of these furisode. A furisode is a ceremony kimono worn by unmarried young girls and is typically recognizable by the long floating sleeves.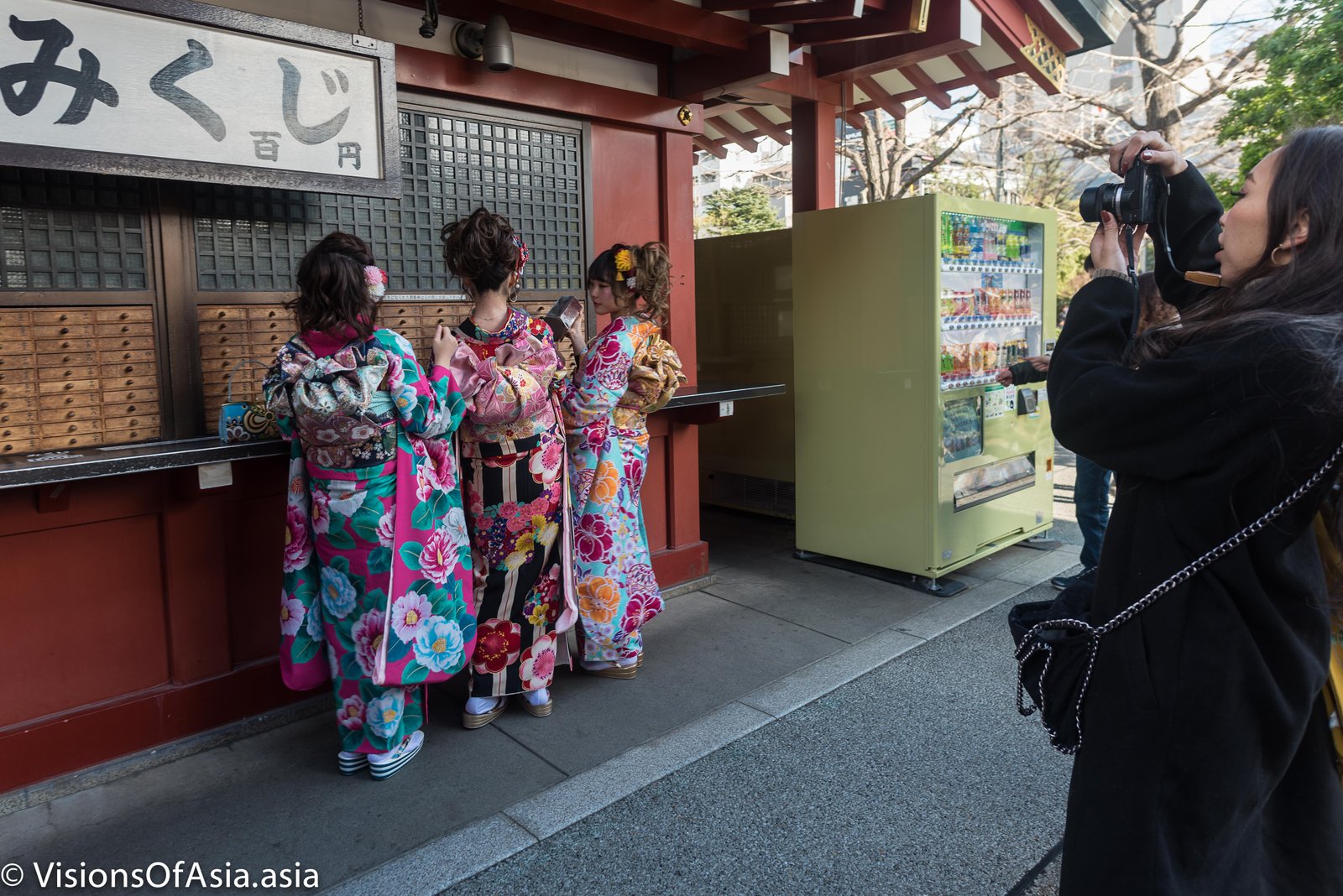 When shooting your picture, if you know some Japanese, it will allow you to distinguish between the "real" Japanese in kimono and those tourists who wear kimonos to have photo sessions.
For example, the two young ladies below were from Hong Kong (!) and immediately corrected me when I asked if I could take their picture. They kindly agreed nevertheless to have their picture taken.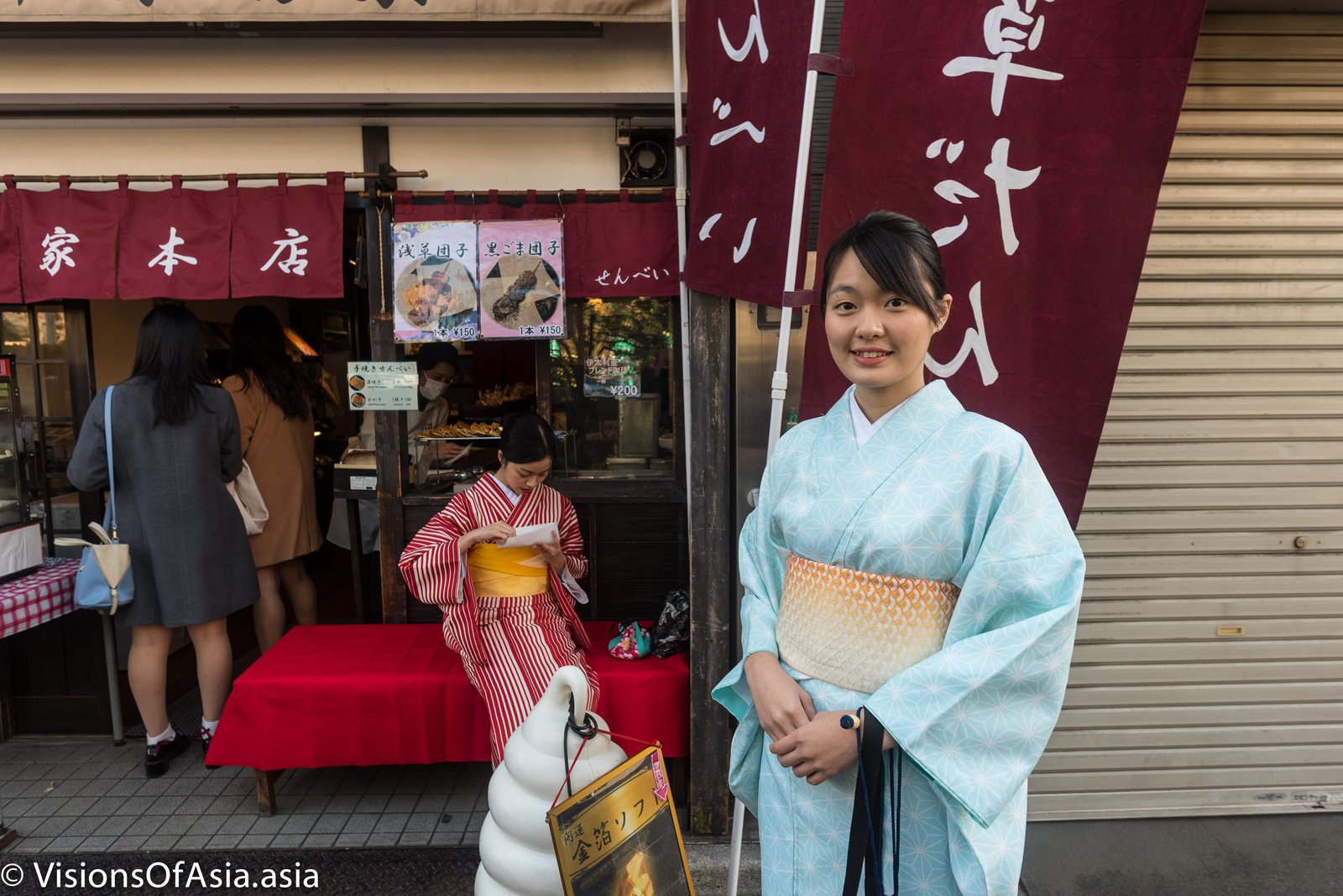 The shrine
The meaning of Sensoji probably escapes me a bit, but from inside the shrine itself, you can have a nice view on the bustle in the courtyard as well as on the Kaminarimon .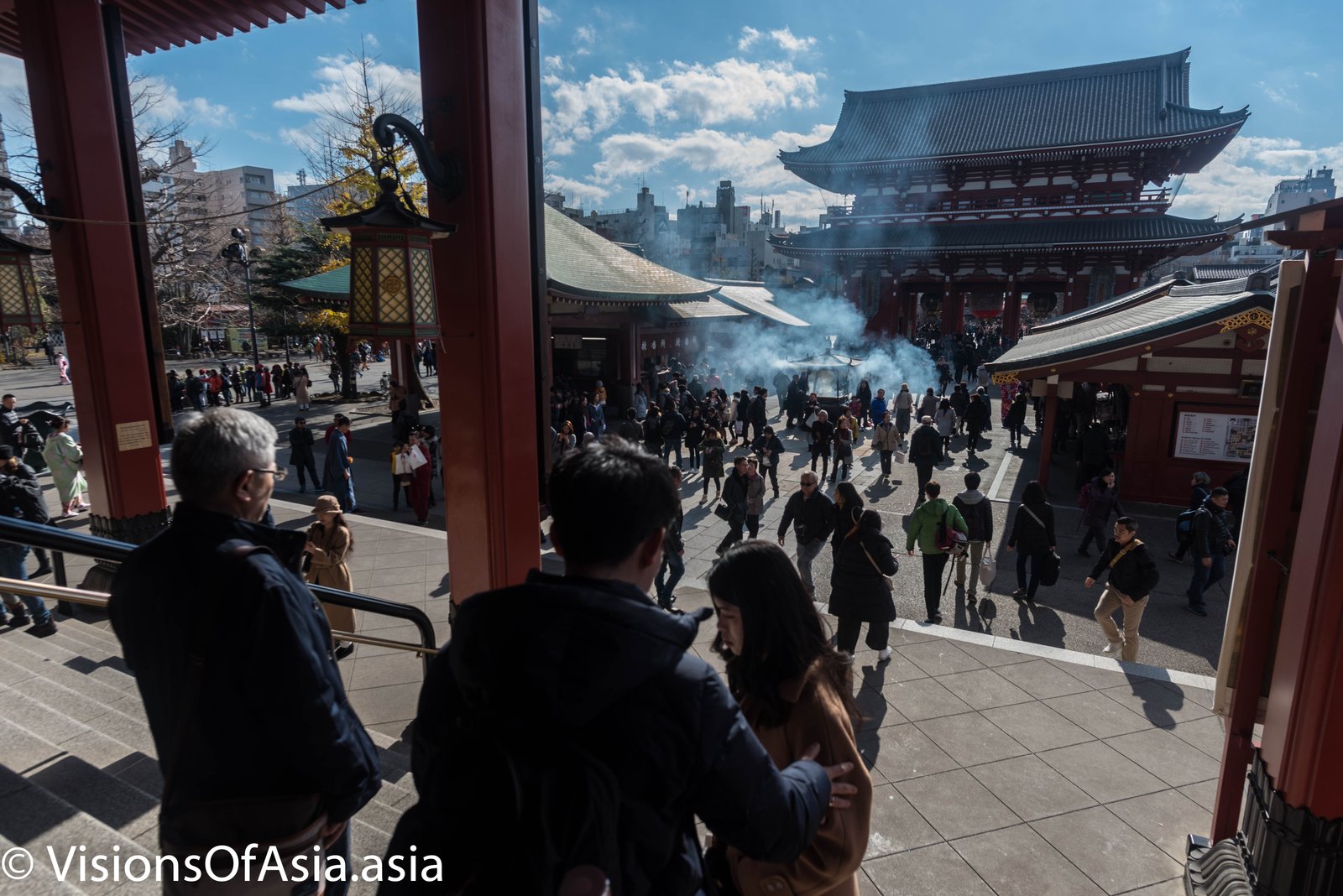 Later, as we went back, our daughter, Maria-Sophia fell in love with the gacha machines. She was too cute, asking to buy one of those little balls with premiums inside.
In short, either for shopping or for visiting the shrine, Sensoji is absolutely the place to go if you come to Tokyo.