Nami island is a little locality in the neighbourhood of Seoul. It shot to fame when the Korean drama "Winter Sonata" became an Asian (and in a lesser measure worldwide) hit in 2002. Since then, the island has sought to build on the fame brought by this unexpected notoriety by creating an environment catering to the tourists, but also with its own personality. As an example, they try to showcase the art of local artists, making the place something catering to K-drama afficionados as well as to hipster bloggers.
Easy to reach
Nami island has another asset: its ease to reach. You can get there simply by taking  a metro from any place in Seoul. I was located in a guesthouse in Gangnam for my stay (I quickly regretted that decision). So, for me, any trip even within Seoul involved heavy commutes, in this case, getting to the interchange station of Wangsimni. From there, you must catch the line direction Chuncheon. You have about 1/2 hr to 3/4 hr ride until the station of Gapyeong, where you must get down.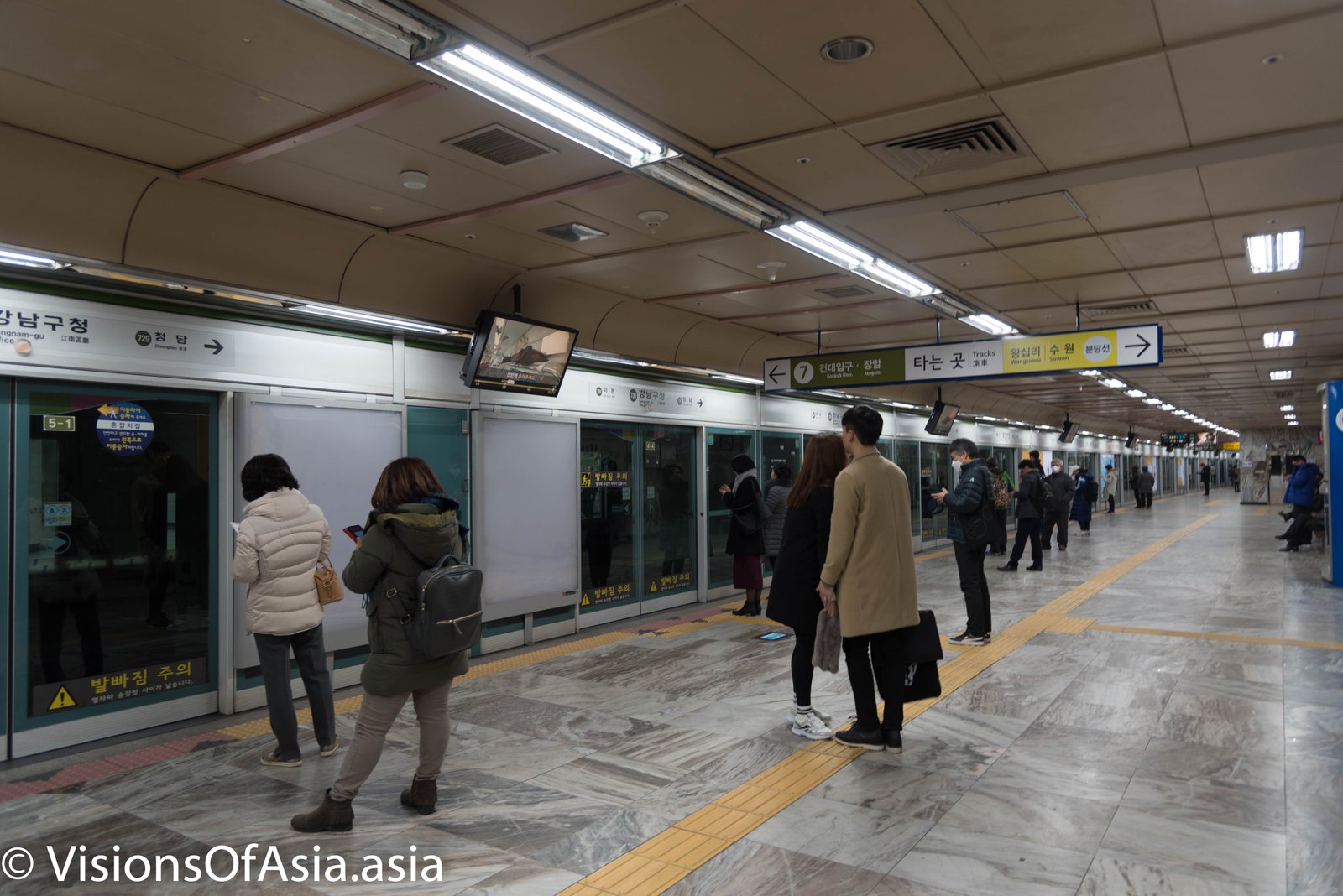 Taking the metro in Seoul
The metro in itself is clean, convenient and fast. The one inconvenience is that you might have to carry any heavy luggage up and down the stairs. Otherwise, signage and announcements are bilingual and it is extremely easy to navigate for foreigners.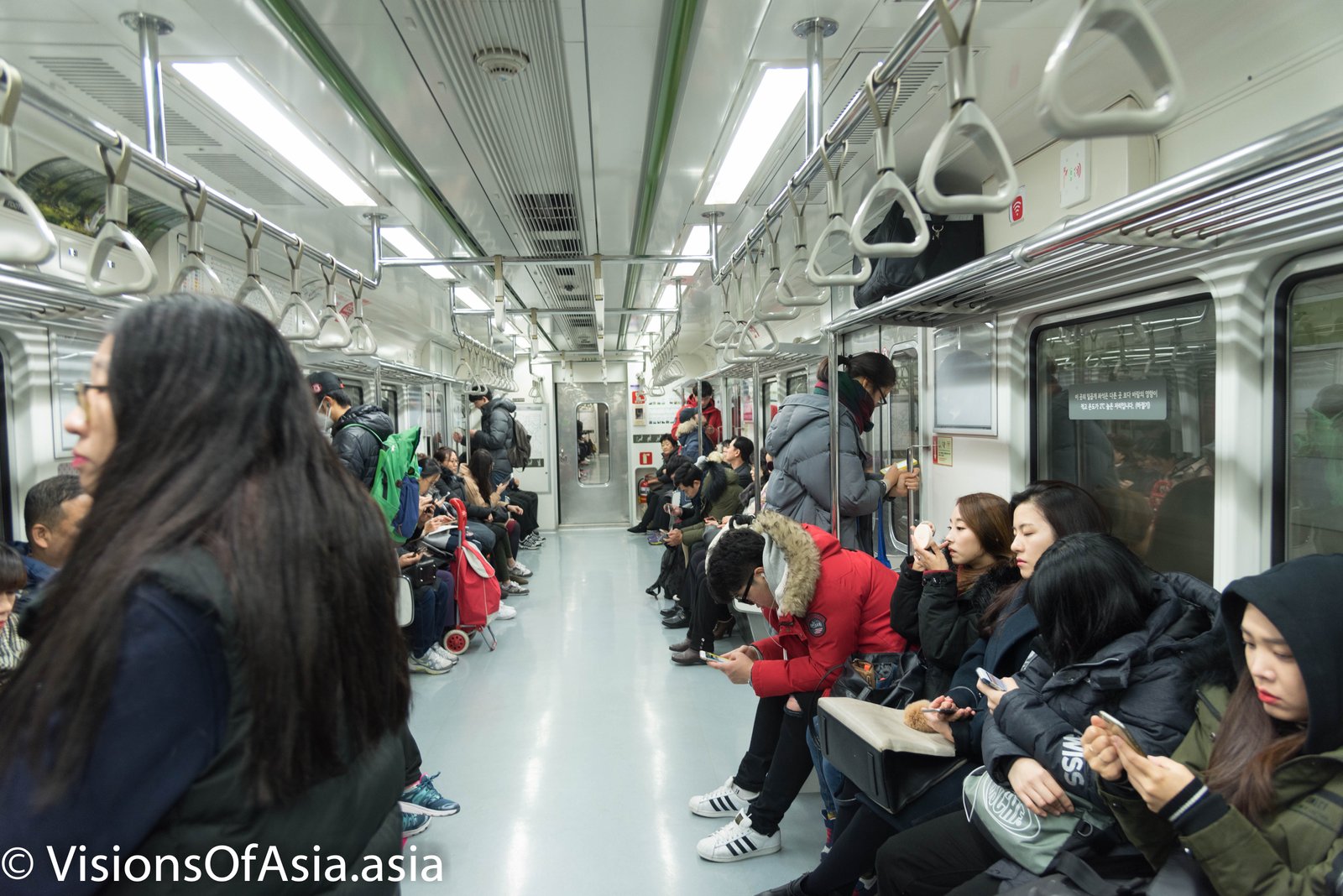 Interesting cultural observations
Obviously, for Asia, or the XXIst century in general, most people in the metro are on their smartphones. But it was a lovely surprise to see a young girl knitting to pass her time on the metro to Gapyeong, rather than keying or browsing her smartphone. It is may be the first time in Asia, I that see a young lady passing her time on a more traditional craft. It was a lovely sight to behold.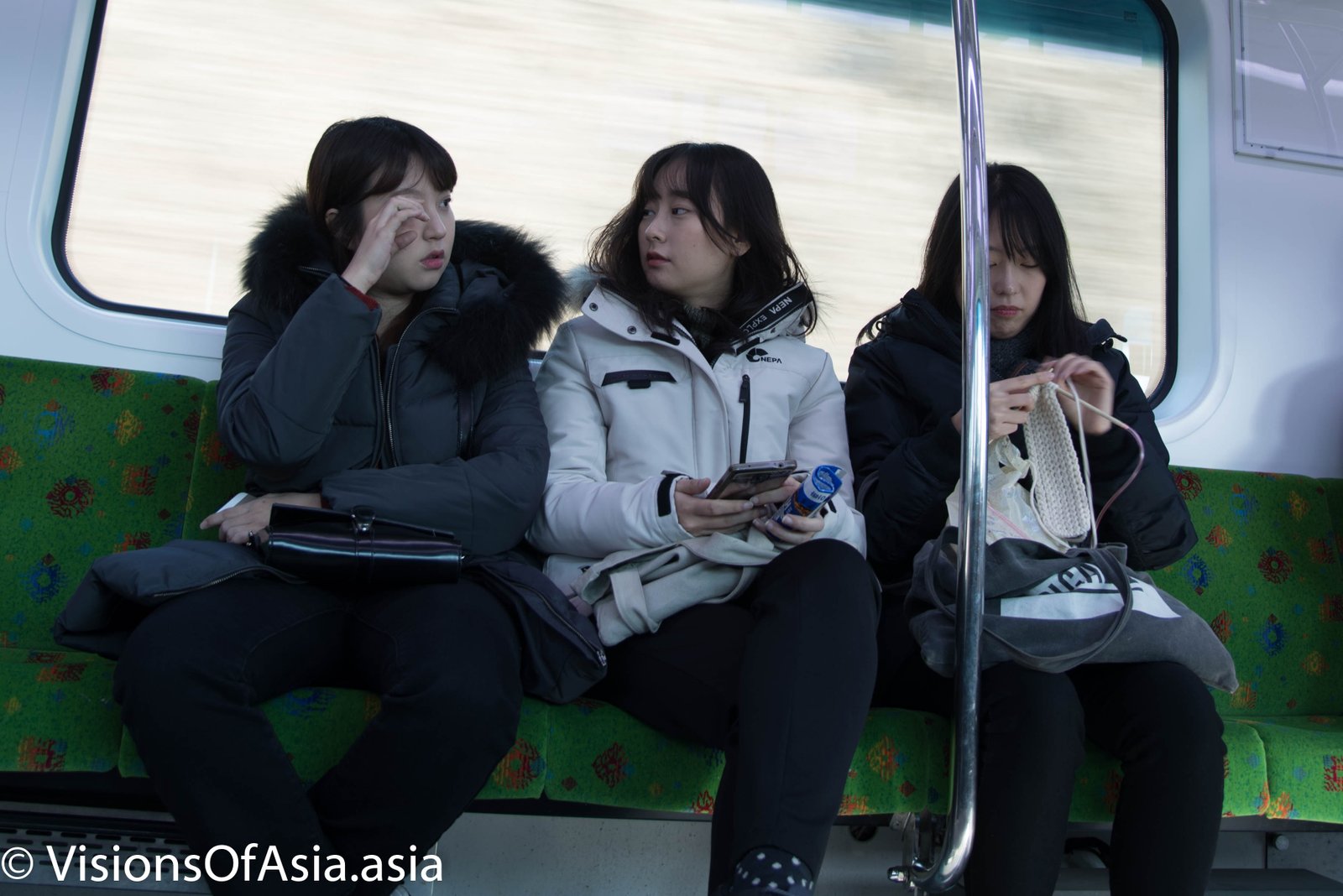 Gapyeong station
Once you arrive in Gapyeong station you must still transfer to Nami island. That means either taking  a taxi (between 4,000 to 6,000 KRW) or a tour bus (6,000 KRW, but it includes return and transfer to "Little France", which I skipped). If you arrive too late, you will be drowned in a crowd of tourists all heading to Nami Island as well. You may run the risk of not being able to catch  the tour bus, which leaves every hour. I had to stand for the whole way, so my advice, if you can, is arrive and leave early.
Meanwhile, at the station, you can enjoy the local food. I recommend the cheese toast at the little restaurant (cheese apparently includes Cabbage in the Korean recipe).
If after having eaten your cheese toast, you still have time to kill, there is a little coffee shop, but expect it to be crowded as well. And don't wait too long, or you might not have any seats left on the bus!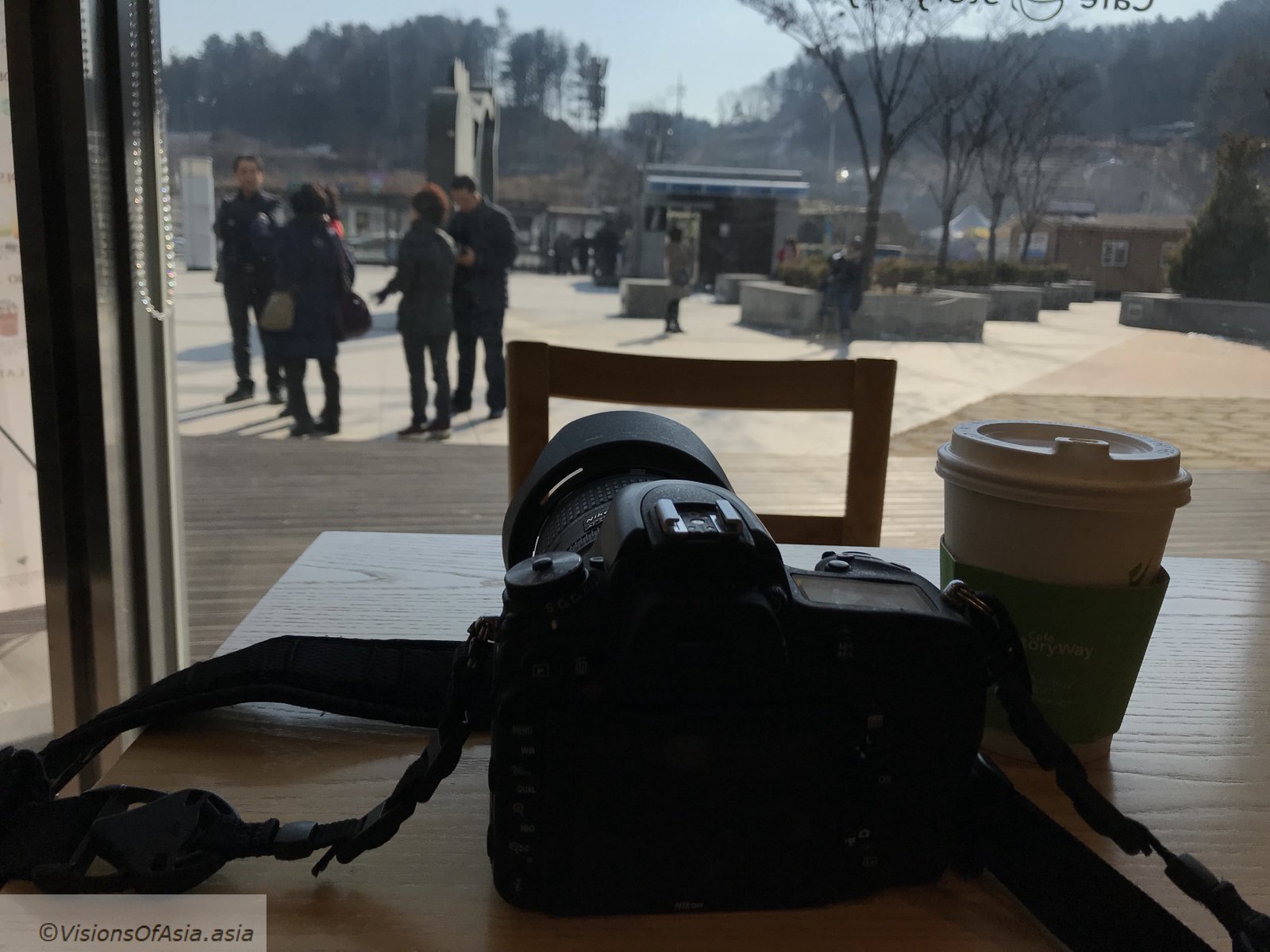 Otherwise, there is a little exhibition in the Gapyeong station, showcasing the history of human settlements in the area. Interesting if you wish to know more about the area.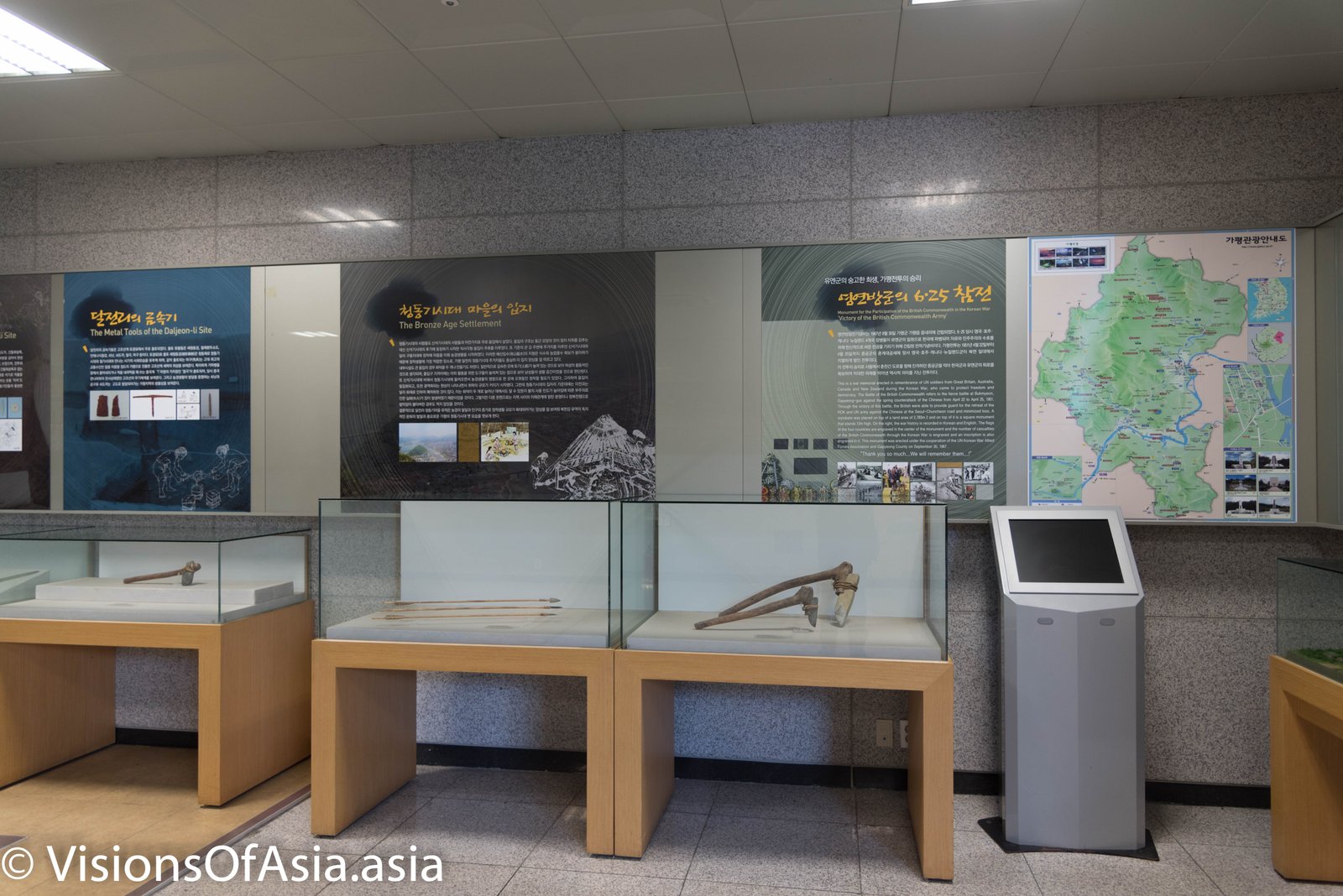 Transferring to the island
Nami island is… an island! That means, you must transfer there, and you have two choices: either taking a zipline (but that involves leaving behind any heavy bags, so not an option for me as I was carrying camera and drone…) or taking a ferry. Prices are around 38,000 KRW for zipline (inclusive the return by ferry) or 8,000 KRW for the ferry. It was around 0° C that day, so most tourists remained inside the ferry.
Nami island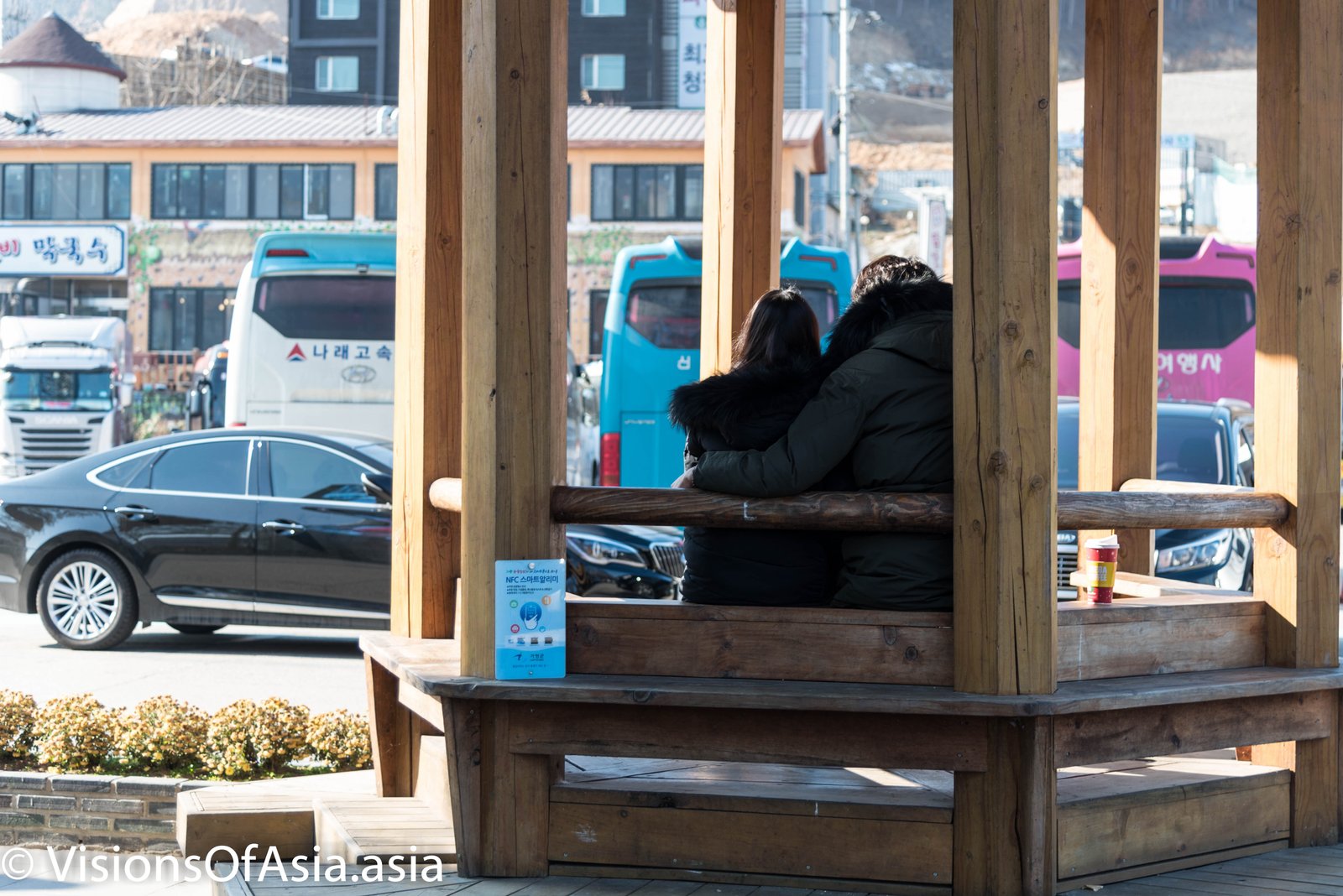 It must be mentioned that the island declared its "cultural independence", so that they have everywhere flags and "institutions" (a central bank… guards or so-called "police") of the "Naminara republic". This is also to collect a "visa fee" from visitors (but it is included in your ferry ticket).
The ferry can get quite crowded with a majority of Asian tourists (due to the influence of K-drama and instagram).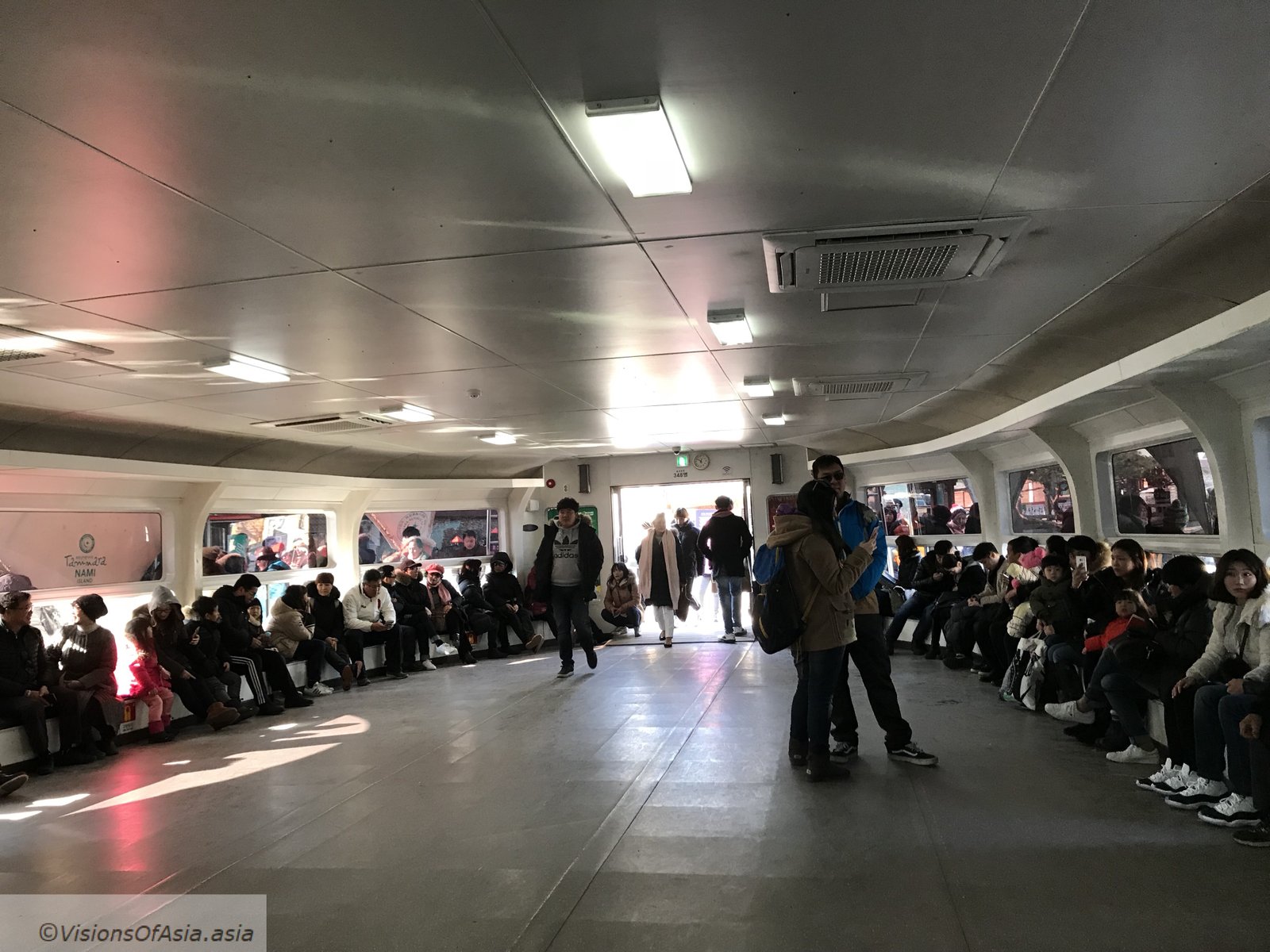 Upon arrival on the island, i managed to see some locals warming up at an open fire lit to warm themselves.
The crowd makes a difference
Nami island is a very beautiful place, but the crowds of tourists that jam-pack the place do not make it very enjoyable. The best views are out of the beaten tracks.
Besides this aspect, Nami island understood very well how to cultivate the XXIst century instagram-fanatic crowds by providing a number of "instagrammesque" spots.
Upon arrival, for example, a frozen fountain…
This slideshow requires JavaScript.
The real treasure is elsewhere
As usual, the real treasures of Nami island are found when you walk away from the crowd. Take the side paths and you can discover really lovely scenes. Like squirrels running around and friendly enough to let you approach very close to shoot their portrait…
Or you can find some truly lovely scenes in autumn, without people in your frame. Like this bucolic autumn scene near a little stream.
Or you could fly a done and try to shoot some interesting landscapes… Below, you can see the main alley most people walk through.
Again, walking outside of the beaten tracks is the best chance to get different shots from the thousands of visitors. The natural beauty of the island is not appreciated enough outside of all those crowds rushing to the K-drama spots or being sucked in by the tourist honeypots.
In conclusion: an interesting excursion
Nami island is not a "must see", but it is certainly worth visiting, as long as you a). beat the crowds; b). take a walk outside of touristic tracks; c). look for nature and not for selfie spots.
But then again, if you must visit Korea and have a limited amount of time, this is one place you can give a pass, unless you are a fan of K-drama and "winter sonata" in particular.